Down on the River Hamble we have built a bespoke boathouse in an awkward space between two houses and set below the approach at ground level. The finished building has a mezzanine floor, roof lights set into a slate roof and a pair of handmade oak doors. We will return in due course to install power, lighting, water and a kitchen area, plus a ladder to access the mezzanine and shutters for the front facing window.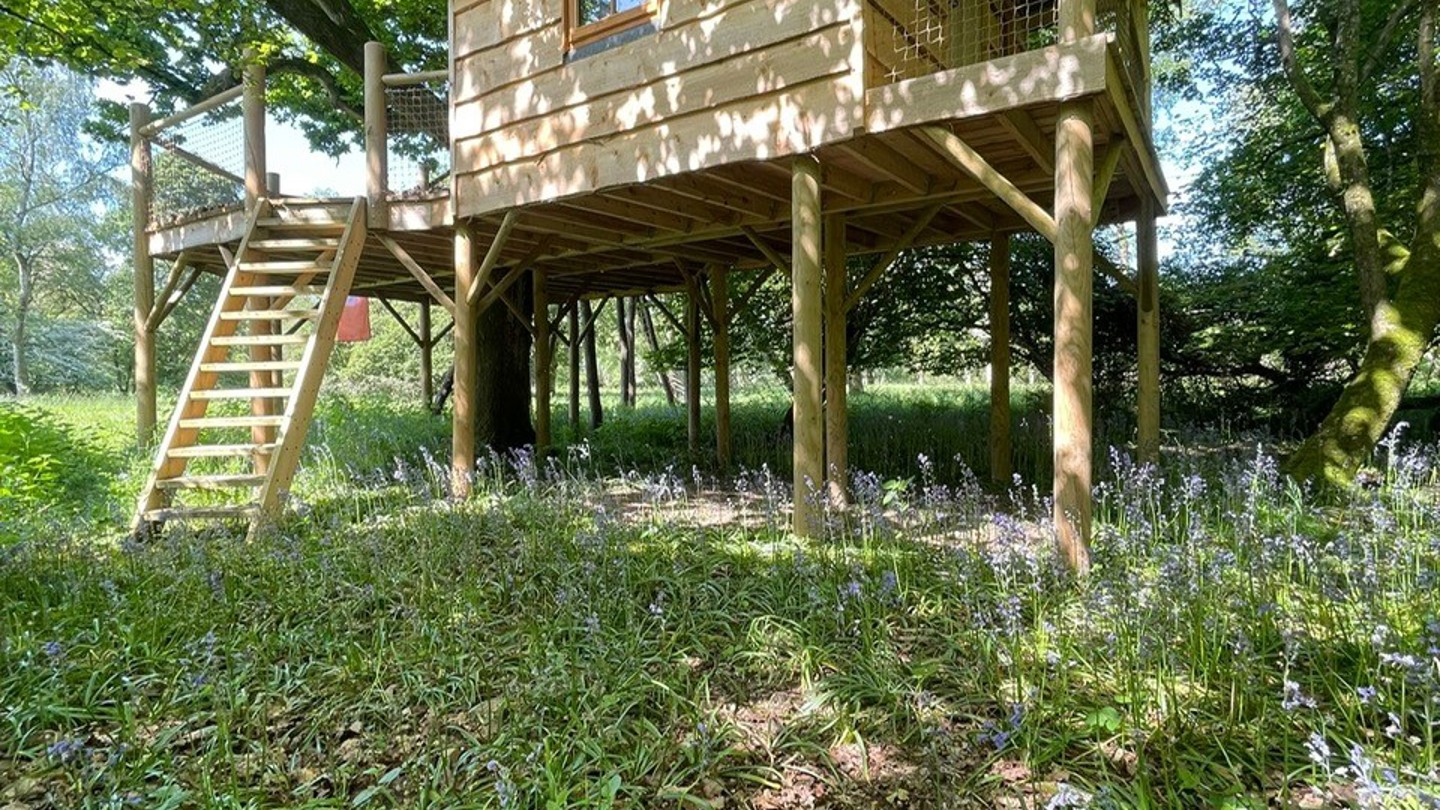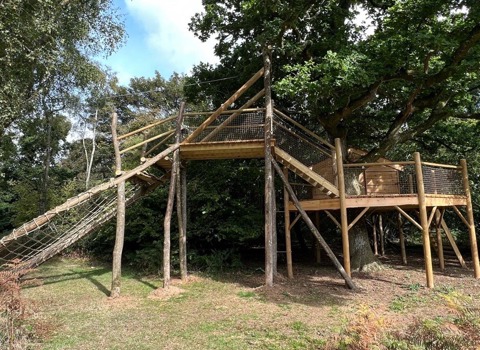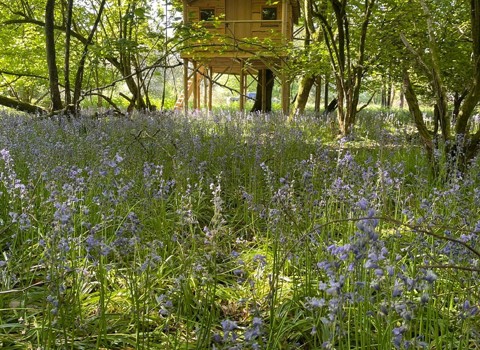 This woodland treehouse complex features a 4m tall zip wire launch platform (for both child and adult enjoyment!) on one level and is accessed via the cargo nets or a ladder. On a lower level is a fully insulated cabin and large platform built around the tree trunk. The all weather cabin has its own covered balcony and is a perfect spot for an overnight adventure or a peaceful retreat amongst the trees.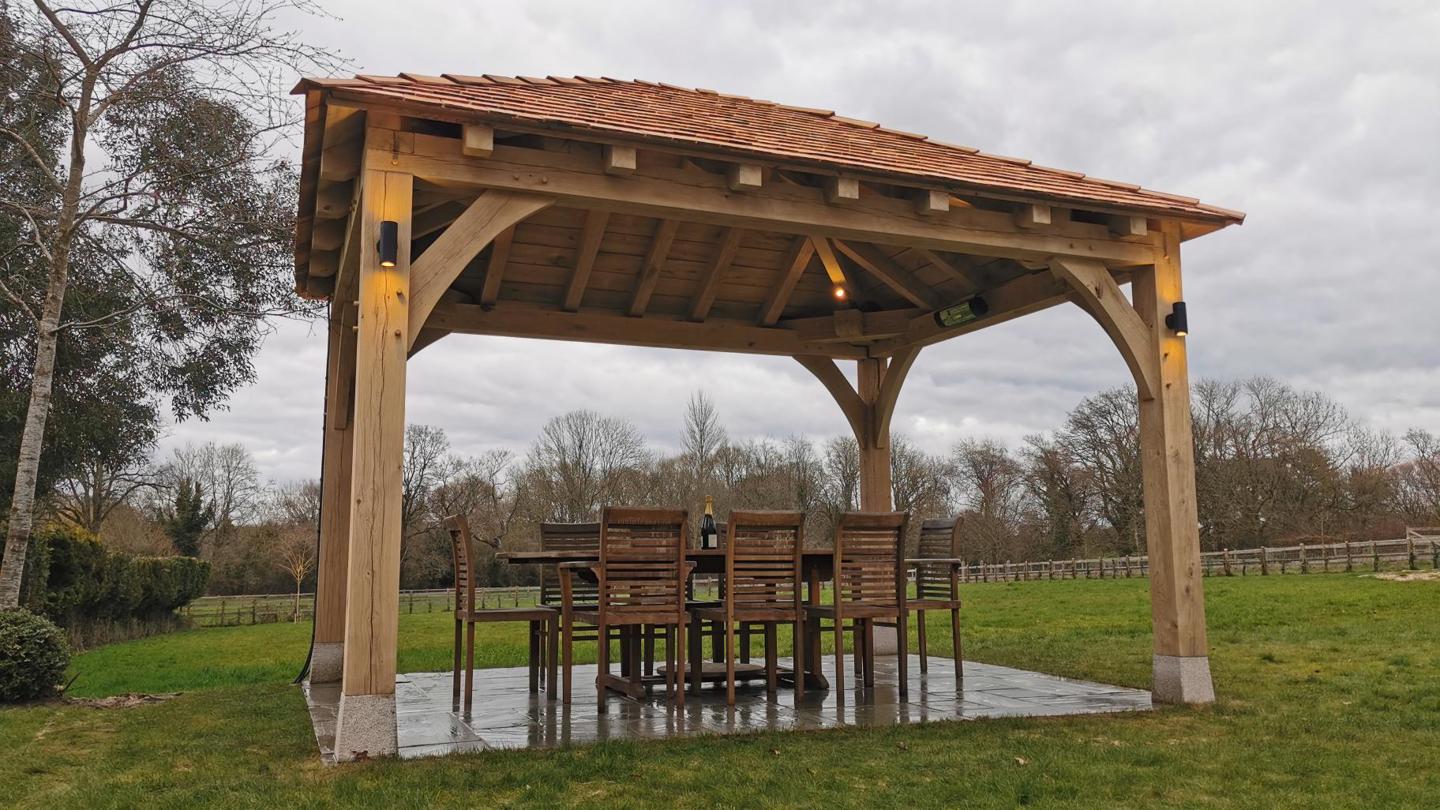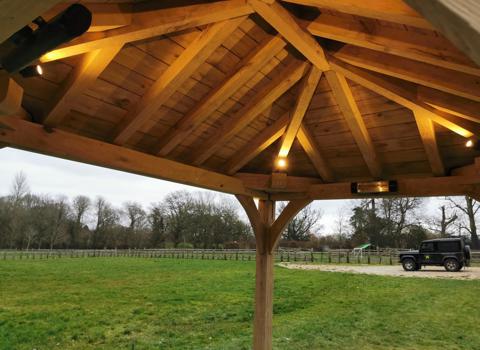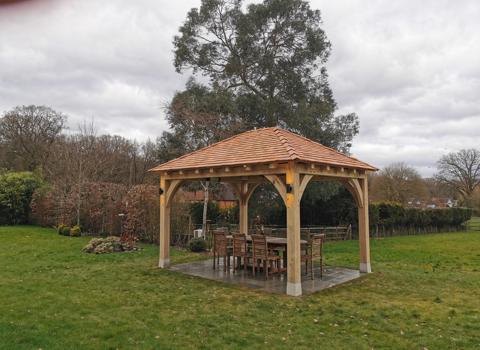 This garden gazebo features a low pitched cedar shingle roof and an oak frame sitting on granite staddle stones. Oak sarking boards are fitted underneath the roof to give a super smart finish to the inside and match the oak frame. We have also installed electrics with a range of lighting inside and out, and heaters, so our clients get maximum use out of their new structure long into the evenings.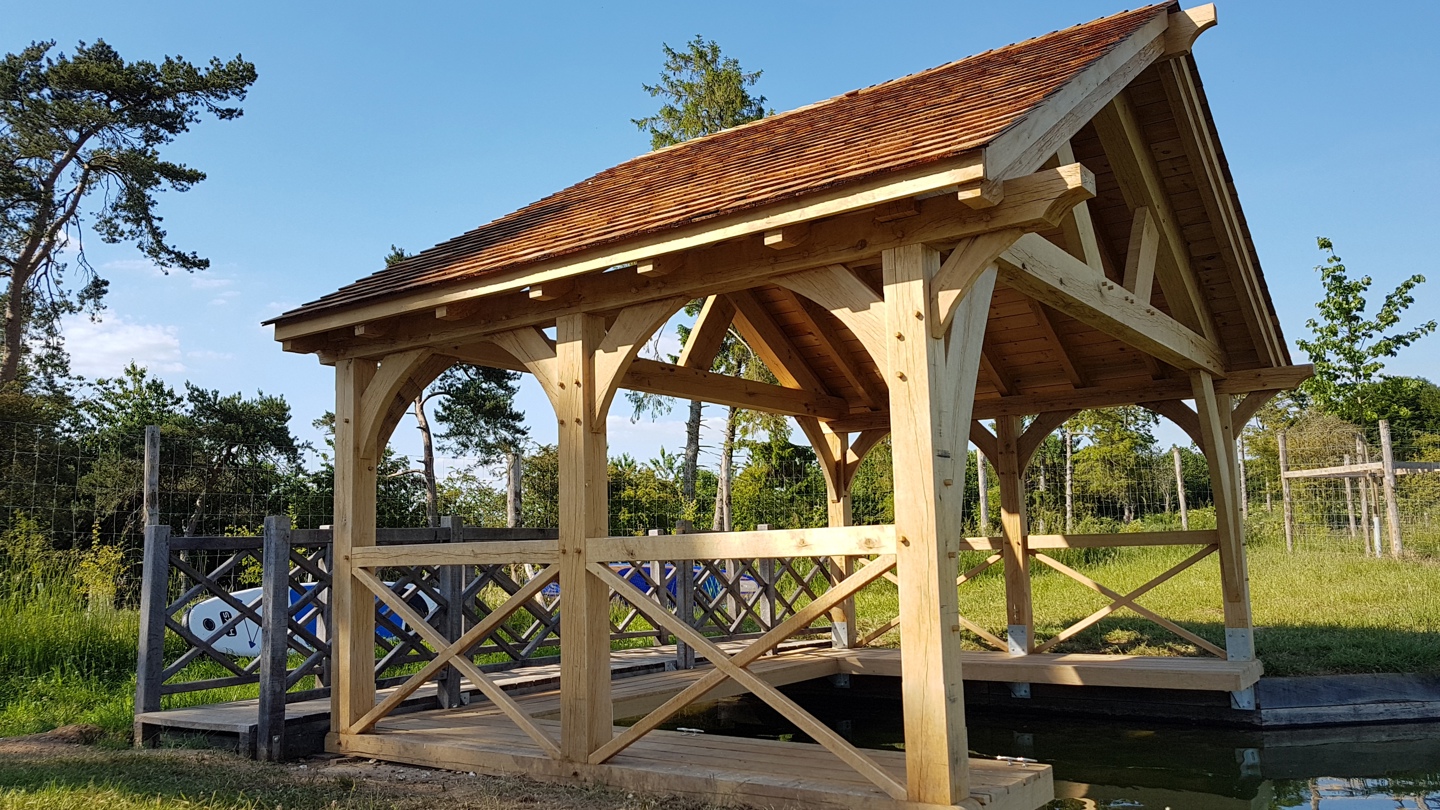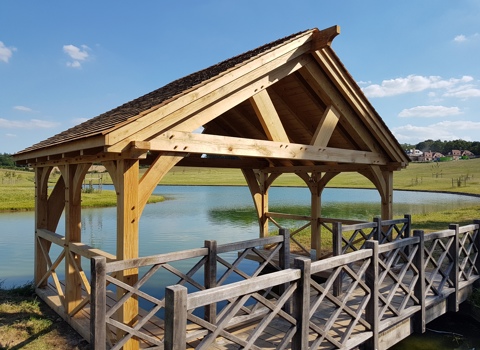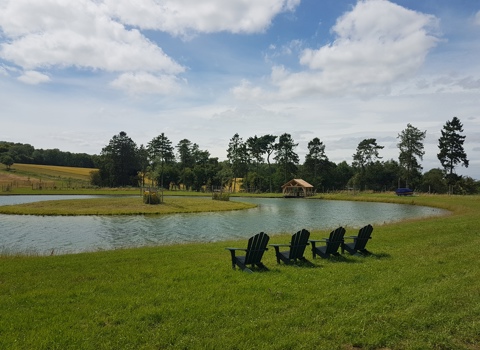 Building this lakeside boathouse during the hot sunny days in June was an absolute delight for obvious reasons! Designed specifically to fit our client's boat (not shown in situ), there is plenty of space to also store kayaks and paddle boards in the rafters. Accessed via a wooden bridge to the rear, it has enhanced its setting beautifully.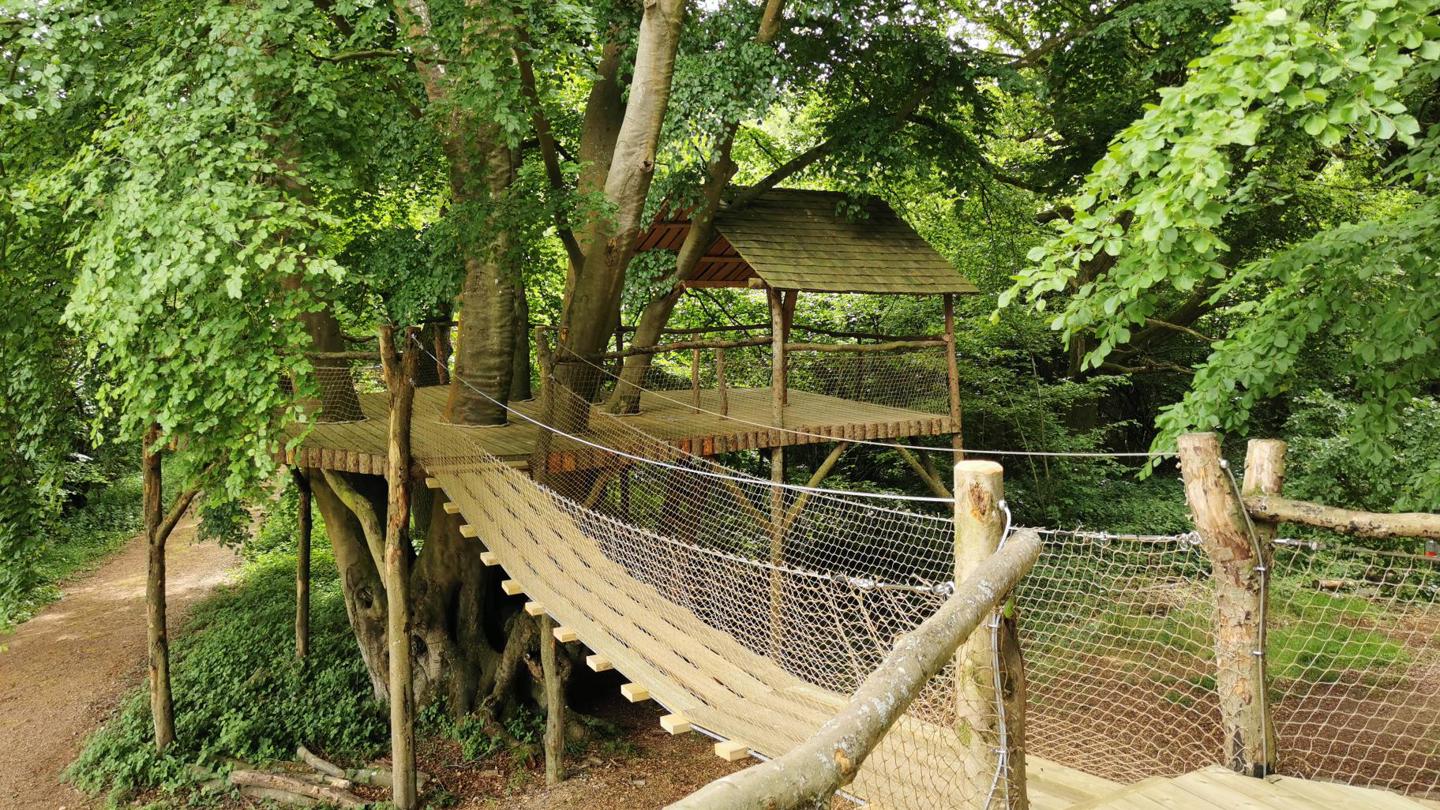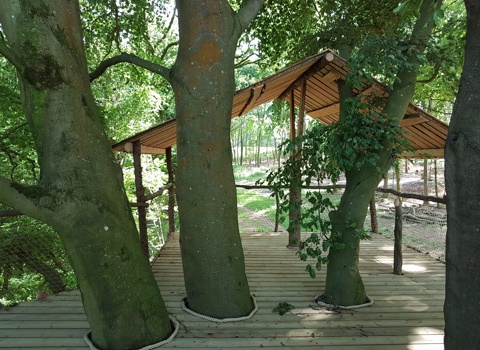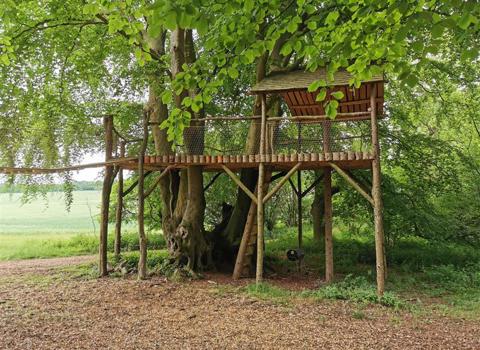 Building a pair of linked platforms and treehouse was one of those really fun projects that comes along from time to time. Built high off the ground so vehicles can pass underneath the rope swing bridge linking the two, we also included a zip wire ride, cargo nets for climbing and multiple ladders and hatches for maximum entertainment. Where we could, we felled and prepped timber from the surrounding estate woodland so that the finished structure blended in with its surroundings as much as possible - plus it was great to get back to old school woodworking skills!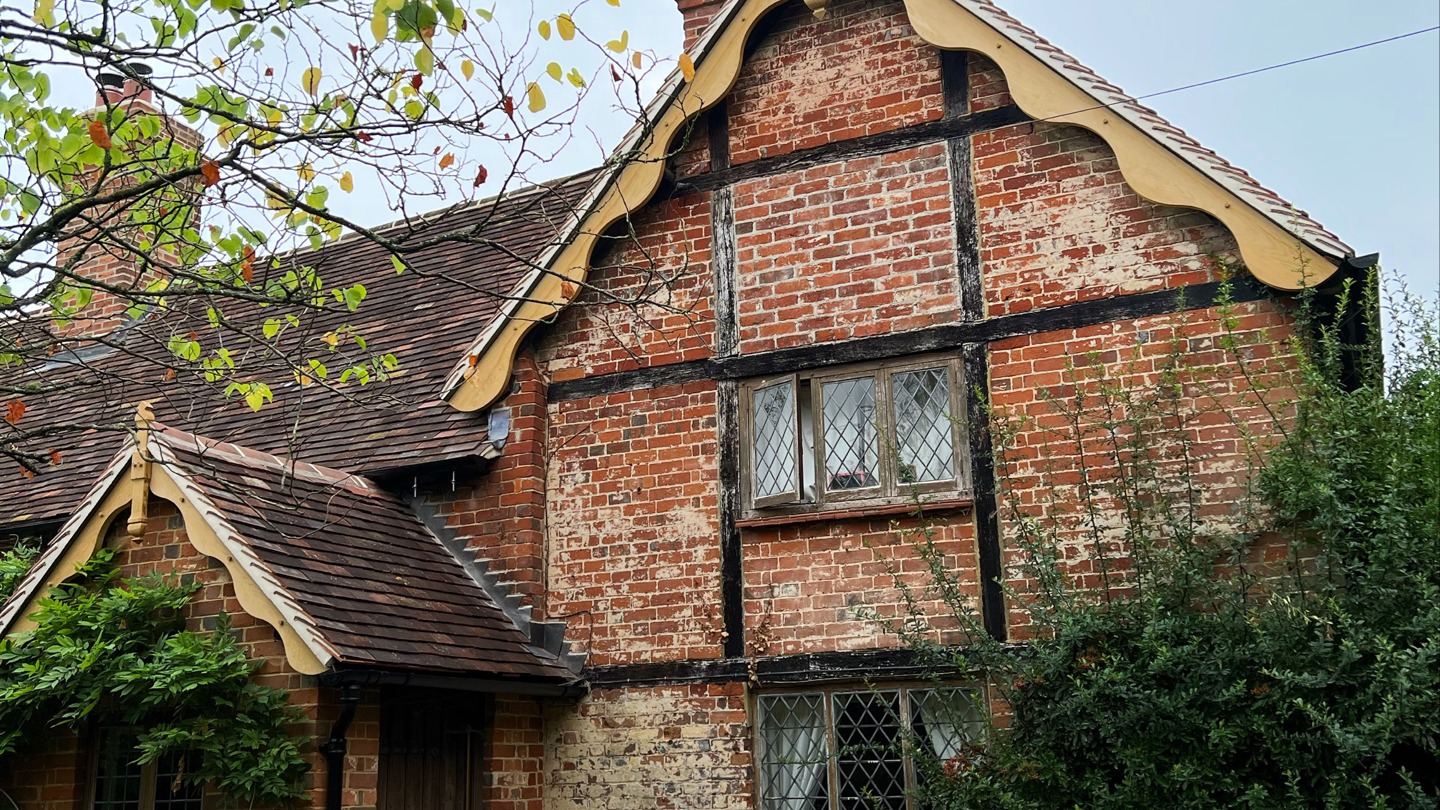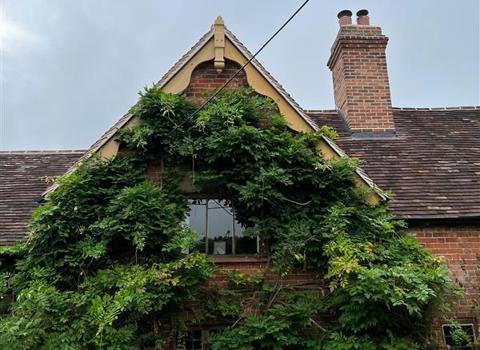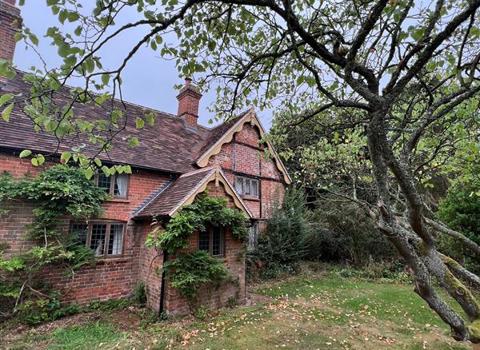 New oak barge boards and decorative finials grace the three gables of this Grade II listed house. The hand carved curvy shape replicates what was there originally, but will be left untreated to weather down naturally.
"We are delighted and so pleased we went with you for the barge boards - they are perfect and just what we envisaged" John & Katie P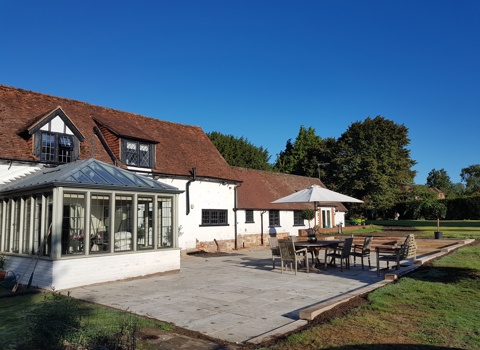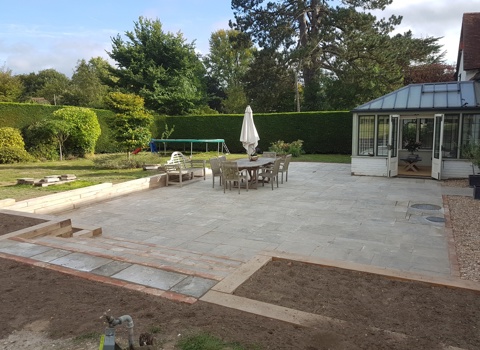 Digging out, levelling, sorting the drainage and laying this large reclaimed York stone terrace, shown at its best here in the sunshine, has undoubtedly enhanced the outside appeal of this listed Hampshire home. With a few additional landscaping touches, the terrace is contained within oak sleeper walls, with matching raised beds - filled and ready for planting.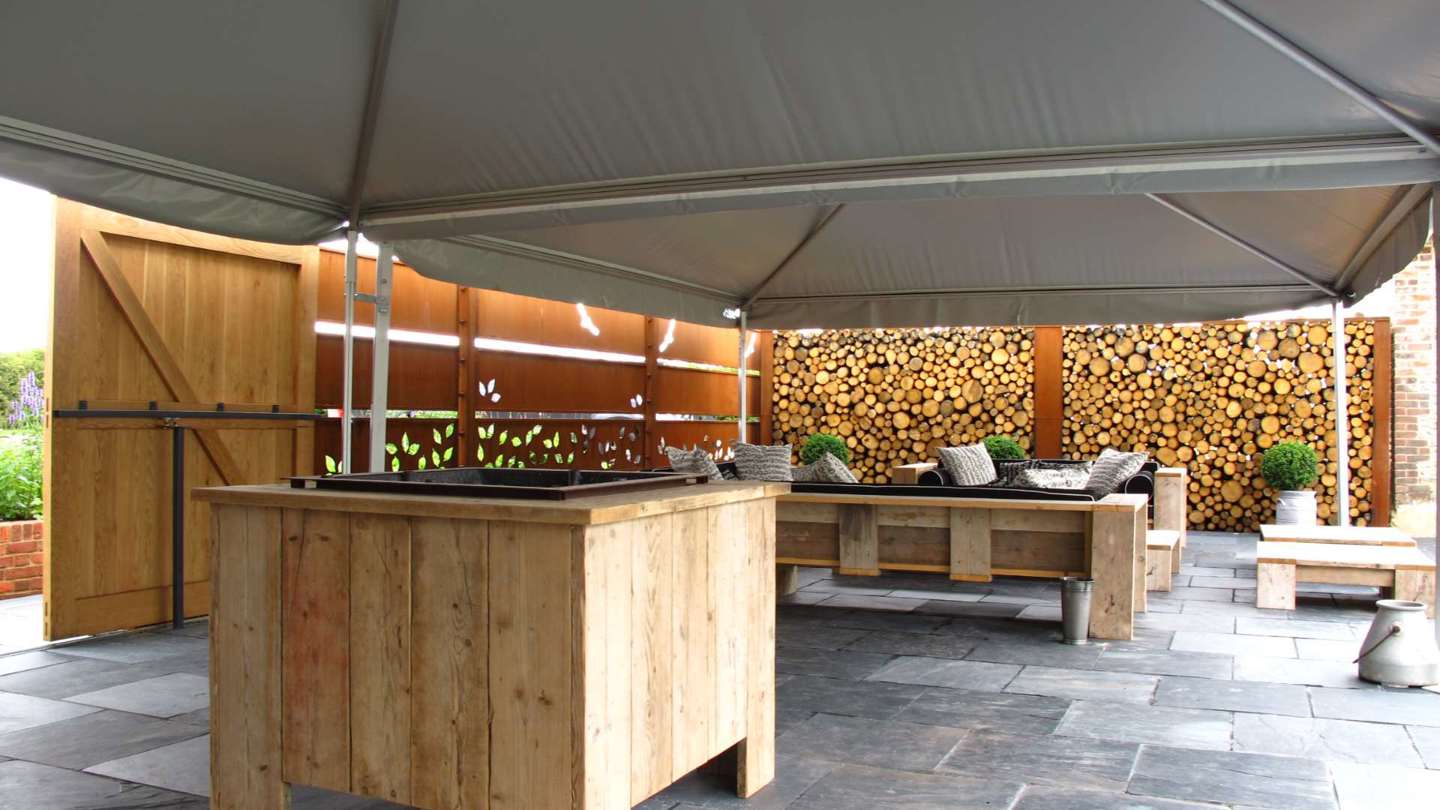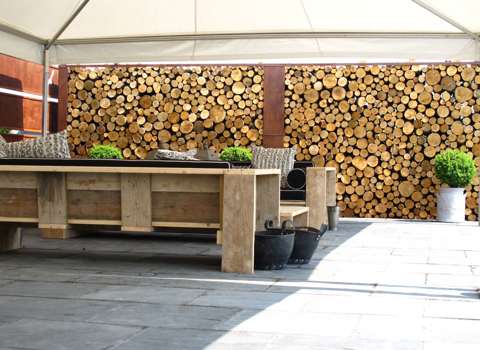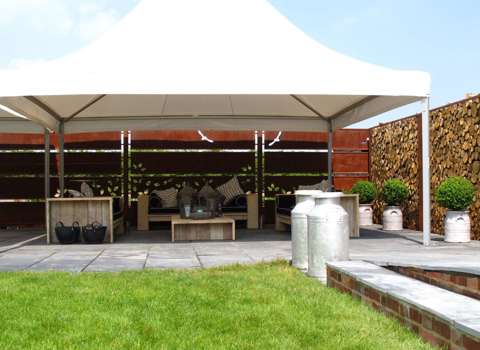 A feature log wall provides the perfect backdrop to the all weather bar and entertainment area set up in this canopied barn extension for this West Sussex wedding venue. A simple wooden bar and chunky wooden furniture complete the simple presentation at southendbarns.co.uk.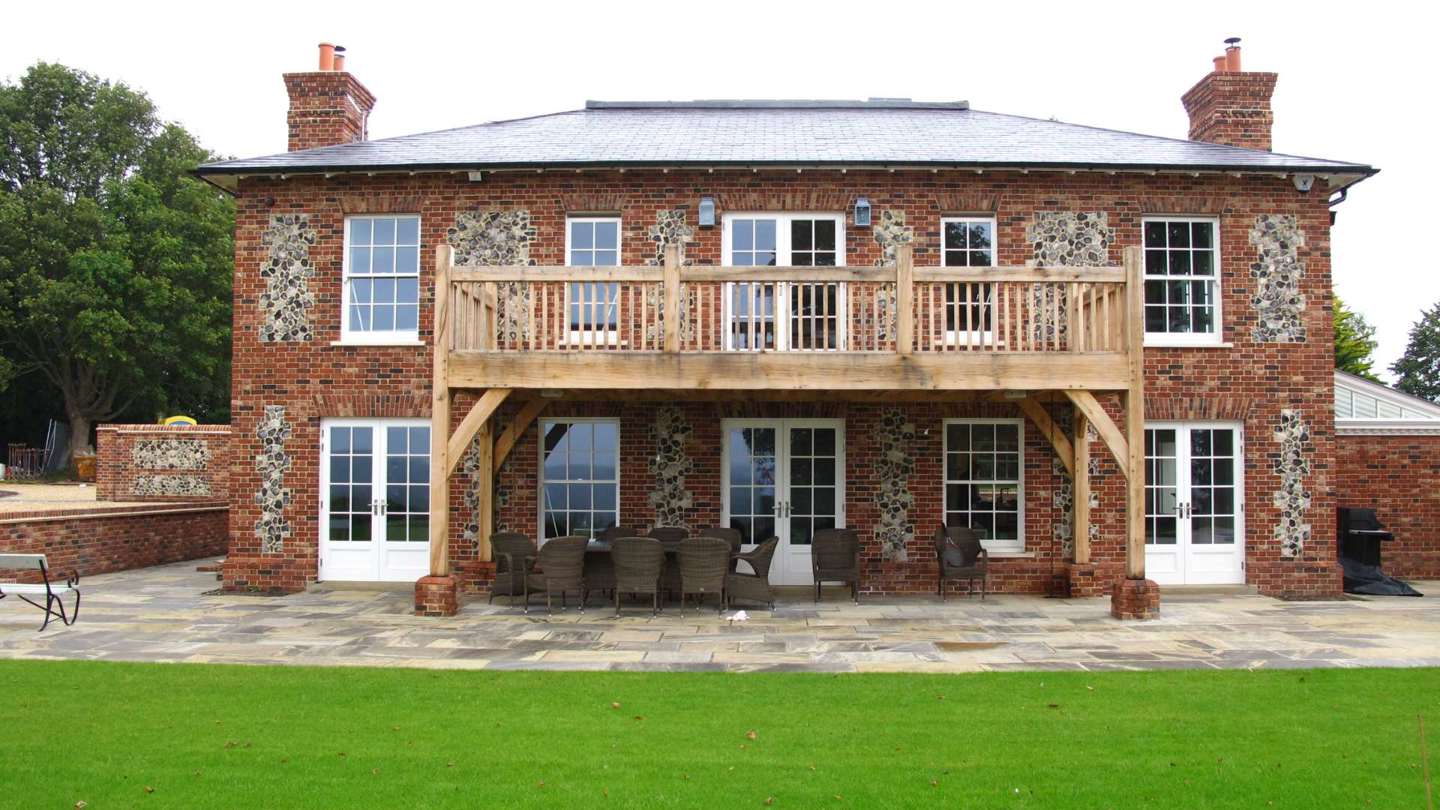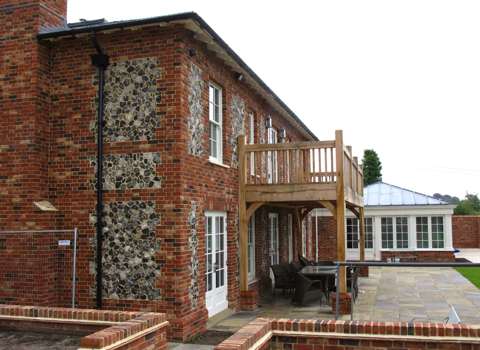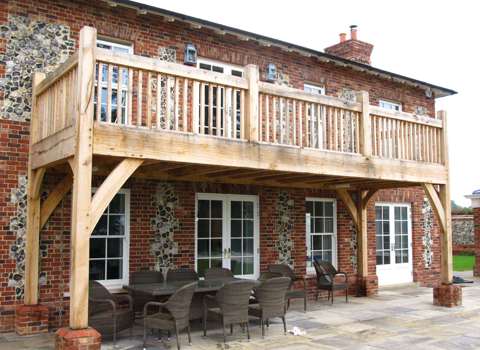 We designed and provided the oak for this stunning triple-width balcony with covered area beneath, built onto the rear of this West Sussex flint stone house.
Gates, glorious gates...we make them, we restore them, we design them, we install them, we leap over them!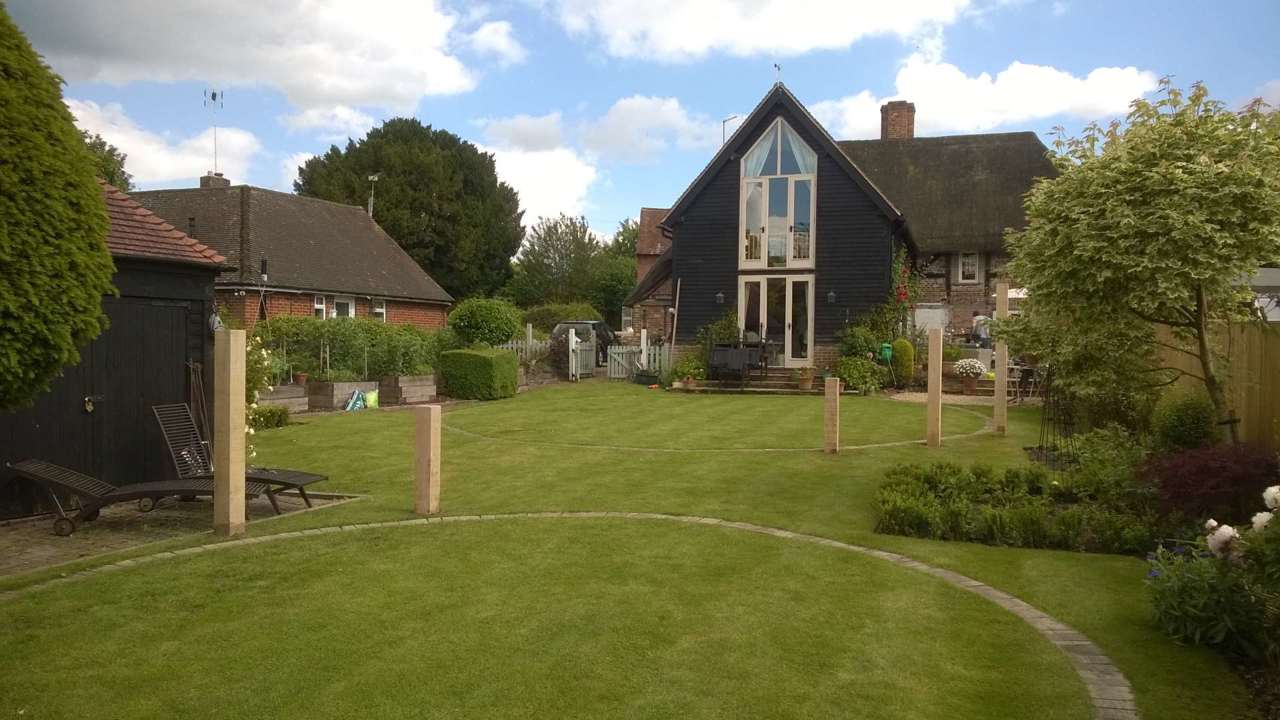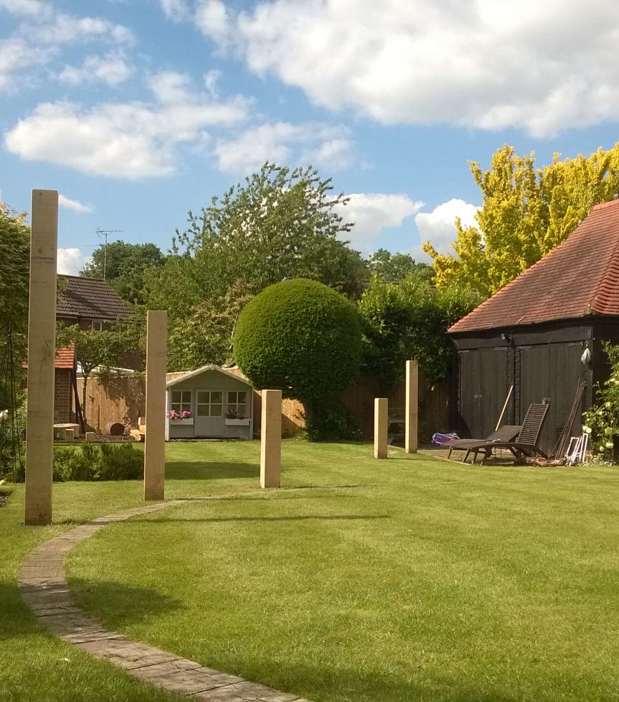 Upright oak posts and 2 large circles of oak paviours, laid flush with the lawn, add style and structure to this Hampshire garden.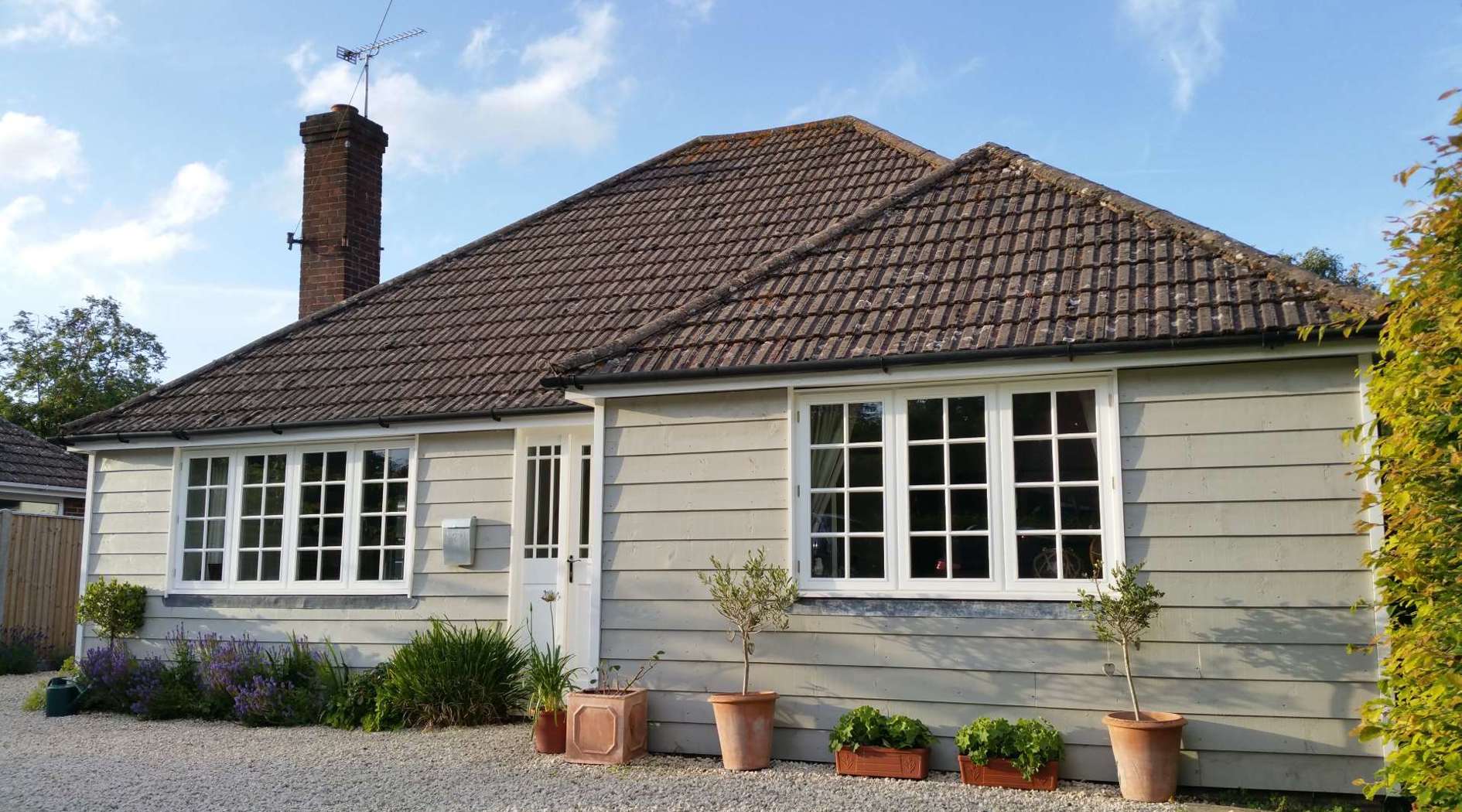 Replacing old UPVC windows and doors and covering this bungalow with shiplap cladding, painted one of 50 shades of grey, has transformed a formerly dull and uninteresting house into a contemporary and welcoming home.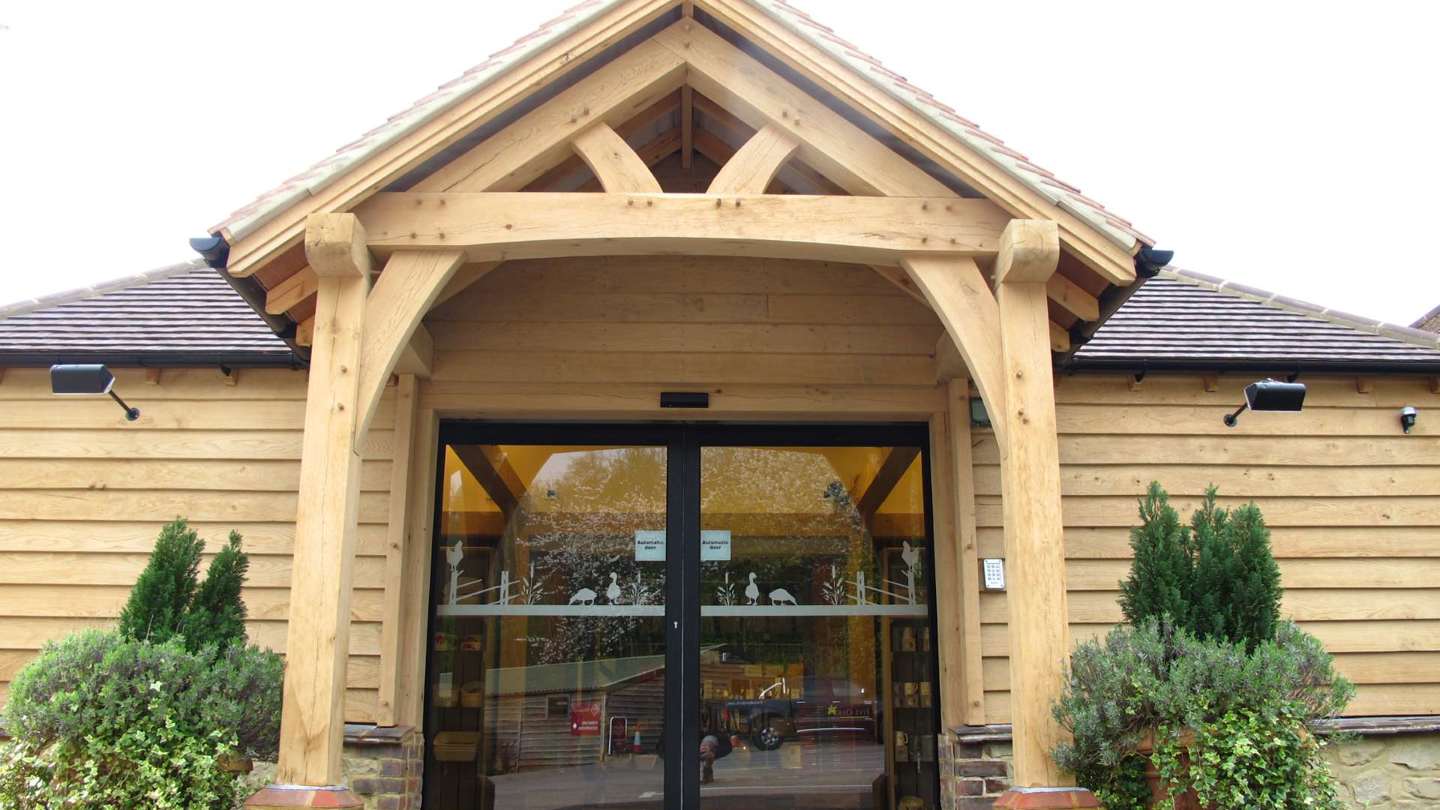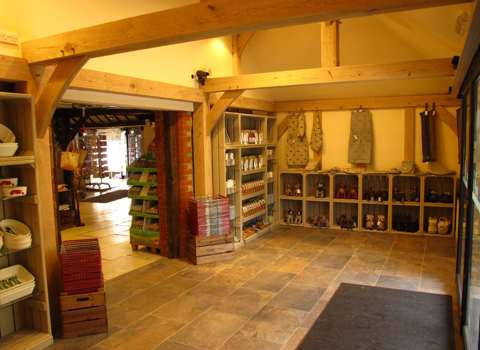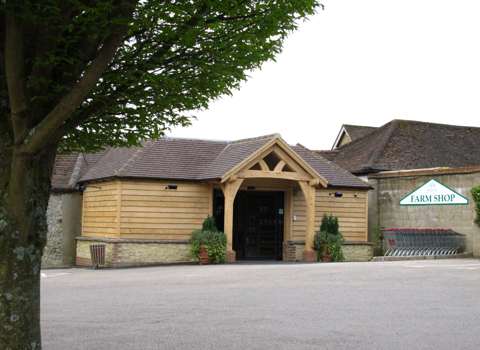 An old plastic 'lean to' wasn't creating quite the right impression as the entrance to this Surrey farm shop, whereas this replacement solid oak frame addition does, as well as providing additional display and weatherproof (!) space.
"Five Oaks have put up an oak frame on the entrance to my Farm Shop. Right from the start it has been a pleasure working with Oli and his team. He has been very professional and very positive all the way through and his attention to detail and quality of work was superb. And delivered on time despite the bad weather!" N. Shinner prioryfarm.co.uk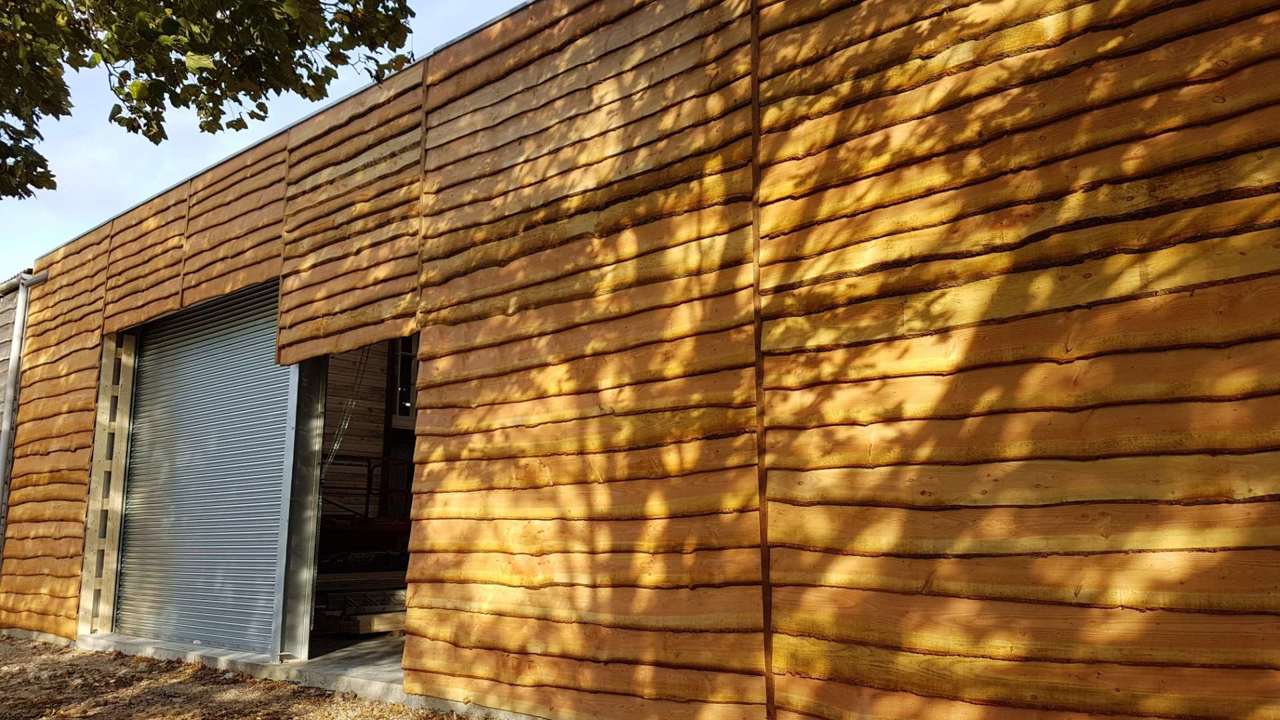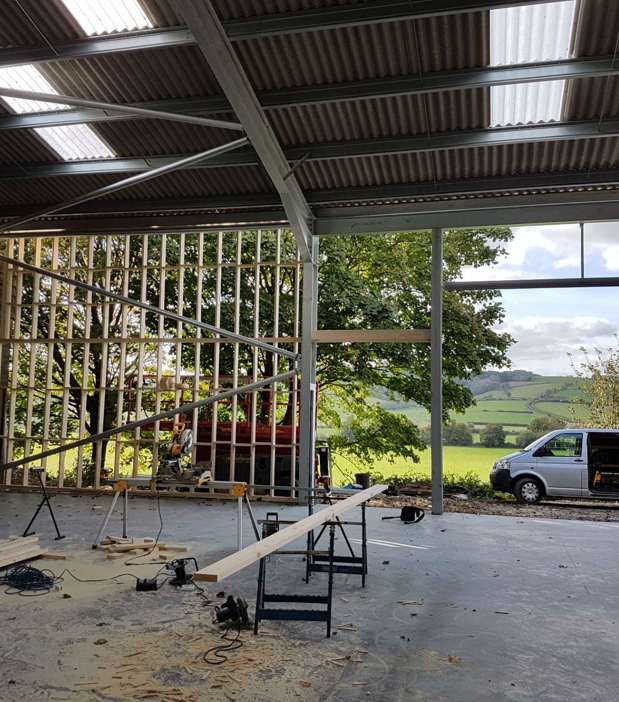 Cladding this large working barn with waney-edged Douglas fir timbers in glorious Autumn sunshine for englishwoodlandstimber.co.uk.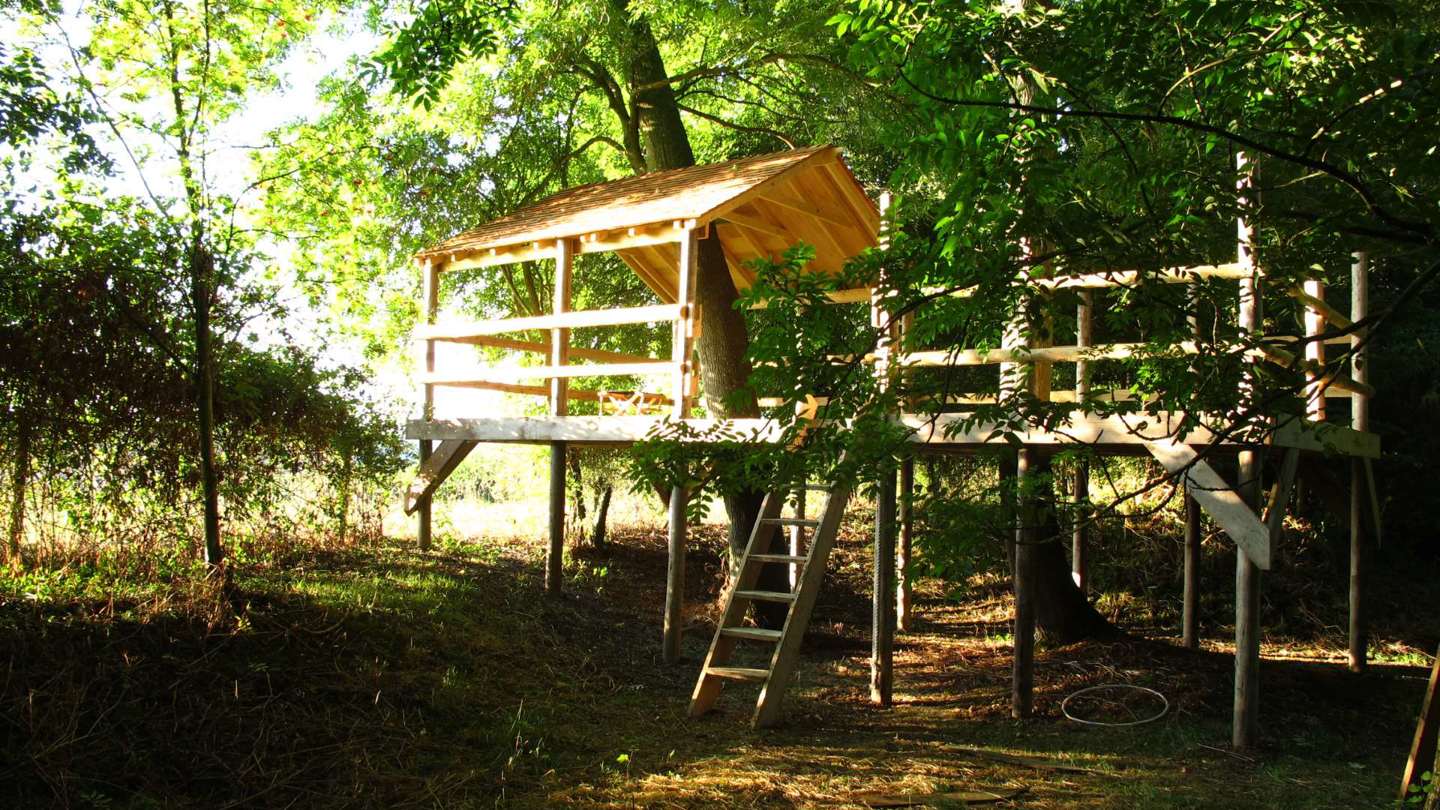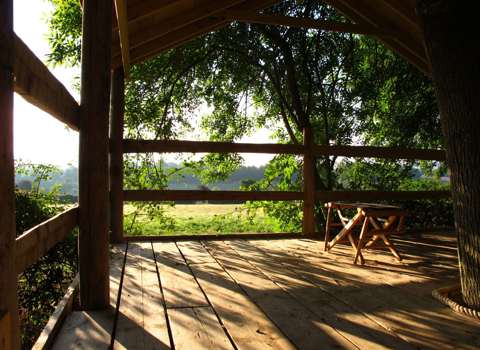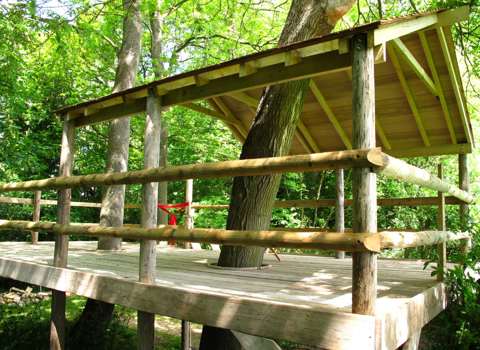 Using sustainably sourced softwood, this treehouse was built around the trees with an oak deck and a shingled pitched roof. It was left open-sided to take advantage of the stunning views – which we can't take credit for…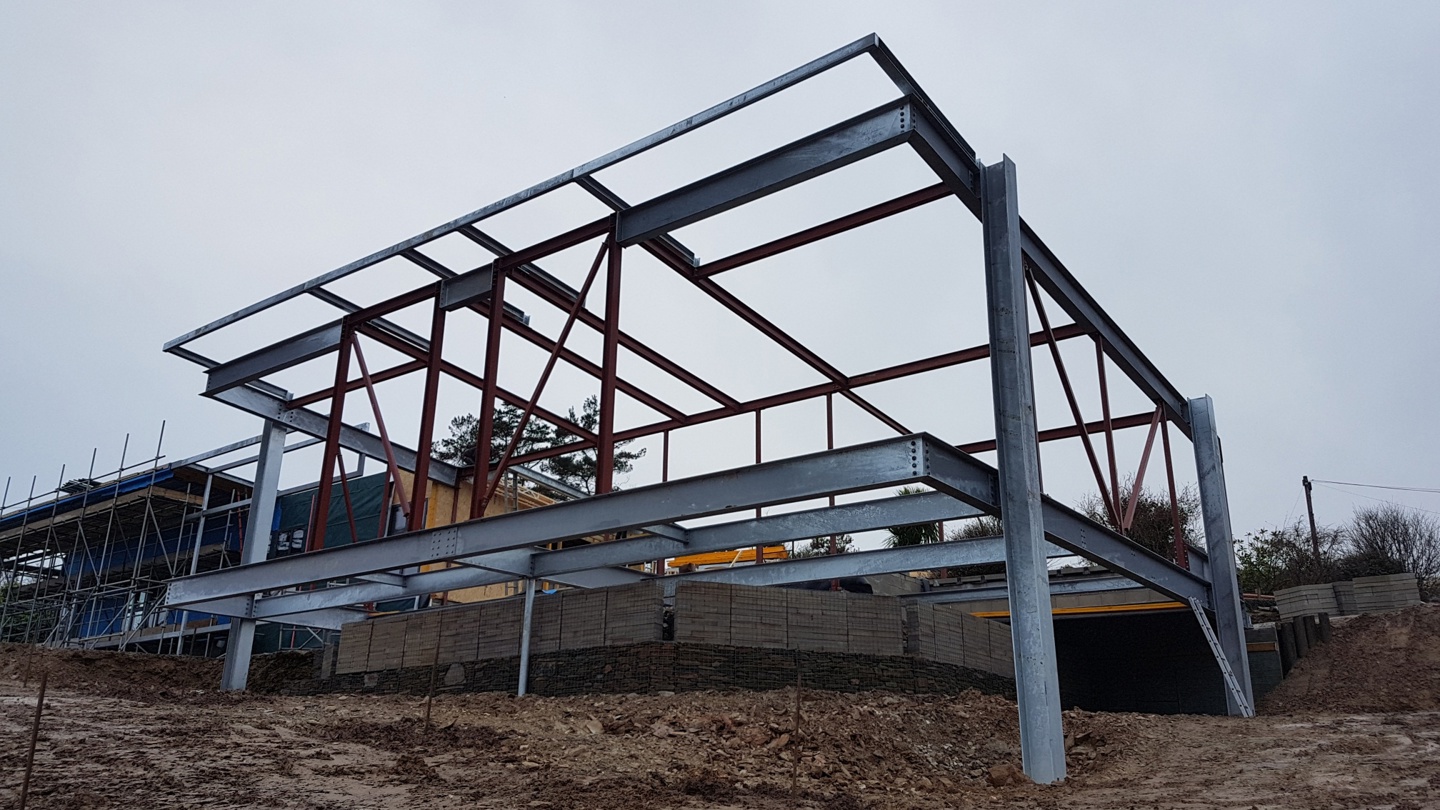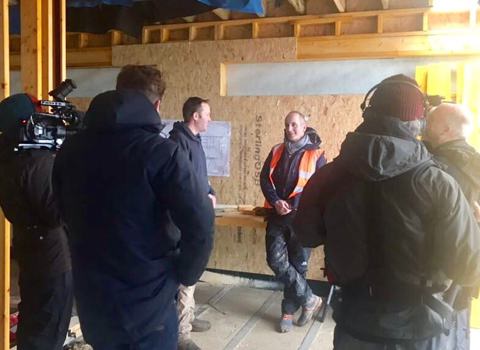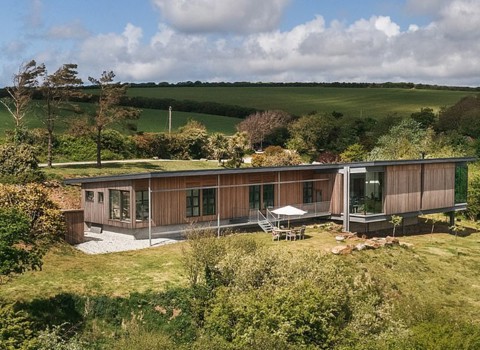 Oli helped our client with project consultancy, project management and onsite works for this major eco-build house in Cornwall. The design was based on the James Speyer house that featured in 'Ferris Bueller's Day Off' and filmed for Grand Designs in 2018 (repeated on air July 2020). Here we have the steel frame of the building rising out of the ground, some of the filming of the show with Oli and Kevin and the stunning finished build.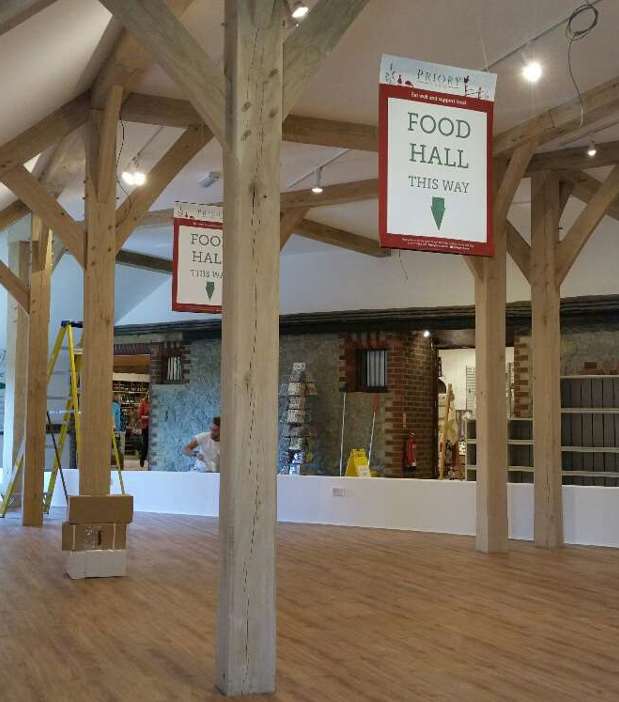 Invited back to this Surrey Farm Shop, we designed and built an oak frame to fit a difficult space at the rear of the premises. The beauty of oak framing is that you can custom build to fit any area – however awkward! Once completed, the new extension provided a large and flexible space for the shop to expand into. prioryfarm.co.uk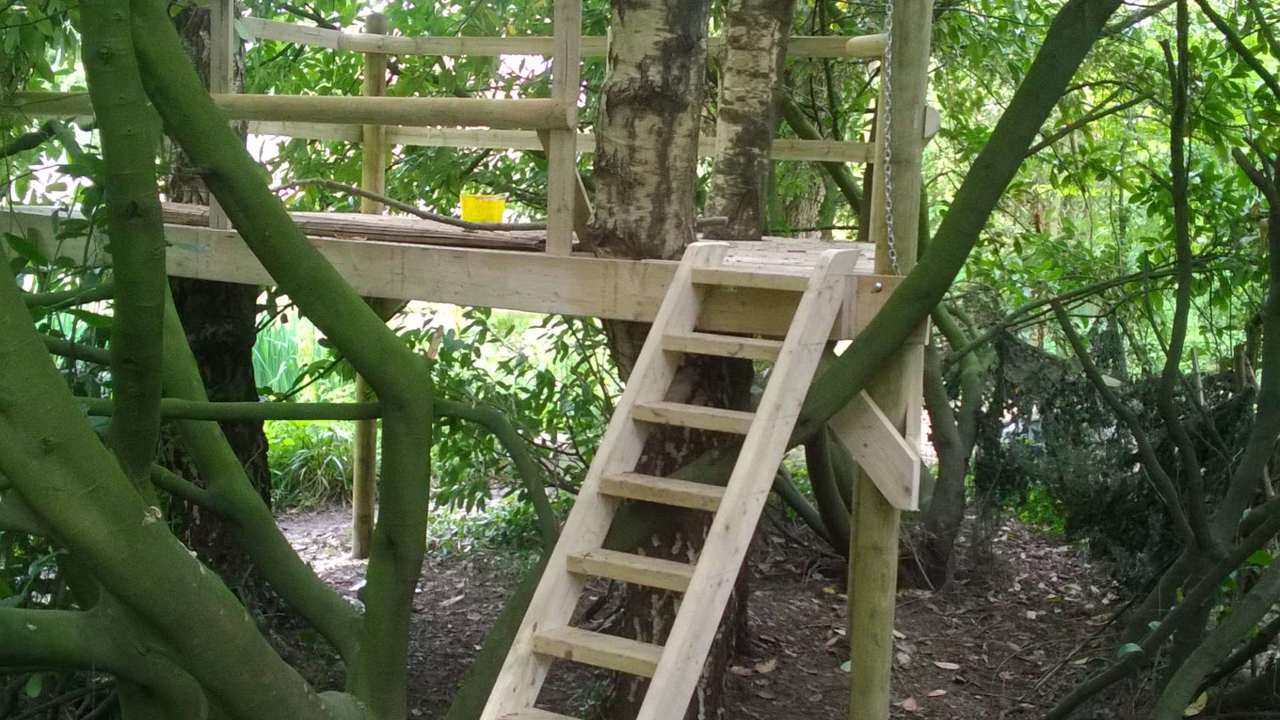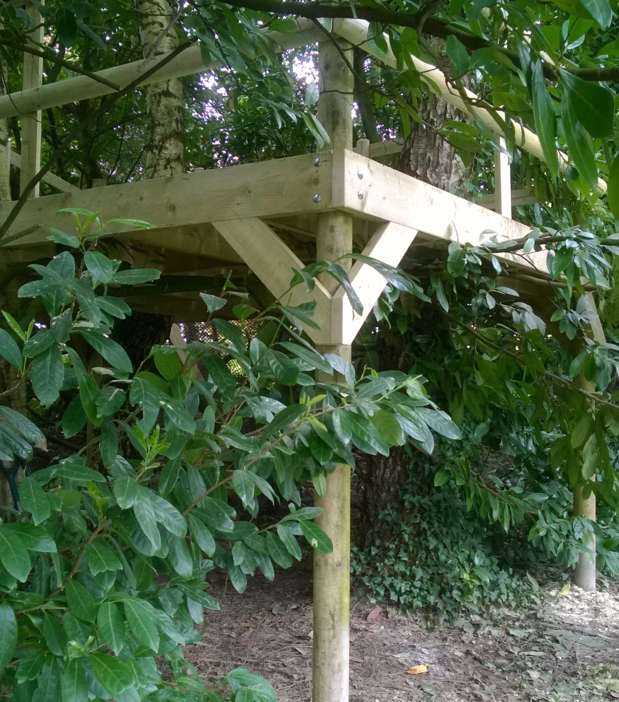 A platform built around existing silver birch trees provides a robust play area or gin & tonic terrace.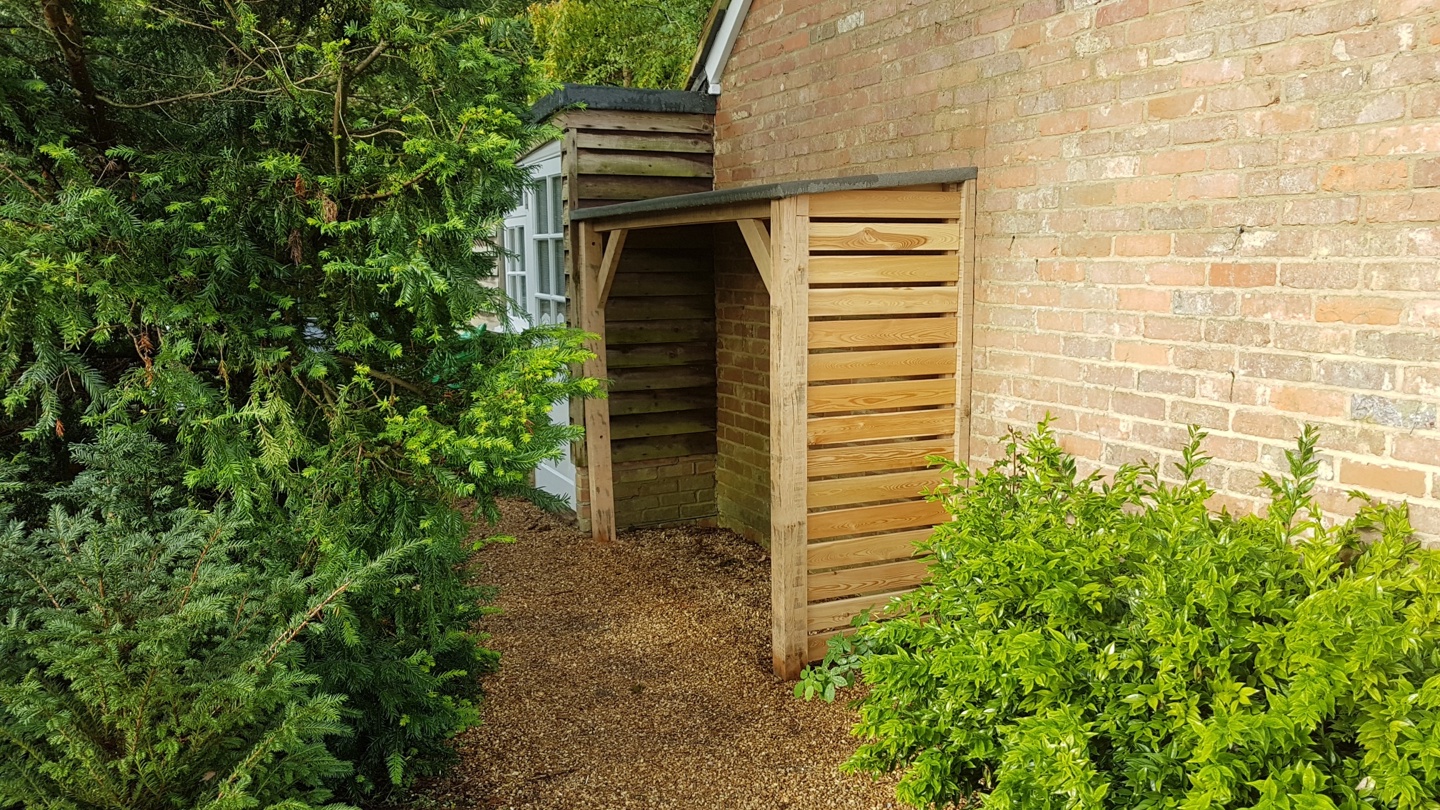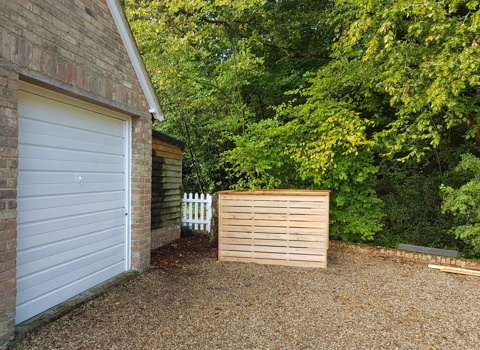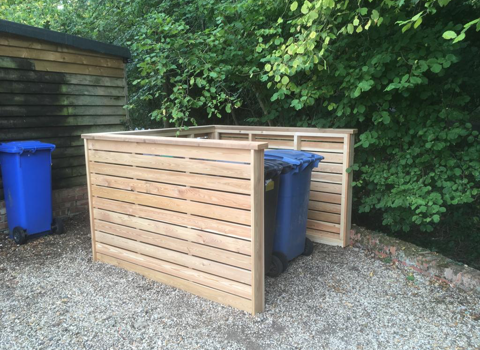 Two common problems we're asked to solve: how to make better use of dead space and how to make something ugly look more appealing. In this case, our clients wanted to hide their assortment of ugly wheelie bins and create a dry log store in one combined structure. We reviewed all the surrounding space available and instead created a bespoke log store tucked into the side of the garage and a separate, easy access larch clad bin store at the top of the drive. Our clients were thrilled.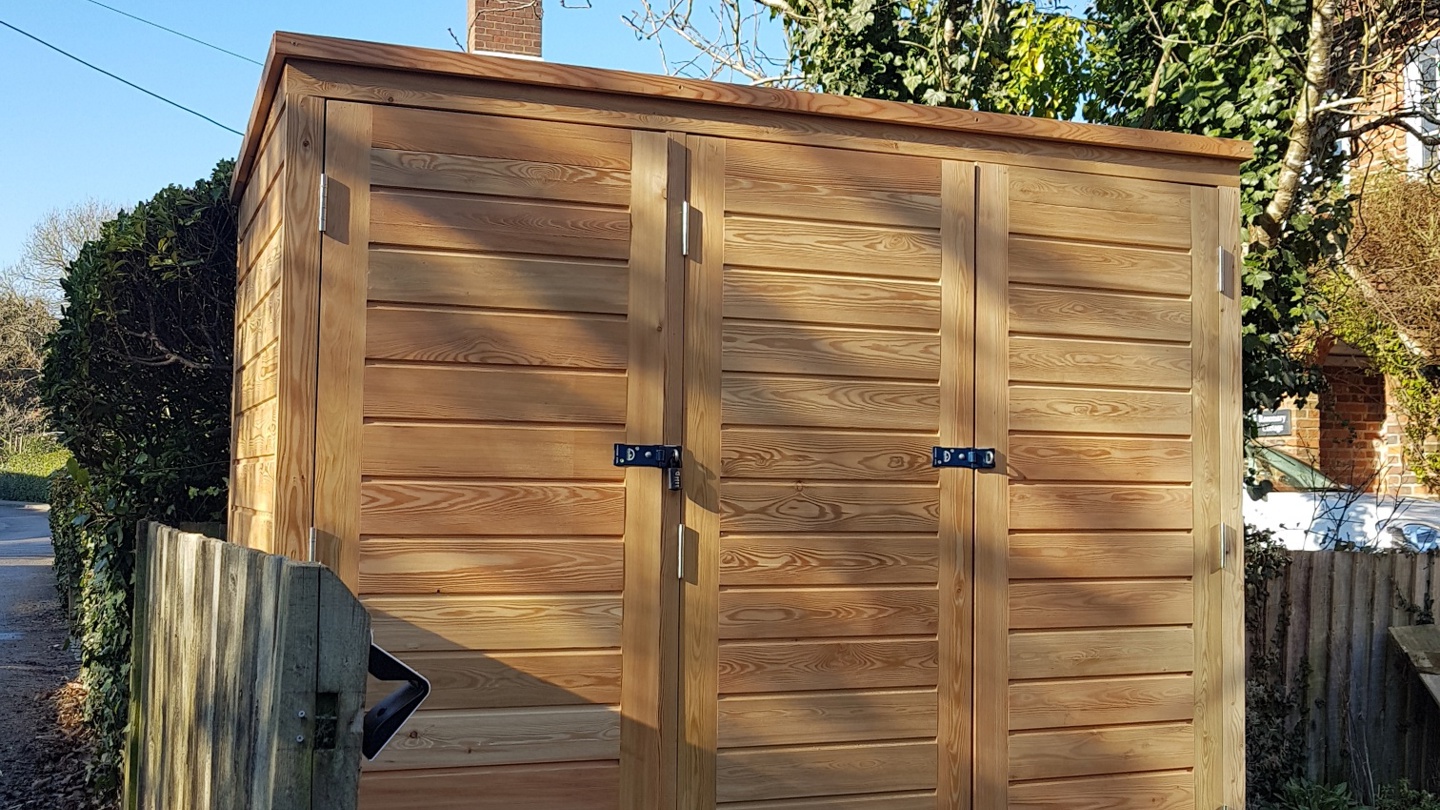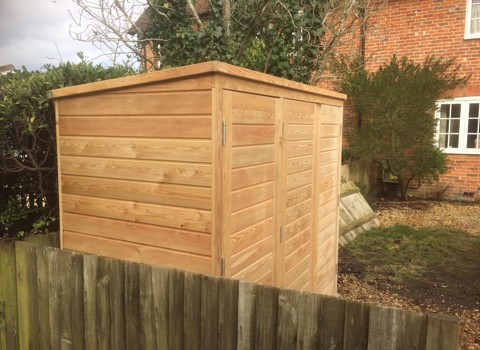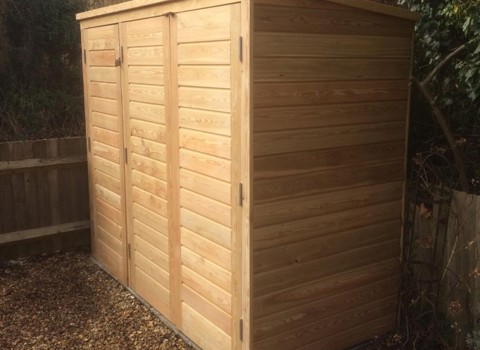 Our clients asked us to build them a bike and bin shed combined, with secure storage for the bikes and easy access for their wheelie bins. Using weatherproof larch cladding, the finished structure fits neatly in their small front garden and fulfils the brief perfectly.
We really are pleased with the great work done. It seems a lovely, solid, and excellent piece of work, which we are very happy with. Mr Z, Long Sutton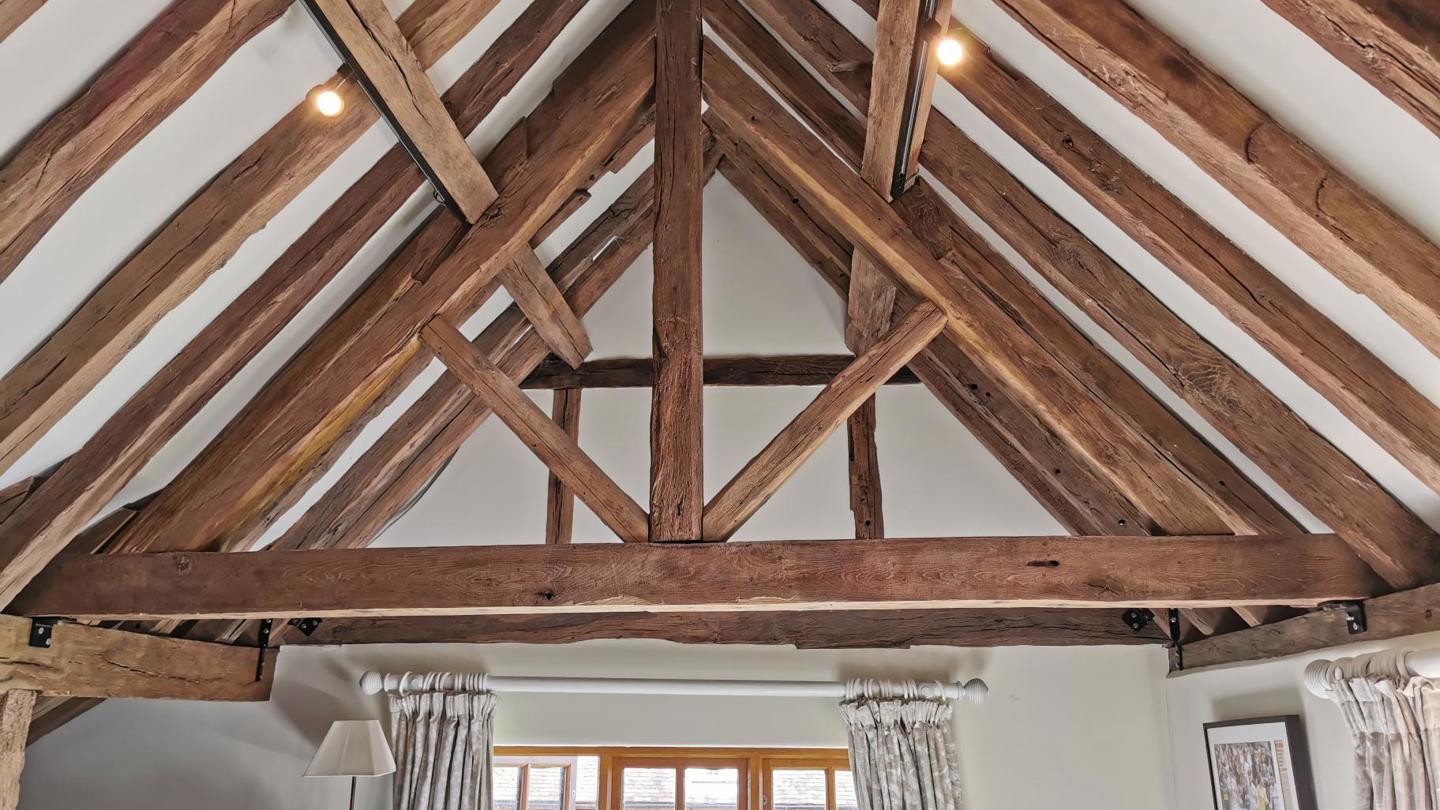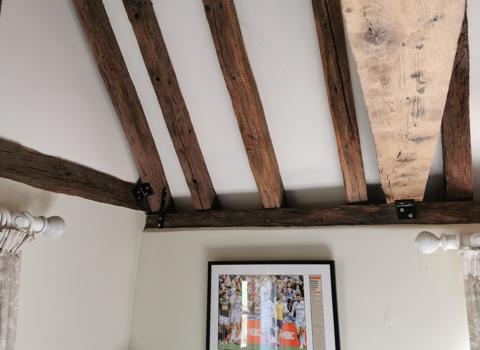 Essential repairs were made to this old oak exposed frame by adding new, but discreet, structural connections.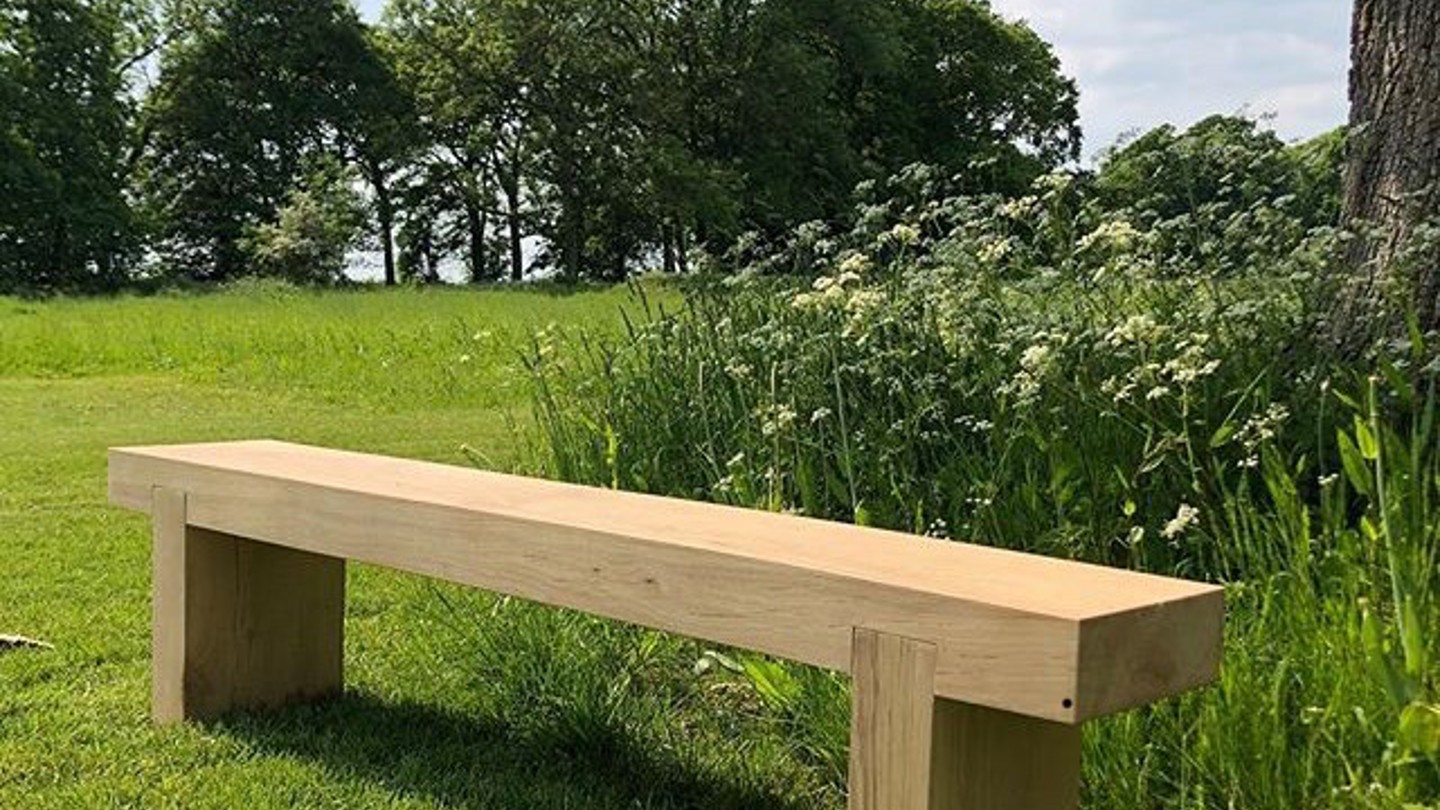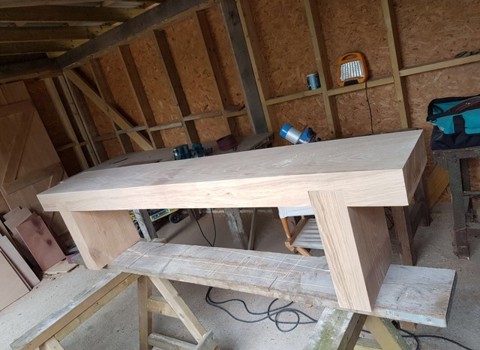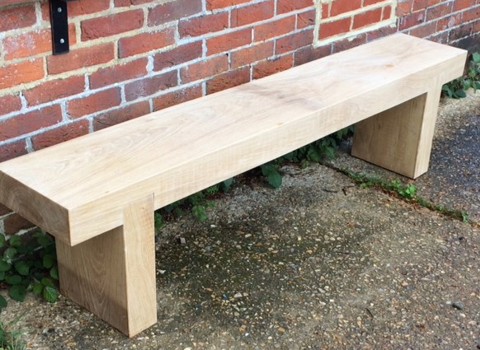 This beautiful, handmade oak bench is a new offering from Five Oak Projects as a complimentary addition to a number our oak framed buildings. Can be made to any size and looks great both placed inside or out!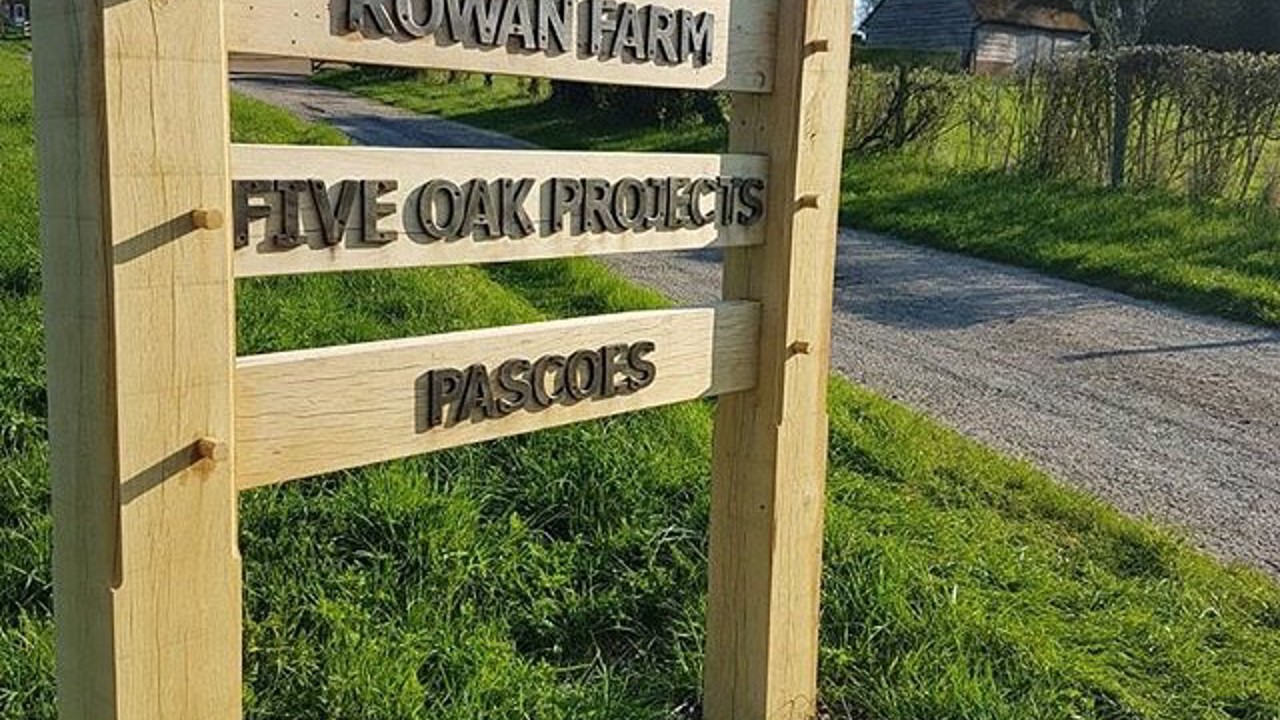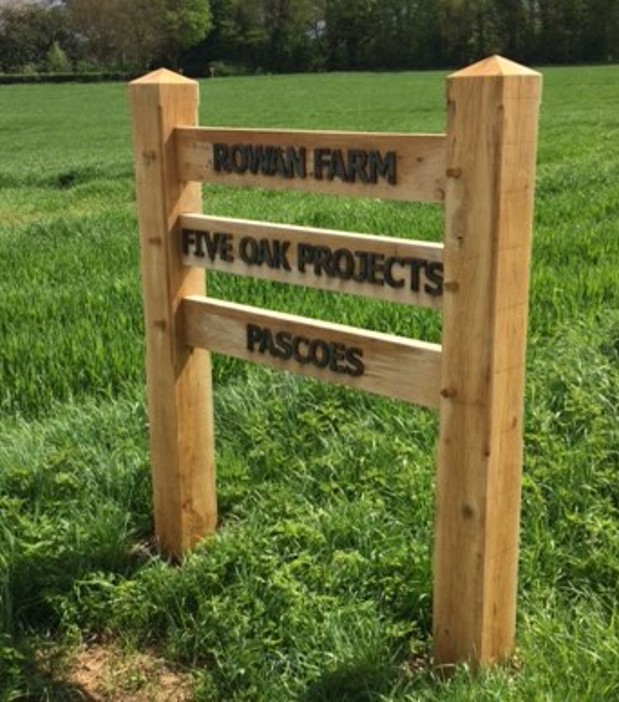 A bespoke oak post signpost with 3 crossbars and pewter letters. Can be adapted to suit a range of requirements and styles...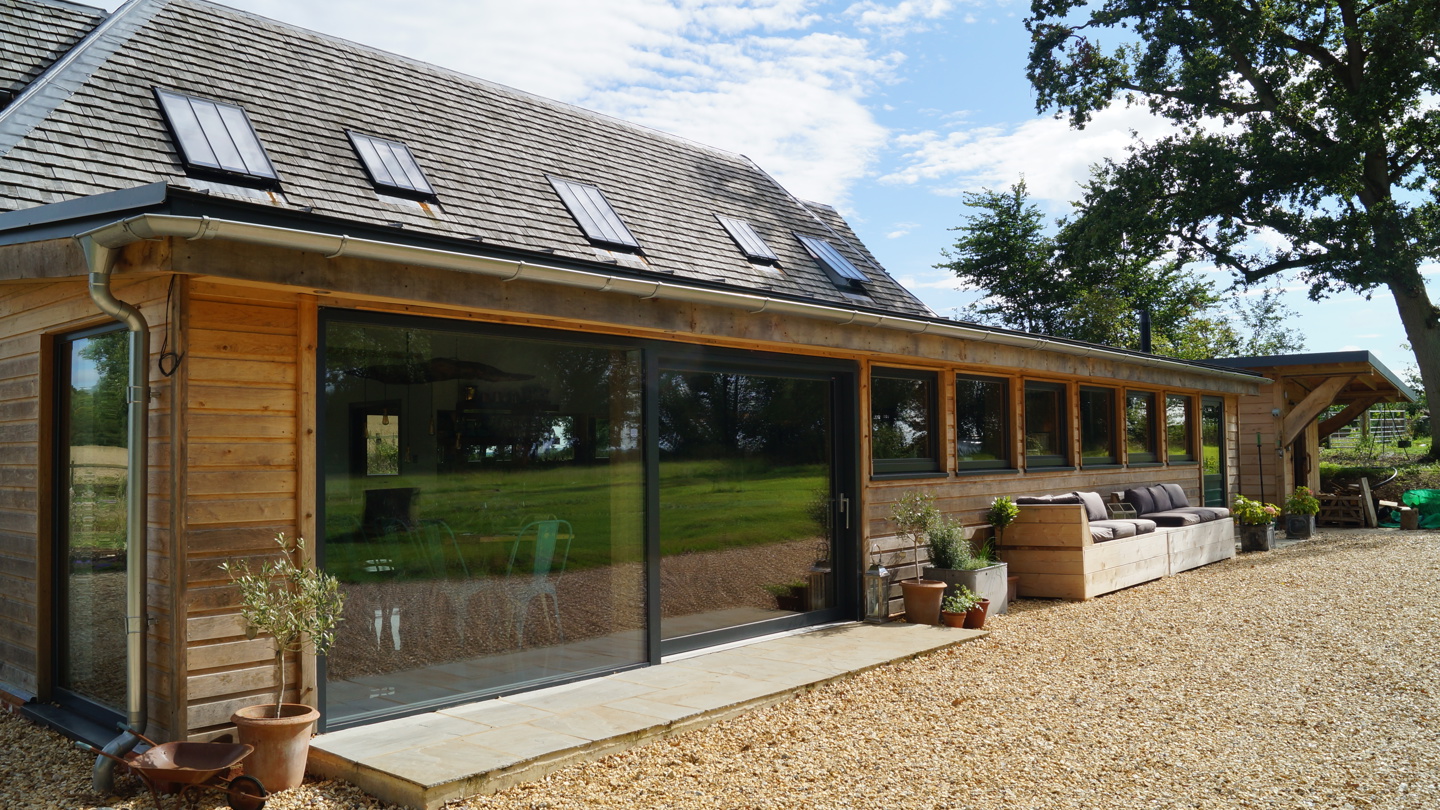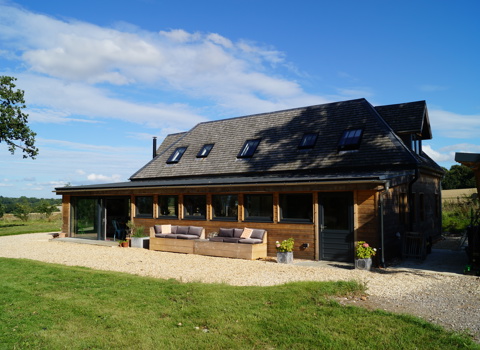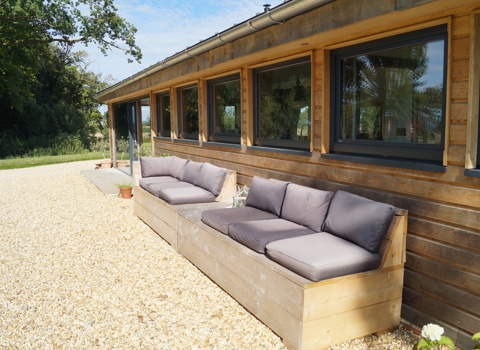 Custom built all-weather furniture using scaffold boards. Flexible, practical, comfortable and recycling at its best.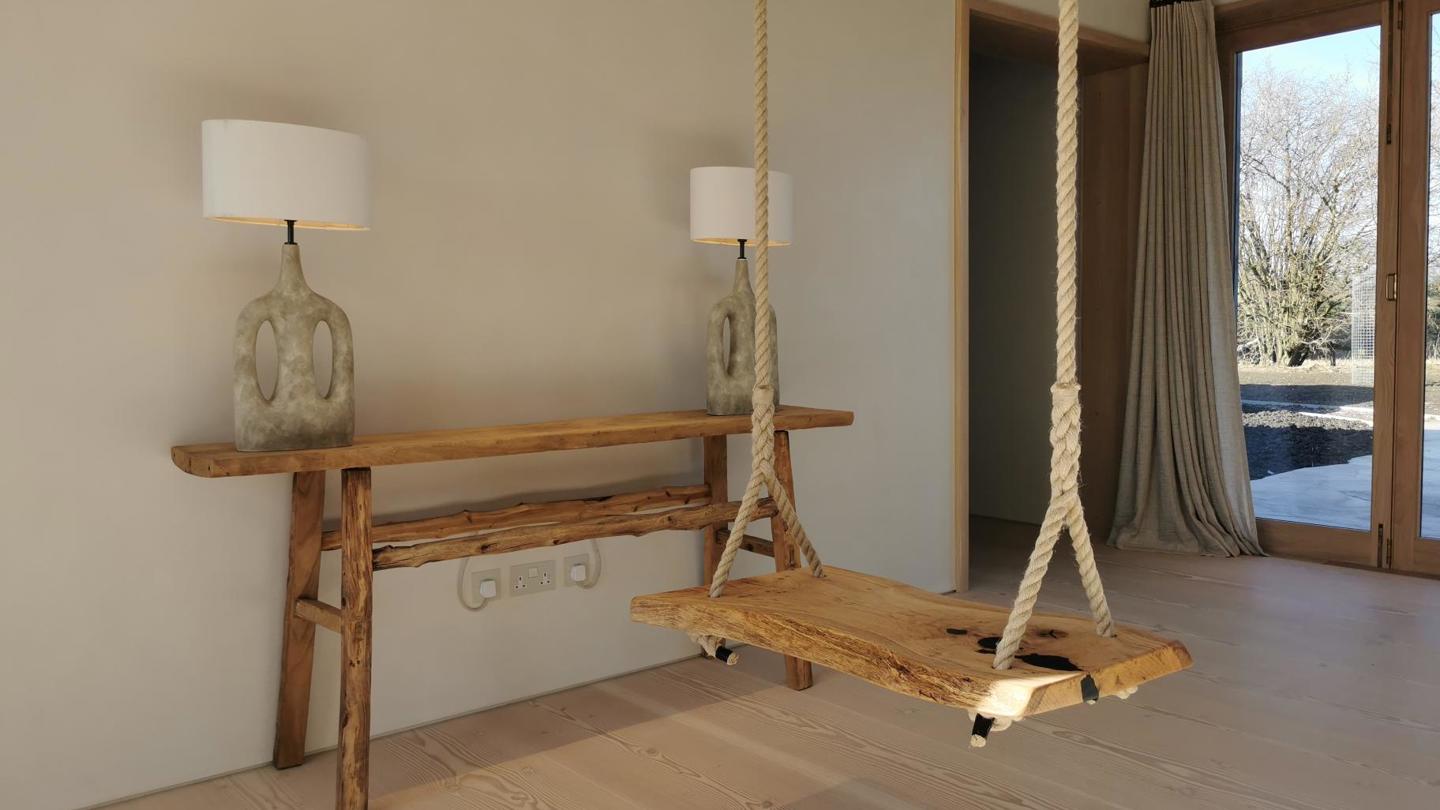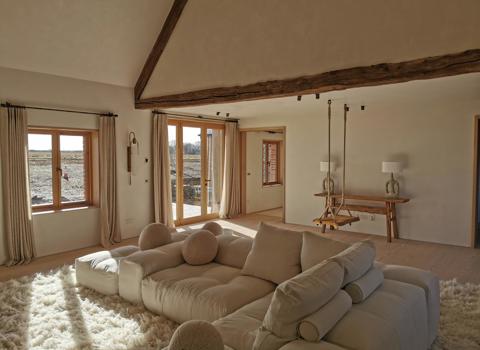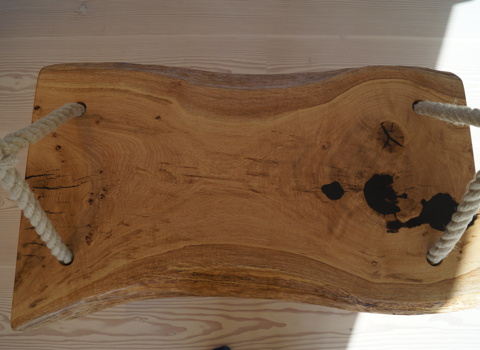 Who doesn't want an inside swing? This one hangs with a view from either side and has been made using a knarly old piece of oak that is uneven and full of knots. Holes have been filled with black epoxy resin and the rough edges sanded just enough to give the seat a smooth finish.