September 2023
This rather nifty two-bay oak framed log store is just over 5.5m in length and stands 1.25 metres tall. It has a slate tiled roof and ventilation slats so our clients' stash of logs will be kept both dry and suitably aired in preparation for the winter to come.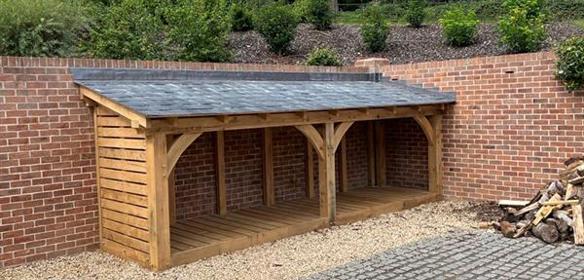 August 2023
The team have used all their muscles and big boys toys to create these massive curved eaves beams...which sit atop huge oak tree trunks (just visible under the boards)...which together with some equally impressive abacuses and modillions (learning a new language here!) will form the grand and unique curved entrance porch to this pool house.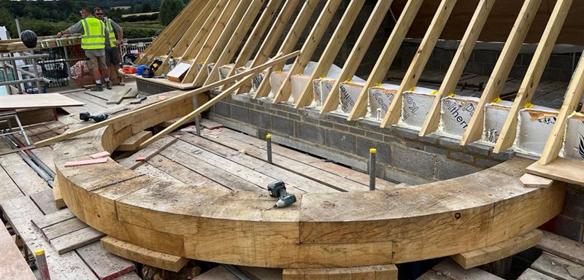 July 2023
This is a high quality 3m x 3m oak framed and clad building, with a 4-way hipped roof and hand made windows and doors, commissioned as an apple store. The insides will be lined with open and slatted shelving to store said apples after harvest.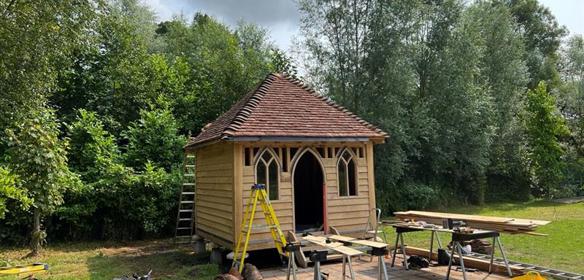 June 2023
This new build property has been a really interesting and complex project for us to be involved with as we dip in and out depending on the progress the builders have made onsite. Our role is to make and install all of the oak work to include loggia's, windows, columns and all of the decorative features shown in this CGI of the finished building. Currently, we are looking at the oak frame for the turret, which includes a huge curved brace.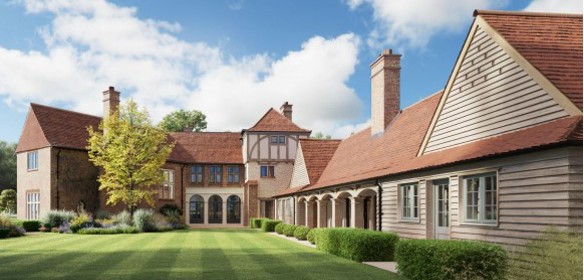 May 2023
While Oli recovers from a successful heart valve repair operation (yes really!), the boys have been doing a sterling job of maintaining all appearances of it being 'business as usual' and have cracked on with building this covered oak frame for an outside kitchen. It looks grand and, although it lacks the kitchen fittings, we understand it has already been christened!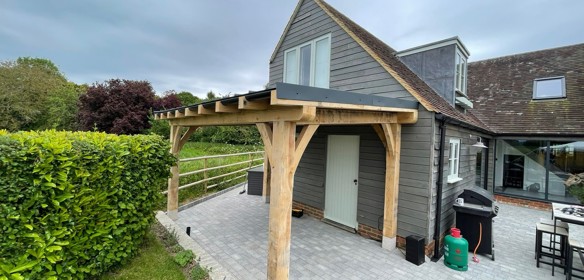 April 2023
The original bridge over the river to the sluice gates were made of metal and had badly rusted. With nothing worth salvaging, we handmade a completely new set of railings with angled mullioned spindles and matching handrails giving the finished bridge a new lease of life.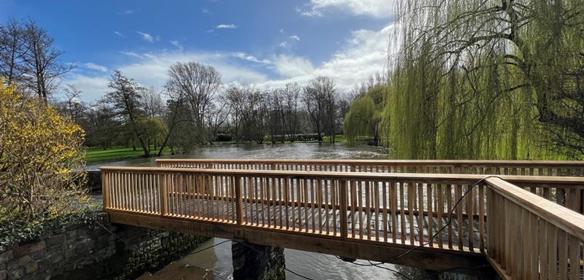 March 2023
Works are well underway on the restoration of this beautiful Berkshire barn as we dig out the old concrete flooring. The effect of concrete on timber posts is that it traps moisture and rots the wood which, in this case, means the main supporting posts are floating in space. This is not good!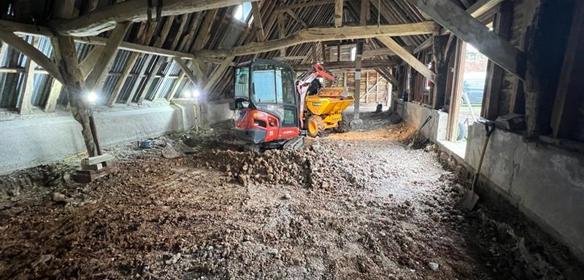 February 2023
Just in time for Valentines Day, we have completed the restoration on this detailed round tree bench. We've hand crafted new arm supports in iroko wood and replaced missing and/or rotten seat slats so that this beauty will provide a perfect place to sit and take in its stunning surroundings for many more years to come.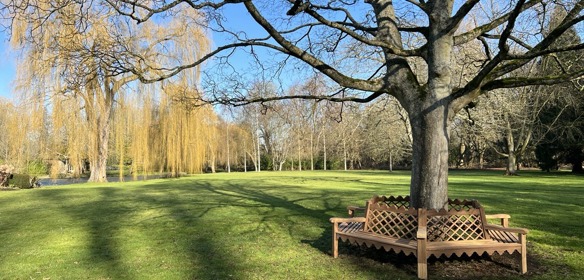 January 2023
The team have been using all the big boy tools to cut down these beauties for an upcoming pool house project. The trees will be used as column supports for the pool house porch and kept in their natural state as much as possible, celebrating the individual features and character of each trunk.
December 2022
How about this for an outside storage area/bin house...the boys had great fun working to the high end finish this job commanded as few of our jobs require the same level of detailed finish. All of which adds to the variety and satisfaction we get from the projects we have the privilege of working on.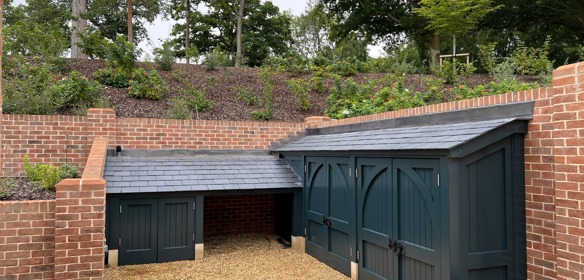 November 2022
Another listed barn in need of some Five Oaks TLC! Our brief on this project is to make essential frame repairs only to prevent any further degradation of the building structure itself. Once this old cart shed is safe and sound, our clients can take their time to decide their long-term plans.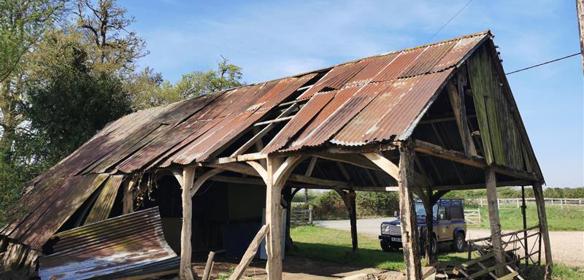 October 2022
How's this for a building in urgent need of help?! The roof slipped off in one movement when the supporting timbers failed (fortunately, no one was inside at the time). Yet another exciting project the team are tackling right now.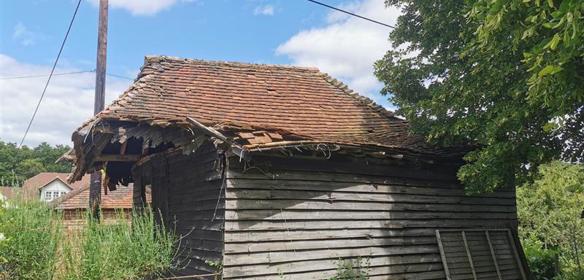 September 2022
We just love the wide variety of projects we get to work on...like the barge boards and decorative finials on this Grade II listed house we've just replaced. The unique, hand crafted shapes replicate what was there before, but rather than being hidden under layers of black paint, these oak boards are going to be left to weather down in their natural state.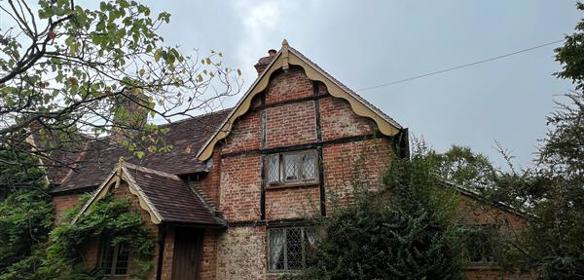 August 2022
A bit of a tight squeeze, and working on different ground levels, made building this bespoke boathouse quite challenging. It's situated on the River Hamble - a stunning location and such a pleasure to be close to the water during the summer heatwave. We'll be heading back there later in the year to fit out the interior.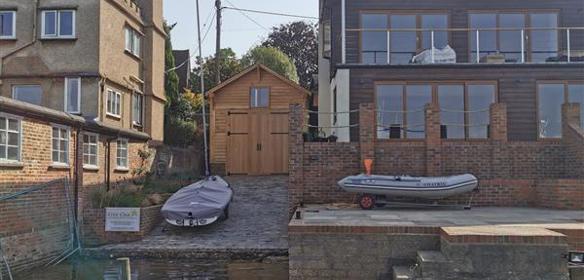 July 2022
Not all our jobs are big builds, sometime we focus on smaller jobs that are none-the-less important for creating the desired look and feel our clients seek. Here, we have re-created a pair of bespoke oak gates to replace the rotted originals, and installed with fully restored ironmongery.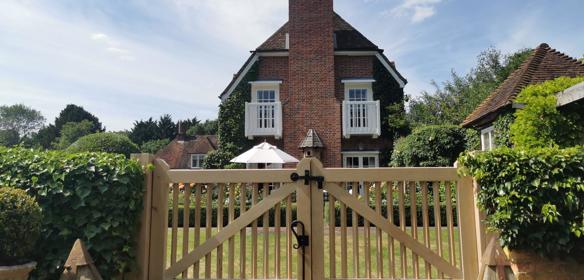 June 2022
We're back up in the trees building another bespoke treehouse. An octagonal platform around the main oak tree connects to a woodland cabin on stilts. A deck extension to the side of the main platform will provide a safe zip line launch area, accessed via cargo netting, connecting to a small landing platform at the other end of the line.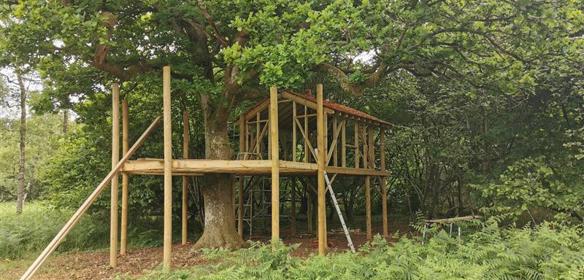 May 2022
So nice to go back and see old clients and, in this case, see our bespoke oak porch blending into its surroundings now that the oak has weathered down to a soft silvery grey. In the meantime, we are repairing a treehouse badly damaged in the winter storms and starting on another treehouse in Surrey - lovely time of year to be up in the trees.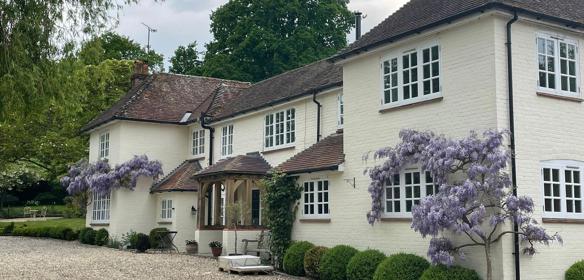 April 2022
We're on another lovely granary restoration project this month. The main ring beam needs to be replaced as it has failed and one side of the building has dropped 15cms as a result. Once this is replaced we'll restore the wall to its original position, replace the bricks and carry on with the other timber repairs and refurbishment this granary needs.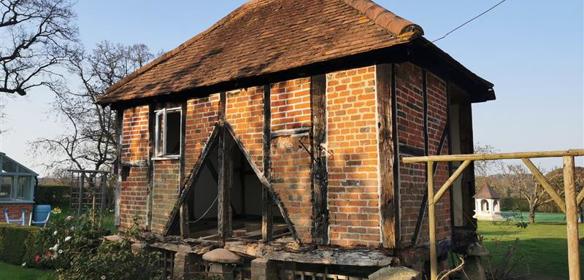 March 2022
Despite some pretty stormy weather of late, we are delighted to have finished this lovely two bay garage for some local clients. Clad in oak and with a slate tiled roof and a loft floor, one bay is open and the other enclosed behind a pair of bespoke barn doors.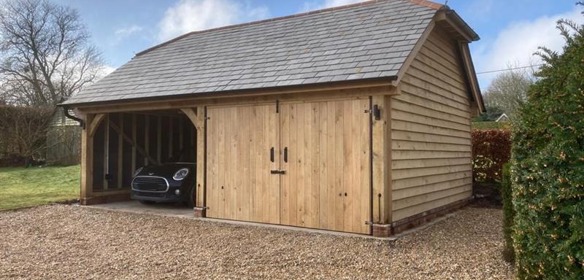 February 2022
This wonderfully gnarly piece of oak has been lovingly treated to create this unique indoor swing. We used black epoxy resin to fill the knots and holes to really bring out the features of the wood and sanded it so that it is a smooth as silk to sit on, but retains the wavy edges for a more rustic and natural look.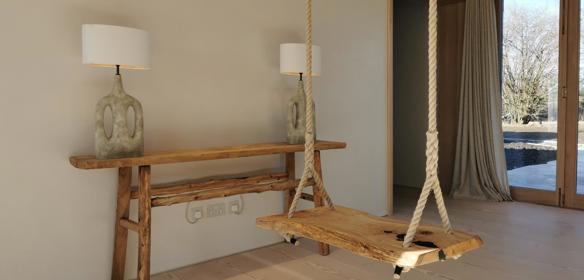 January 2022
We are nearly finished with the works on this single story building that our clients commissioned to provide a self-contained one bedroom annexe with bathroom and kitchen facilities.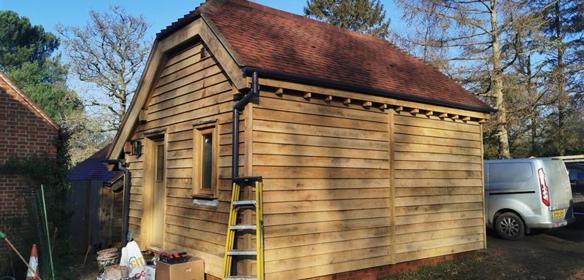 December 2021
Nice to get another project finished before Christmas...originally commissioned as a gym, we've also heard it referred to as a party barn! There's plenty of space inside, upstairs and down, for it to be both, as well as additional guest accommodation. We've no doubt our clients will find many uses for this large garden building over time. 
November 2021
Thanks to Lord Wandsworth College for the fireworks display in the field behind the eco barn conversion we did back in 2014. We think it created a rather stunning backdrop that complemented the existing exterior lighting perfectly and, of course, it was very exciting to watch!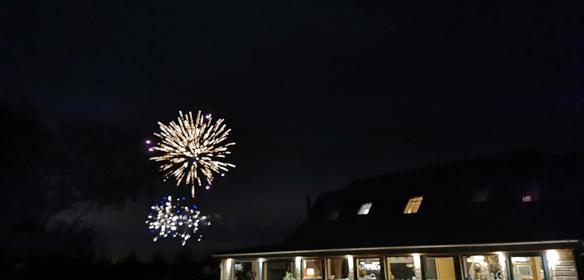 October 2021
The boys are putting together this Douglas fir and oak frame outside the workshop as it reduces time and costs by ensuring the frame is spot on ahead of onsite construction. Once we are onsite, we will reconstruct the frame to create a one bedroom annexe for our clients in Godalming.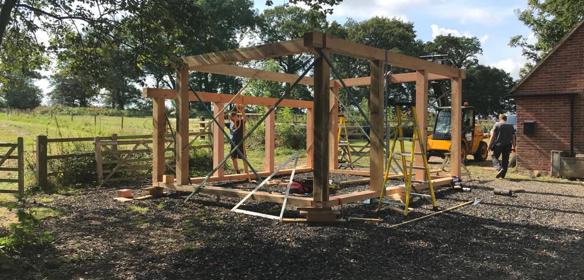 September 2021
Stripped of its cladding, we start to see the bare bones of this listed granary so we can see what repairs we need to carry out to ensure the structure is stable and solid for the next 100 years. Once the frame restoration is complete, the building will be re-clad, re-tiled and painted black - as it would have been originally.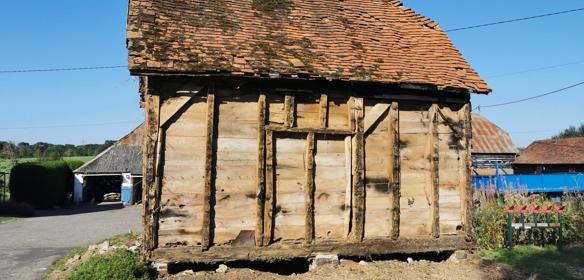 August 2021
Our clients have commissioned this barn to house their own home gym. Quite an impressive one at that...being 10m x 6m, constructed out of highest structural grade of Douglas fir and featuring a mezzanine floor with solid wooden staircase inside.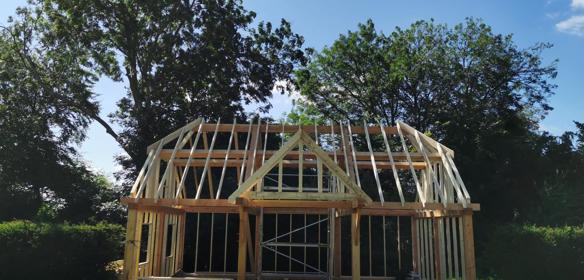 July 2021
We're currently preparing and installing a hand picked selection of reclaimed oak beams into the ceilings of a brick & flint barn conversion in the Candover Valley. Each chosen beam has its own individual character with assorted marks, scars and curves, all of which give the desired authentic finish.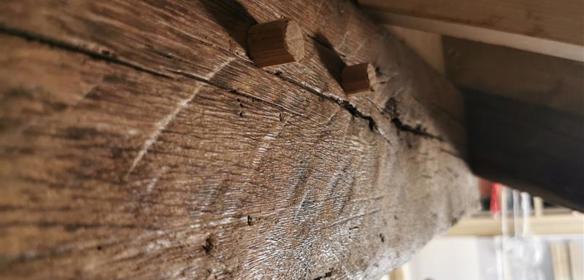 June 2021
We've just finished replacing an old and tired open-sided entrance with this oak framed porch extension, finished to match the existing veranda. The inside is fully insulated, plastered and finished to a high spec. It's also full of natural light thanks to the inclusion of a sash window to the side and full height glazed panels either side of the new blue front door.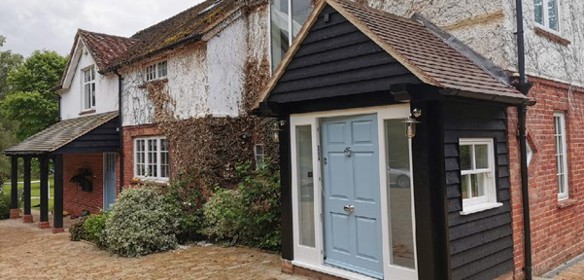 May 2021
This rather interesting pile of rusted wheels, assorted metalwork and broken, rotting timbers will soon be transformed into a brand new Shepherd's Hut and we're really excited about building this one. Our first, but we hope not our last...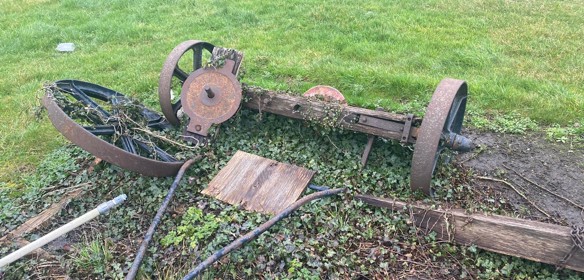 April 2021
We've just put the frame up for this gazebo. When complete, it will have a tiled mansard roof, solid oak rafters with oak sarking boards above (so all you see from inside is lovely honey-coloured oak) and a brick built wall with a traditional log burner; beautiful to look at and warm and cozy!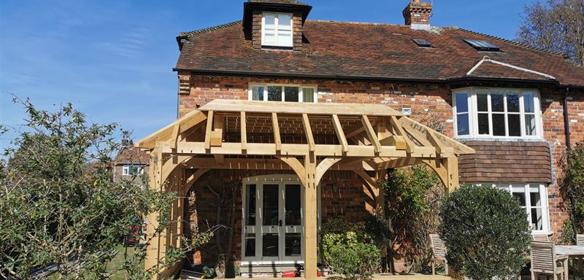 March 2021
Getting ready for warm spring and summer days (and evenings), we've just finished this gazebo for our clients in Hartley Wintney. With heaters and lighting also installed, it is ready to go as soon as the weather picks up - or even if it doesn't!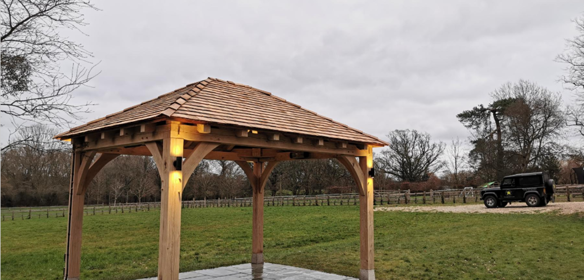 February 2021
Knocked up in the (relative) warmth of the workshop by the very talented Toby, these custom built oak gates were made to match the client's design and then installed during the cold and snowy weather we experienced this month.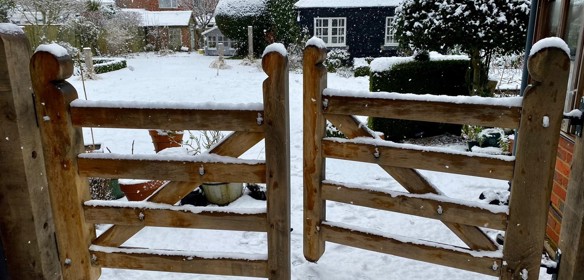 January 2021
Our latest project is the hugely successful conversion of a formerly run down (but really lovely!) old garage into this light, flexible and fully functional work space/studio. The original tiled floor has been lifted and re-laid, the walls 'tied' in, new ceilings and a log burner installed and new windows and doors just being finished off here.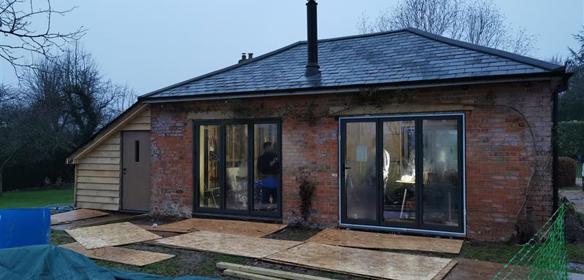 December 2020
Very satisfying to have just finished two projects at the same time for our clients in Farnham; this lovely garage and a separate store room. The garage is oak framed, oak clad and features oak sarking boards in the roof with clay tiles on top. The store room also has an oak frame, a shingle roof and a range of bespoke barn doors with handmade ironmongery.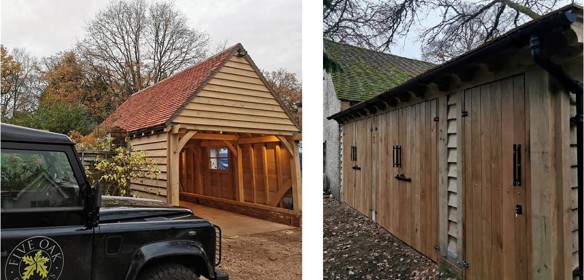 November 2020
We are very flattered that bi-monthly publication, Woodworking Crafts, chose to write an in-depth Feature on us in their most recent issue (No.64). The finished article spreads over 4 pages and talks about our passion for building and restoring green oak structures and is illustrated with a range of images of projects past and current.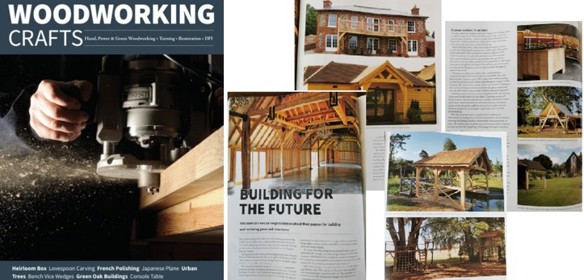 October 2020
The frame for this impressive log store took just two days to construct - two very wet days as it happens, but that didn't stop progress. It goes to show how quickly a structure can be built using an oak frame once all the groundworks have been completed. The frame looks stunning here in the sunlight - which came out after the build was completed, of course!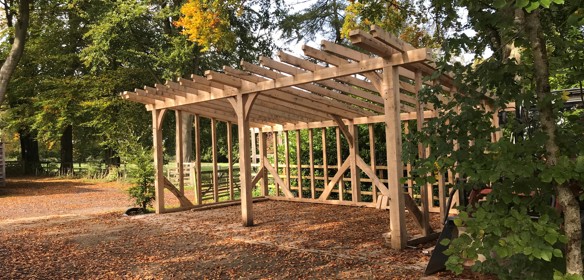 September 2020
Thanks to our friends at fourwalls-group.com, we are able to work together to produce amazing 3D visuals like this one. The incredible detail we can include really brings each project to life, clearly showing proposed materials, scale, how the building looks in situ and even surrounding landscaping. These renderings are a fantastic tool to have at our disposal for both our clients, and the planning office, as part of the approvals process.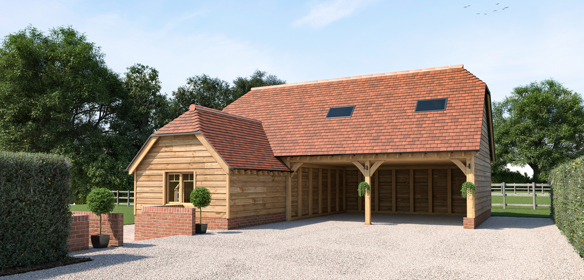 August Bank Holiday 2020
We are delighted that The Guild Of Master Craftsmen chose to focus on us with a Member Profile piece just posted on the News section of their website this weekend (https://www.guildmc.com/news/member-profile-five-oaks-projects/). The feature touches on a number of our completed projects, and highlights the diverse range of skills and huge variety of structures we've had the privilege of building over recent years, as well as some of our latest work on restoration and conservation projects.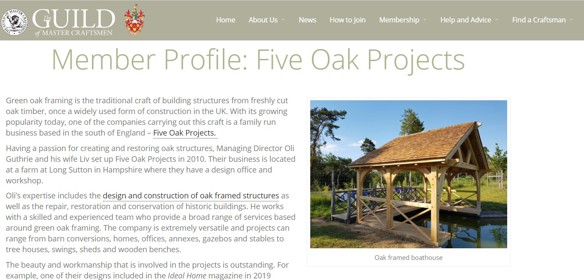 August 2020
Whilst Oli and the team carry on with the cart shed restoration build (in between thunder storms!), here's the finished chicken coop he (and Rory) built whilst in lockdown. Its young occupants are settling in well and enjoying their luxurious new home, but it will be a month or so before they start producing any eggs (generally around 6 months old apparently).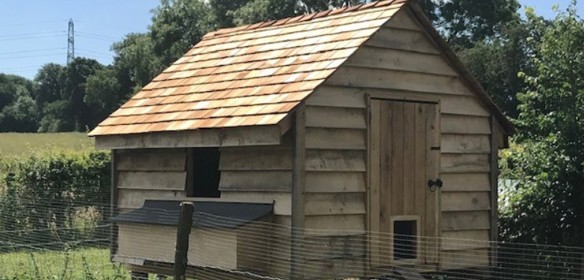 July 2020
This is a very exciting restoration build project we're working on; to reconstruct a 5 bay traditional cart shed to replace the fully collapsed original building. Working closely with the planning office to meet all the required conditions, we are just starting to install some of the original timbers, salvaged from the site, into the new frame. As the build progresses, more salvaged materials will be installed so that we create a faithful replica of the original shed.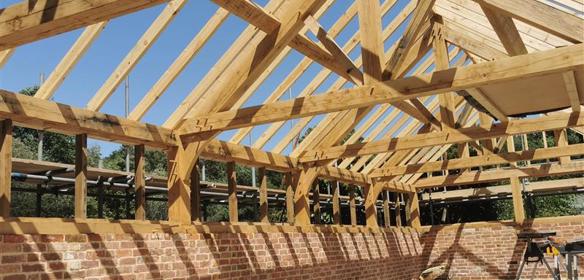 June 2020
We are working extra hard to try and catch up on any lost time created by lockdown for a number of our patient clients, including an ongoing restoration project, a new build barn, repair works to a listed building and this fabulous new porch for our clients in Stockbridge. With glazed panels and the roof still to be installed, this grand addition has already transformed the entrance to this bungalow by providing a useful and welcoming lobby.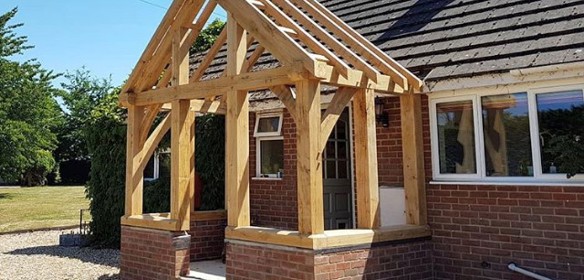 May 2020
Feels good to see the finishing touches completed on this Surrey 6 bay barn with dormer windows on the first floor, a welcoming porch over the front door and oak cladding all over. Our clients are thrilled with the flexible space this annexe provides and sent us this lovely image of it catching the evening sun.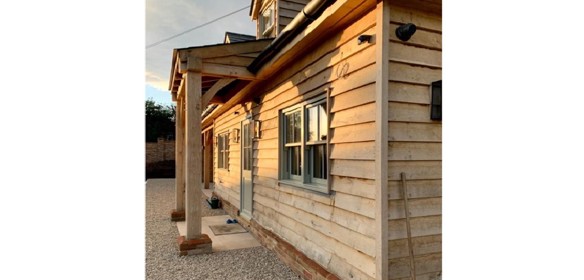 April 2020
The Coronavirus outbreak has affected our schedule a little so we do have a few projects stacking up (!), so we're thrilled to get this boathouse completed for our client in Alresford. Designed to sit on the side of a man-made lake, there's plenty of room for a large boat and space to hang a number of kayaks and paddle boards in the rafters as requested. You can see how well our 3D visuals match the finished structure.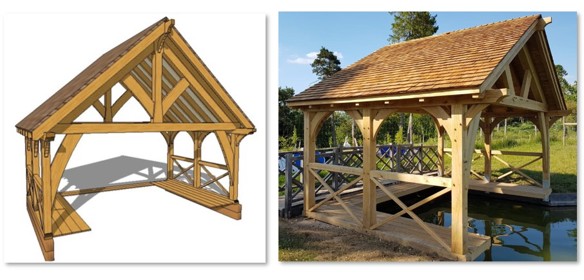 March 2020
Covid 19 and self-isolating may have confined us to barracks, but it hasn't stopped Oli from tackling jobs on the farm. Here he is building a new chicken coop with his new apprentice, Rory (aged 5), on the tools. He is itching to get back to the (slightly bigger) projects we have in progress right now and will be back on site as soon as he's given the all clear.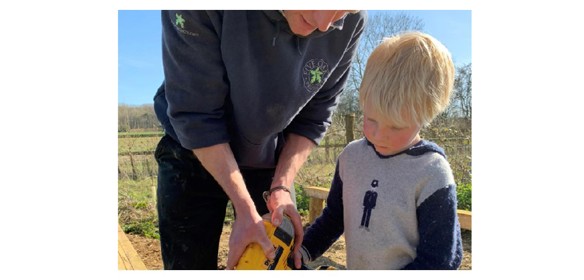 February 2020
Having prevented the building from falling down last year (see Christmas post), and having survived storms Chiara, Dennis and Jorge this year already, the boys are well into the careful restoration of this listed granary. Their objective is to keep as much of the old timber as possible, only replacing what is absolutely necessary to prevent further decay and provide essential strength - which has won them a heap of praise from the usually reserved conservation officer!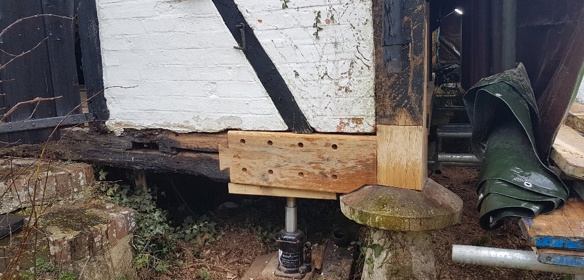 January 2020
We are delighted to start the new year by completing the second phase build on this stunning house. The traditional oak frame (17 tons of it!) and oak cladding are really good examples of Five Oak Projects craftmanship and we are super pleased with the result. So is our client...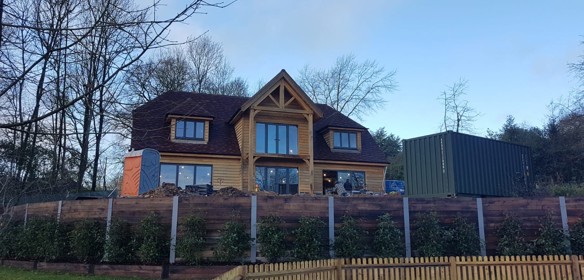 Christmas 2019
Just time to squeeze in one last job before the Christmas break with some emergency repairs to this listed granary which was at risk of collapse. Now given the essential support it needs to get it through the holidays, we can revisit in the New Year to carry out a professional restoration of the building.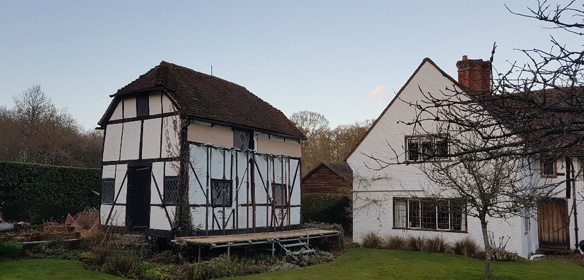 December 2019
This lovely tiled canopy porch has gone up just in time for the Winter, giving our clients some protection from bad weather and, with the installation of lighting, much-needed illumination of a previously unlit area. Making more of a statement of their front door, our clients are delighted with how smart and practical it is at the same time.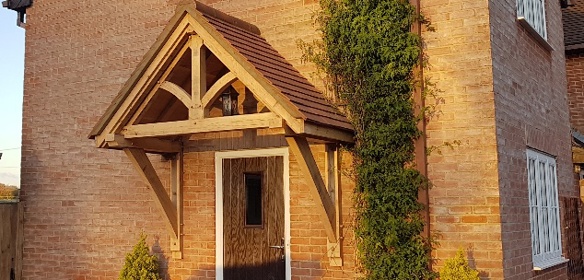 November 2019
That's all the ground floor timbers in for this new development in Surrey, where we're building a six bay barn with accommodation over. With the main frame up, it's time to move onto the upper level.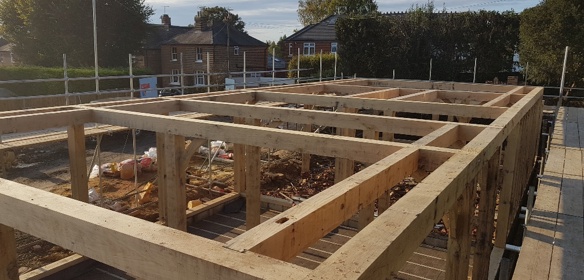 October 2019
Close up detail of a fabulous restoration job we're doing. We've removed the worst of the badly rotten timbers and scarfed in new green oak posts to ensure this building is safe and secure, ready to face the next 100 years. We will finish the job and make good by reinstating the brickwork, matched to the original as much as possible of course!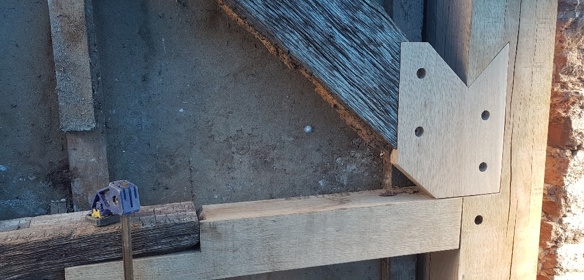 September 2019
Building this new house in two phases was always the plan and, only 3 days into the second phase of the build, the side extension oak frame is already up to first floor level. Beautiful sunny days definitely help!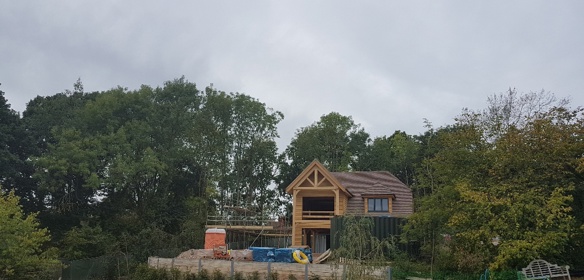 August 2019
We are thrilled that the house we built in Cornwall (as featured in a dedicated GD episode last September) was included in a special episode entitled 'Kevin's Grandest Design'. Part of the 20th anniversary celebrations of the show, and aired on August 28th, this special episode included highlights from over the years as Kevin reviewed what makes a truly great Grand Designs project.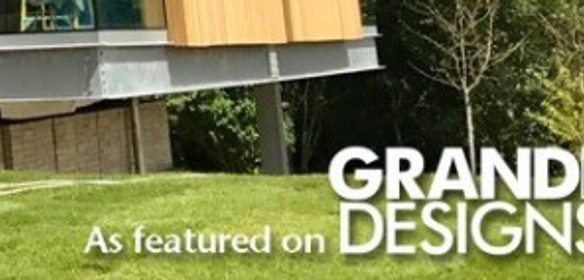 Summer 2019
Ideal Home magazine ran an article in their July 2019 issue on the beauty and benefits of barn conversions. Part of the piece, headlined "Ideal Home Loves...Inspiring Barn Redesigns", included one of our comprehensive conversions, which was accompanied by a picture of the finished building. Please get in touch if you are considering a barn conversion and want to talk to an expert.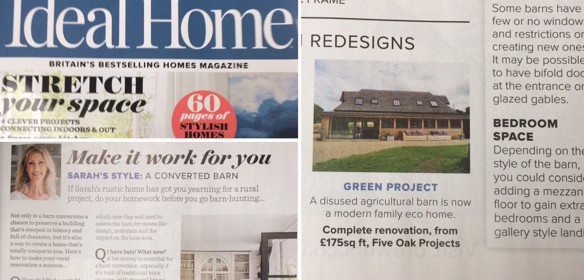 July 2019
The practise of placing a tree on top of a building is known as 'topping out' and is a builder's rite, traditionally held when the last beam or equivalent is placed atop a structure during its construction. Here's Oli and Toby marking this moment with their own topping out ceremony on our latest project.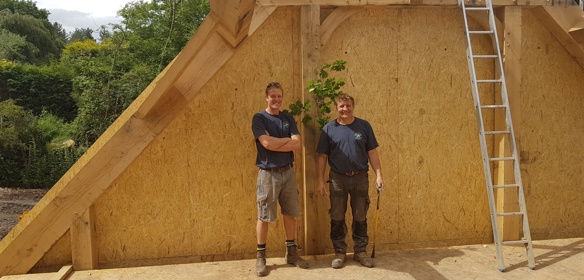 June 2019
Despite somewhat challenging weather so far this month (!), the beginnings of the oak frame for this new build house in Surrey goes up without a hitch. After months on paper, it's always thrilling to see the form and shape of the building emerge.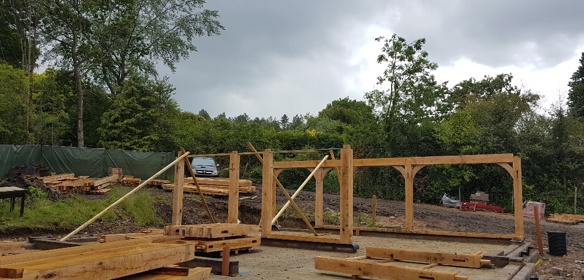 May 2019
Our latest new product is this oak framed marquee with canvas cover. Here it is being set up as a 'Woodland Bar' for a wedding, to complement the main marquee. It's perfect for parties or any form of outside entertaining! Sides can be rolled up or winged (as per image) and this one is available for hire for your event. Or you can commission one unique to your needs.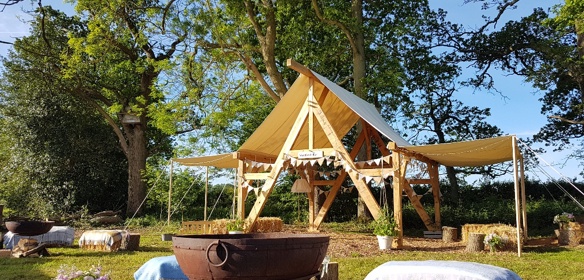 April 2019
This unique project was for us to build a pair of treehouses high off the ground, using as much natural timber as we could from the surrounding woodland, felled and prepared onsite. The two platforms are linked by a rope bridge that can be driven under and include climbing cargo nets, hinged door hatches, natural wood ladders, a shingled roof and a zip wire ride!
March 2019
Here's the team taking full advantage of a (relatively) warm and sunny day to work outside the workshop back at the farm, hand crafting an oak frame and curved arches for a garage extension for our clients in Crondall.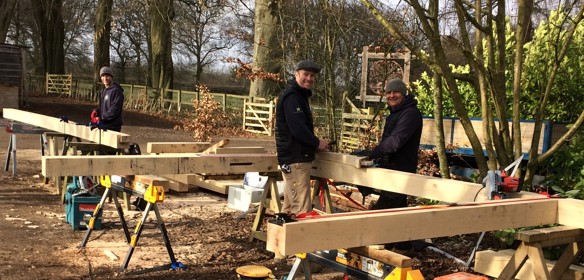 Valentines Day
Five Oak Projects are very proud to have been accepted as members of The Guild of Master Craftsmen. You can keep your chocolates and flowers...when you work with your hands and focus on delivering top quality bespoke projects, this is the stuff that gets your heart racing!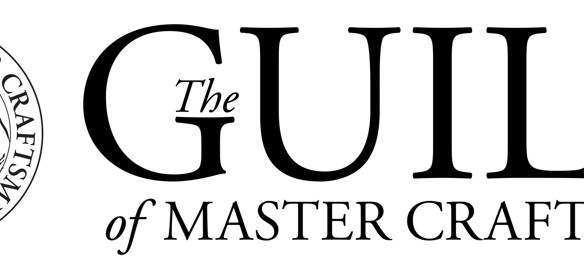 February 2019
This custom built bike/bin shed is made with Siberian larch cladding - which is particularly weather resistant. With padlockable latches, it is large enough to house the ugly wheelie bins we all have nowadays, plus provide secure storage for a couple of road or mountain bikes.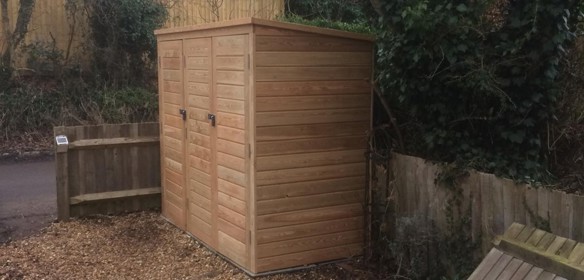 January 2019
We start 2019 with a number of very exciting projects in the design and planning stages, and an equal number of projects with Planning Applications submitted already and awaiting consent from Hart District Council. Each of these are for bespoke buildings and they include an oak-framed kitchen extension, two very different agricultural barns and a garden office. Watch this space...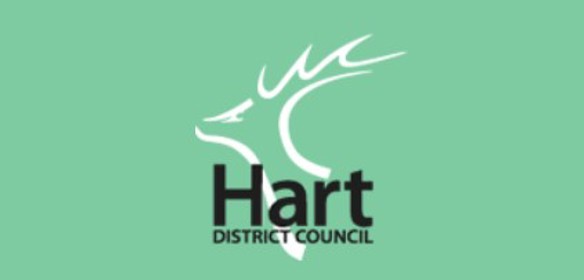 New Year 2019
Coming soon...in response to demand, we are launching a new section to this site called The Gilded Oak. Currently under construction, it will feature details and images of some of the wide range of products we produce that are either ready to go, or available to order for bespoke commissions. All items are handmade onsite from sustainable materials and can be customised.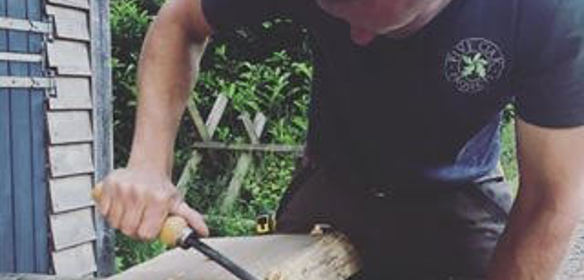 December 2018
Making improvements to your existing property by building an extension, remodelling the interior, or creating a home office or studio in the garden are just a few examples of how you can beat the reportedly stagnant market created by the uncertainty surrounding Brexit. We're doing exactly that for these clients by re-purposing the interior of this previously unused barn to create much-needed flexible space.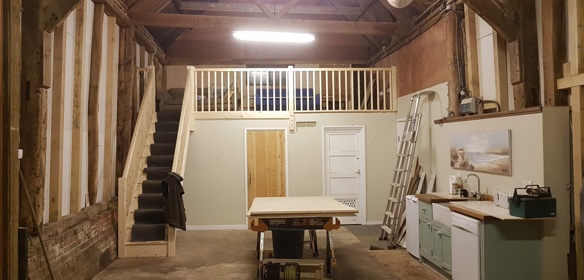 November 2018
A range of hand-crafted pieces created for sale at a Christmas charity fair this month to include; doorstops, table centres, display blocks, antler horn jewellery holders, candle holders, decorations and crates. All handmade from sustainably sourced materials by the boys, with gilding and glitter added by the girls! 
October 2018
Oli and the boys have made good progress this month, giving this lovely old barn a bit of a nip'n'tuck. When they've finished replacing and repairing the rotting oak support timbers, the building will be given a full facelift with the installation of new oak feather-edge cladding.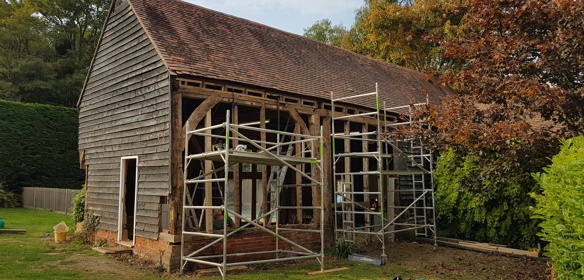 News Flash
The second episode of the new series of Grand Designs sees Oli featured as part of the eco-build project recently completed in Cornwall. Our clients recreated the house that featured in the 1986 movie Ferris Bueller's Day Off on the plot of a former dairy farm. The GD team were onsite filming a number of times and Oli, employed as the Project Consultant, is seen giving his insight into the build.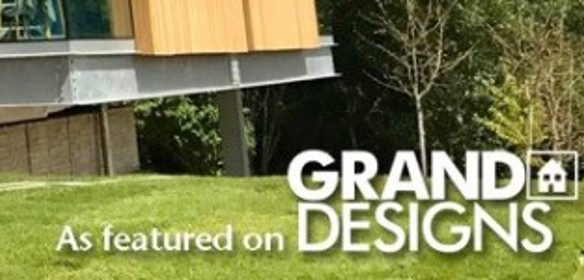 September 2018
We've stolen a little bit of space from a bedroom to build this stunning en suite shower room with roof light, white subway tiles on the walls and geometric concrete tiles on the floor (with underfloor heating). Refurbishing the bedroom to the same standard has provided our client with a top class self-contained guest bedroom suite.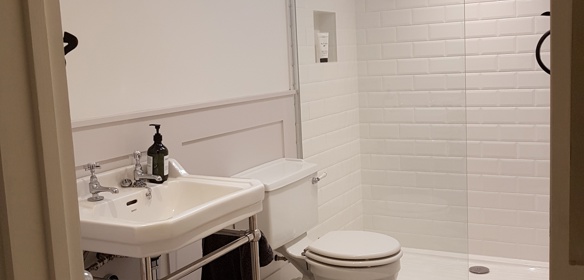 August 2018
What an amazing Summer we're having...and it's so lovely to be working outside for this Hampshire client, building them a large new terrace with brick edged steps and oak sleeper planting beds. They couldn't wait for us to finish before setting up the table and chairs!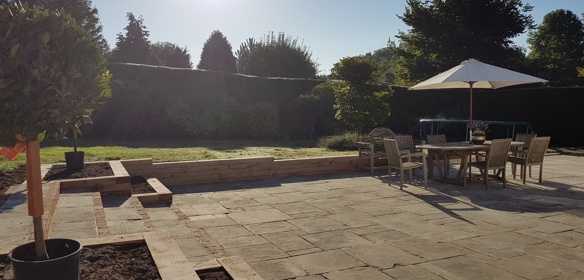 July 2018
This rustic swing was handmade by Oli, where he has worked with the natural shape of the oak to create this lovely and unique piece. Sold at a fundraiser auction earlier this month, it raised a healthy sum for a worthy cause. I'm sure we could persuade him to make another one if you wanted one similar...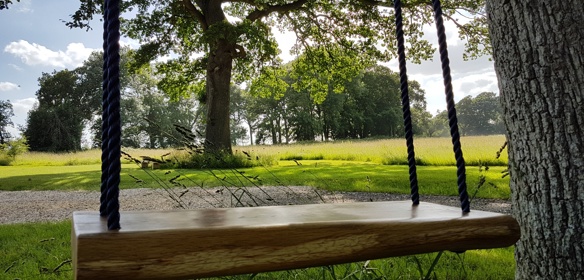 June 2018
This stunning solid oak bench was handmade in the workshop by the very talented Fritz in response to a client request. It sits perfectly outside to compliment your existing garden furniture, around a fire pit (with maybe one or two more), on a veranda, outside your new oak framed building (as per the original client request) or in the cooling shade of a tree.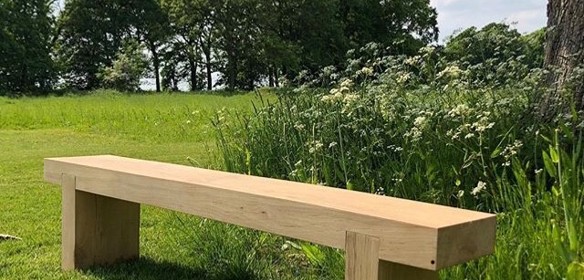 May 2018
We've returned to our clients in West Sussex to build a bespoke wedding pavilion to accommodate outside ceremonies. Designed and built to compliment our former work on their existing barns and beautifully landscaped, award-winning event venue at southendbarns.co.uk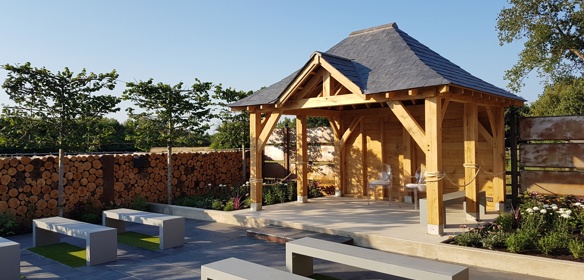 April 2018
A bespoke, handmade oak post signpost which can be adapted to suit your home, farm, party, event or retail outlet - with as many crossbars as you'd like, a choice of lettering and the option of adding directional arrows if you'd like. Get in touch if you'd like us to make one for you.
Coming soon, more bespoke oak products...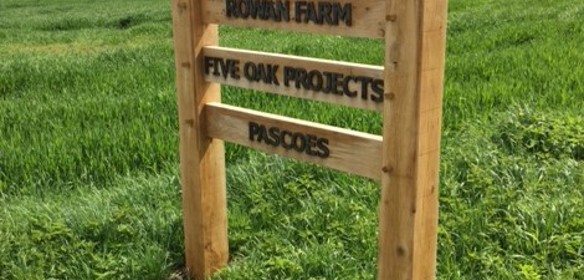 Spring 2018
Huge congratulations to Southend Barns, who are the newly crowned winners of The UK Wedding Awards 2018 Best Barn Venue. Renovating their Dairy Barn and 200-year-old Threshing Barn to create a stunning ceremonies room and wedding party venue was a huge, but immensely satisfying project for us and we are thrilled for our lovely clients. southendbarns.co.uk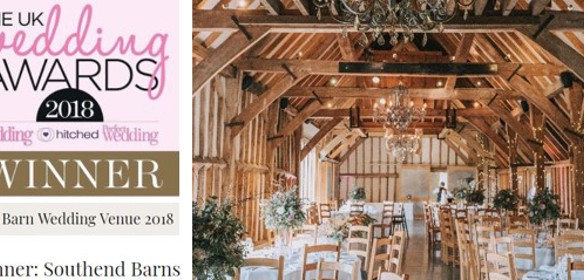 March 2018
Whilst awaiting images of the barn shell that we have just relocated for one client, and before we start work on a new 2 bay garage (with log store) for another, here's our new branding iron. This 4" iron slowly warms up to about 2000 degrees centigrade (safety gloves and fire extinguisher at the ready) before making its mark!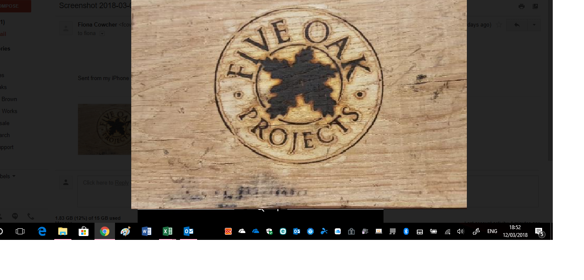 February 2018
Fitting a lovely new air-dried oak framed porch to this new build in Woolhampton to create a smart and welcoming entrance for all visitors to come (once the build is completed!).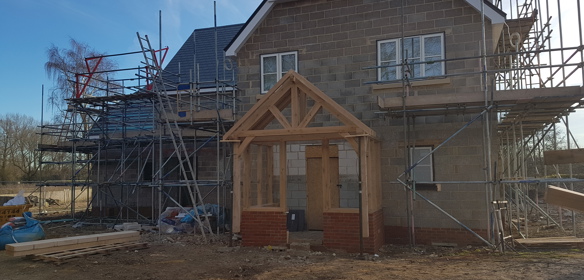 January 2018
Bonding with Kevin McCloud for a day of filming for Grand Designs in Cornwall for a large Five Oaks consultancy project on an eco-build house.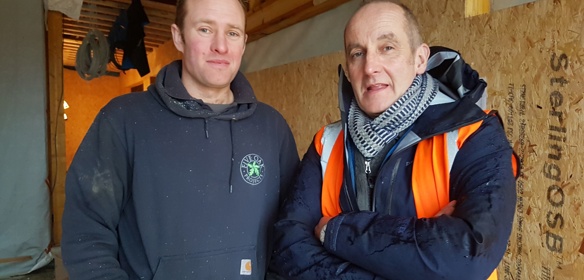 New Year 2018
Wishing all our clients, colleagues, friends and suppliers a very happy, prosperous and constructive (see what we did there..?) New Year.
We start 2018 with a construction project of our own...the design, build and launch of our new website!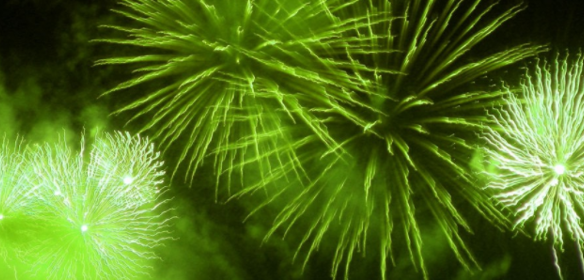 December 2017
Great to hold another carpentry skills class at Rowan Farm for the students at Lord Wandsworth College before term breaks up, and there are plenty of old school skills and traditional details going into this 3-bay barn annexe.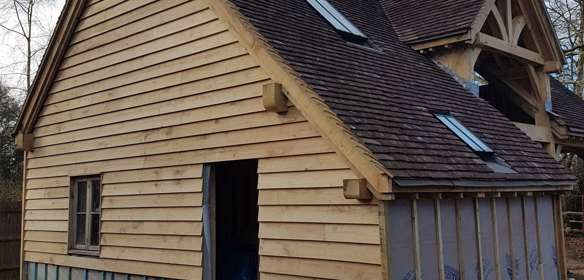 November 2017
It's a beautiful bay...and we've taken advantage of the warm and sunny weather to make good progress on this bespoke 3-bay barn.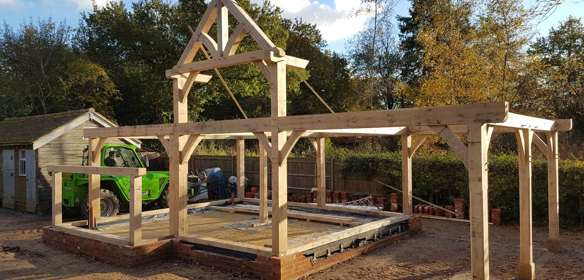 October 2017
Time to wrap up...and protect this woodyard barn from the elements by dressing it with waney-edged Douglas fir cladding (englishwoodlandstimber.co.uk).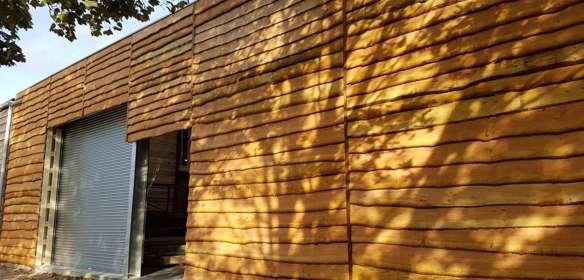 September 2017
Oli polishes up his on-camera skills...as he starts a consultancy project in Cornwall for a new build eco-house that is being filmed for Grand Designs...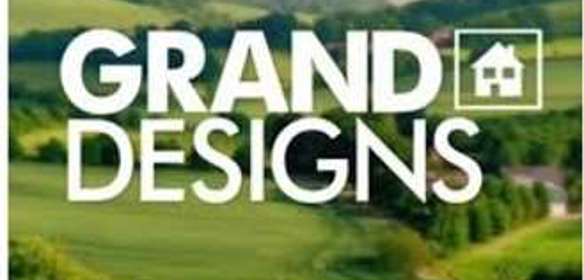 August 2017
Barn raising...Five Oaks completes the build on a 2-bay barn for the storage of agricultural vehicles.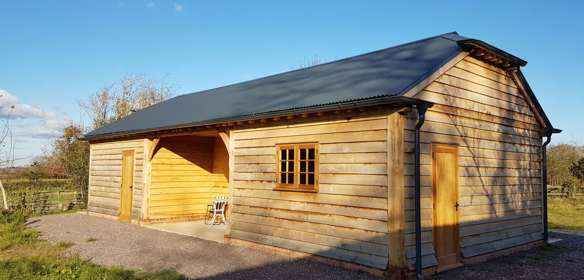 July 2017
A pat on the back...Five Oak Projects named as winners in the Build 2017 Sustainable Building Awards as; Best Oak Framing Design/Build company - South England. With the BUILD awards programme in its 2nd consecutive year, this prestigious award highlights us as one of the most outstanding performers in our field.