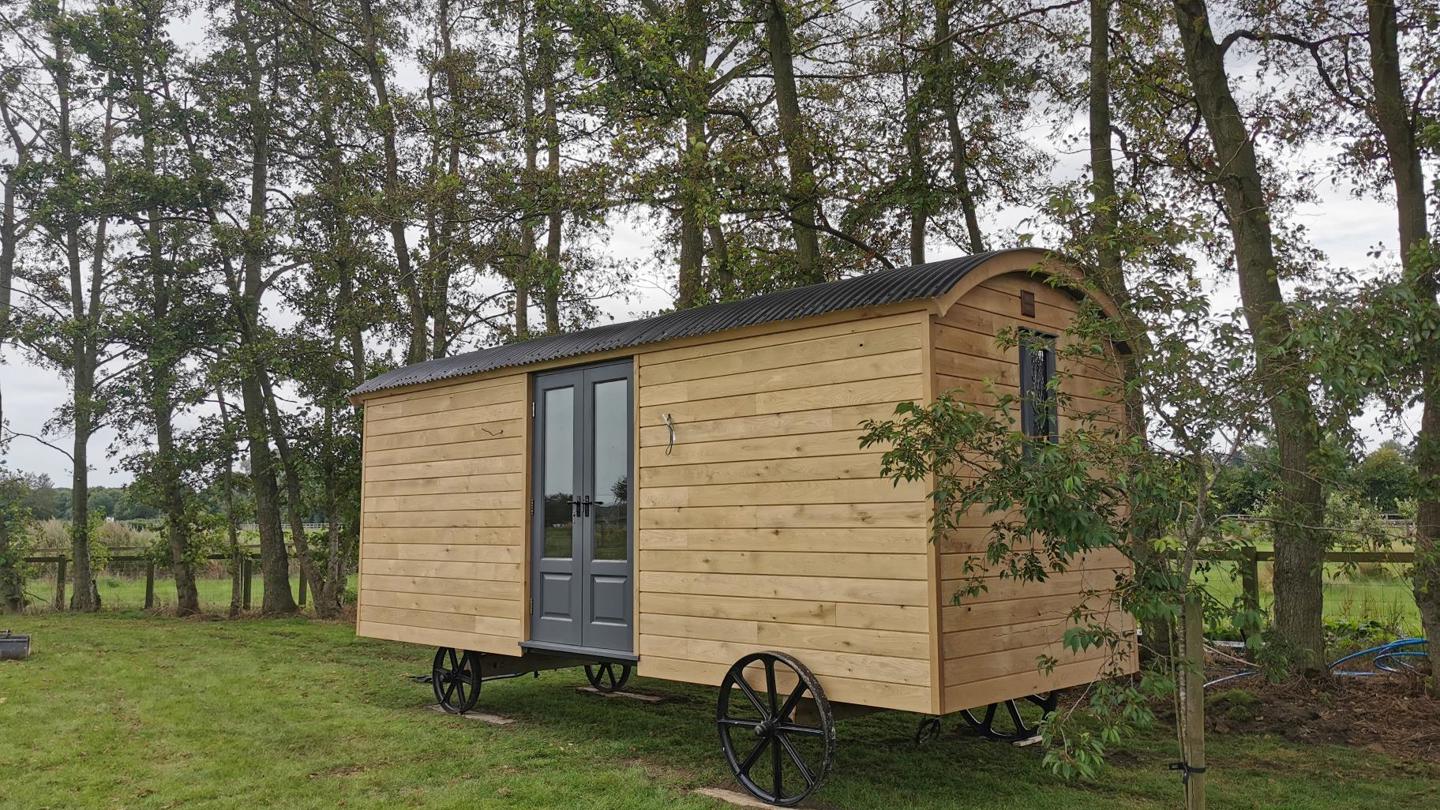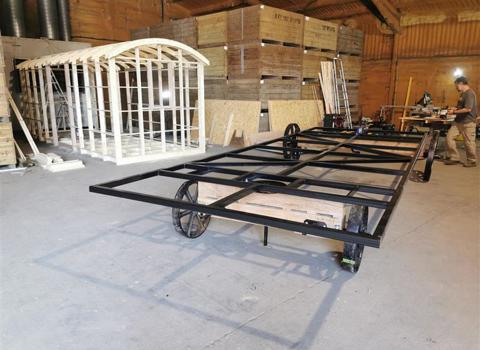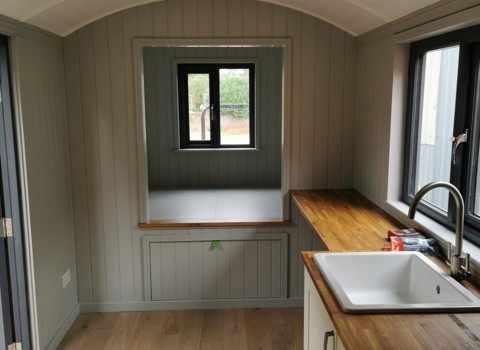 This bespoke and fully insulated timber-framed Shepherd's Hut measures 6 x 2.4m and has been fitted out with a double bed, kitchen and a hot water shower room & WC. A few finishing touches still to go to include fitting the external lights and installing the external stairs, which we make once the hut is in its final position so we get the height just right.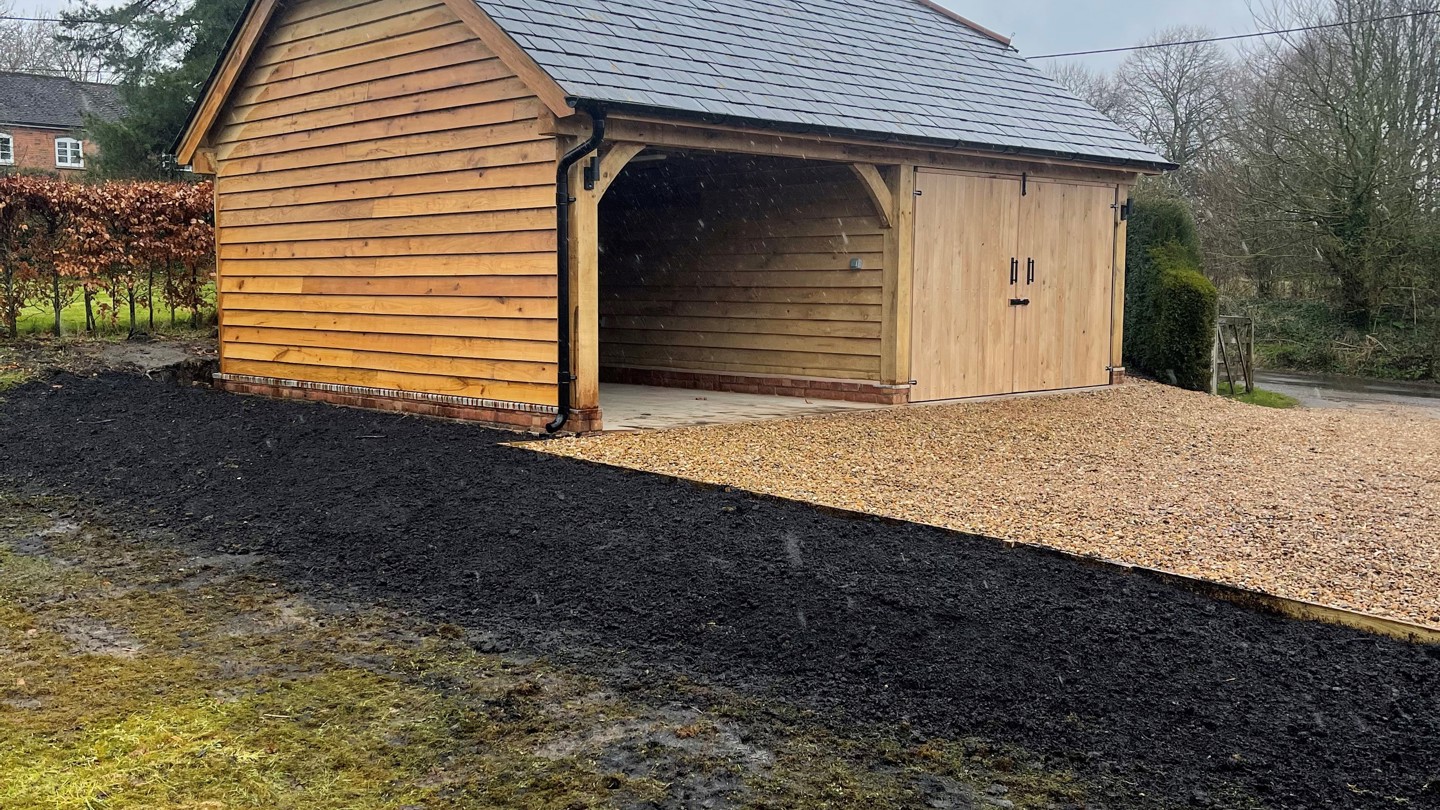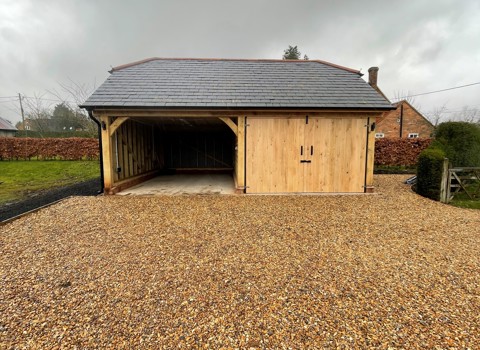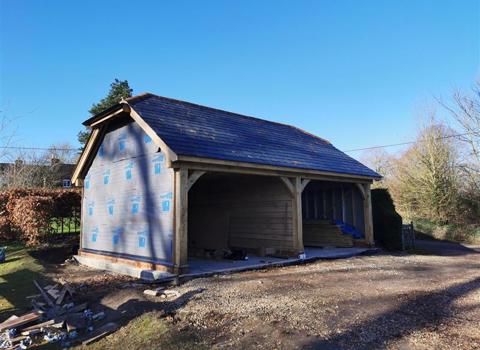 This bespoke two bay garage has a half hipped slate roof, oak cladding to the exterior walls and a pair of handmade barn doors to one bay. It also has a loft floor, making full use of the roof height for useful storage.
This bespoke timber and oak framed annexe was commissioned to provide a self-contained guest suite with one double bedroom, shower room and kitchen facilities. With dimensions just over 5 x 4 metres, it delivers a lot in a small space.
This 6 x 10 meter 'party barn' provides a huge amount of versatile and flexible space to include a home gym, shower room, entertainment space with fully fitted bar and TV lounge on the ground floor. The mezzanine floor above provides plenty of open plan space for guest accommodation and there's also space outside to throw open the glazed doors in the warmer months to extend the entertaining area.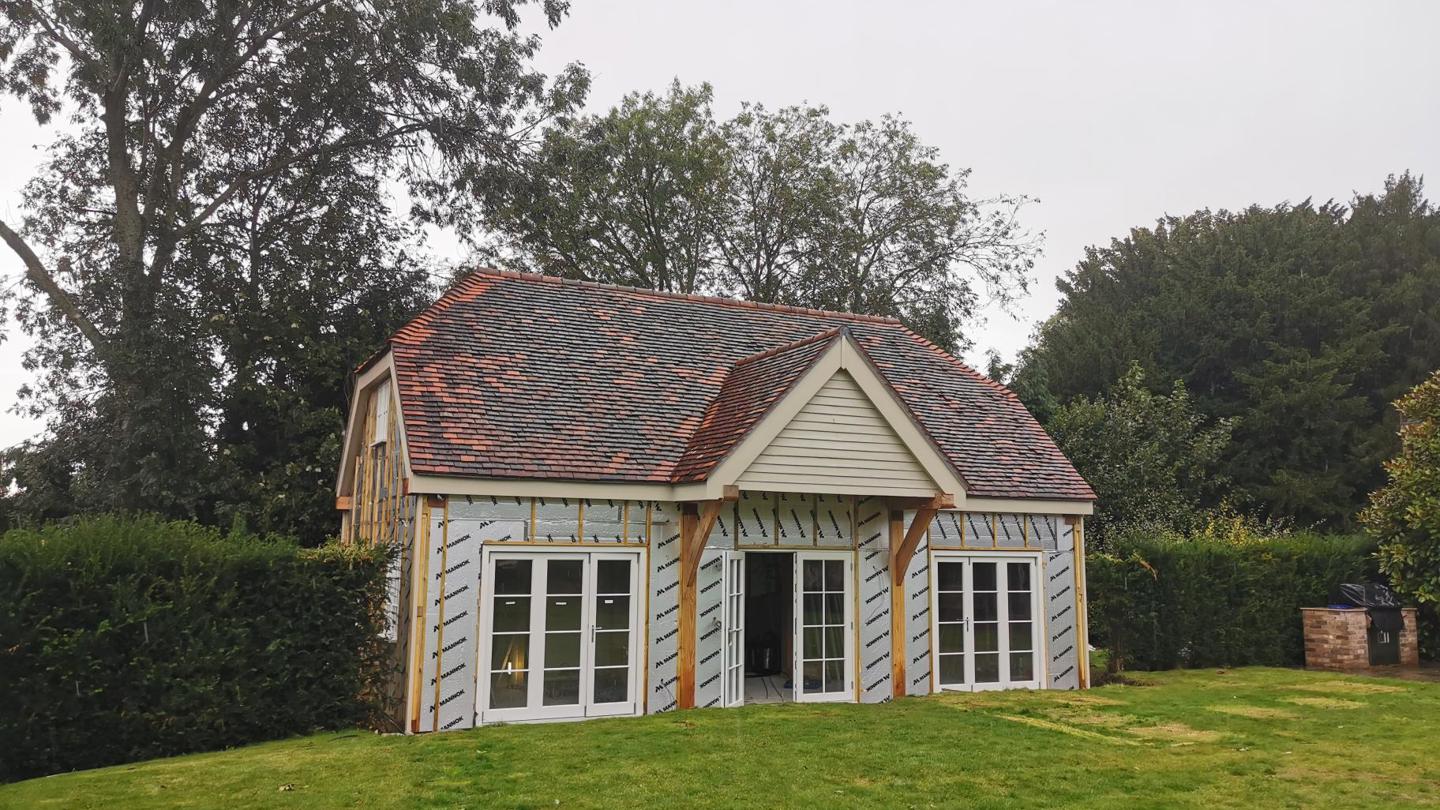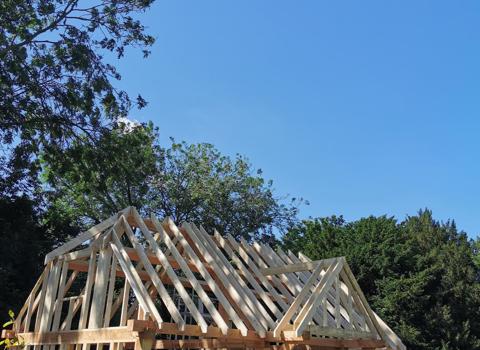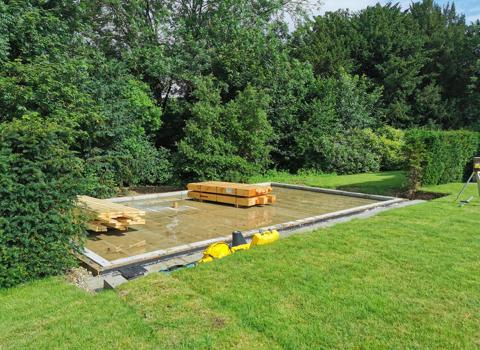 It took just one week to put up the shell of this 10m x 6m gym/party barn in dry weather. Reclaimed roof tiles help it settle into its surroundings, seen here before we moved on to the exterior cladding and interior fit out.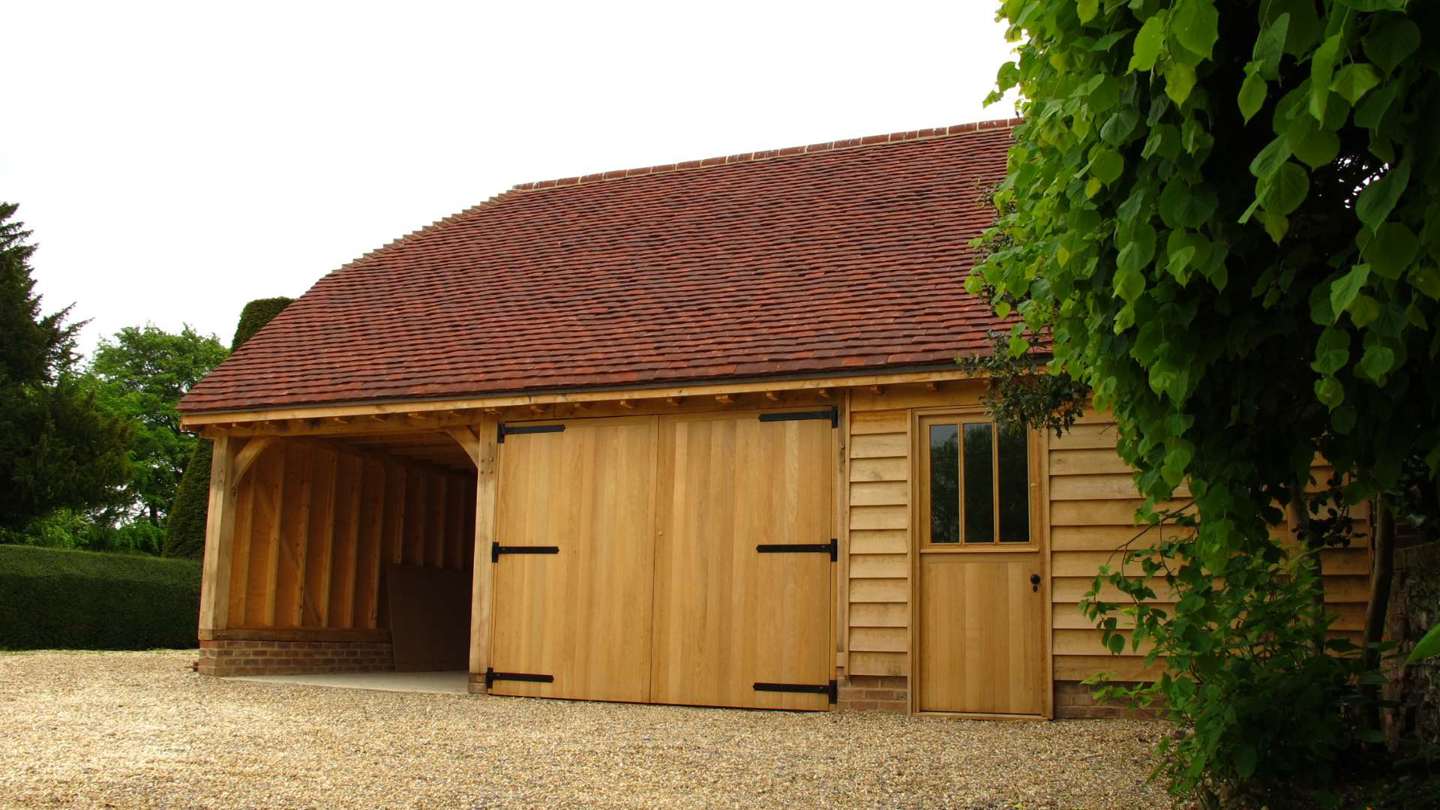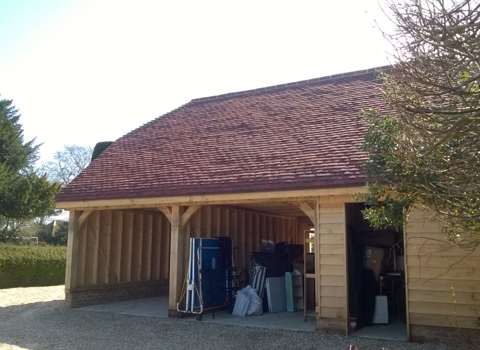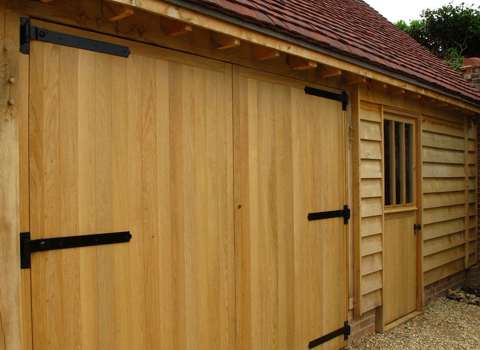 A 3-bay garage with loft floor above, a tiled roof and storage room. One bay features double oak doors with traditional ironmongery, the other remains as an open fronted car port.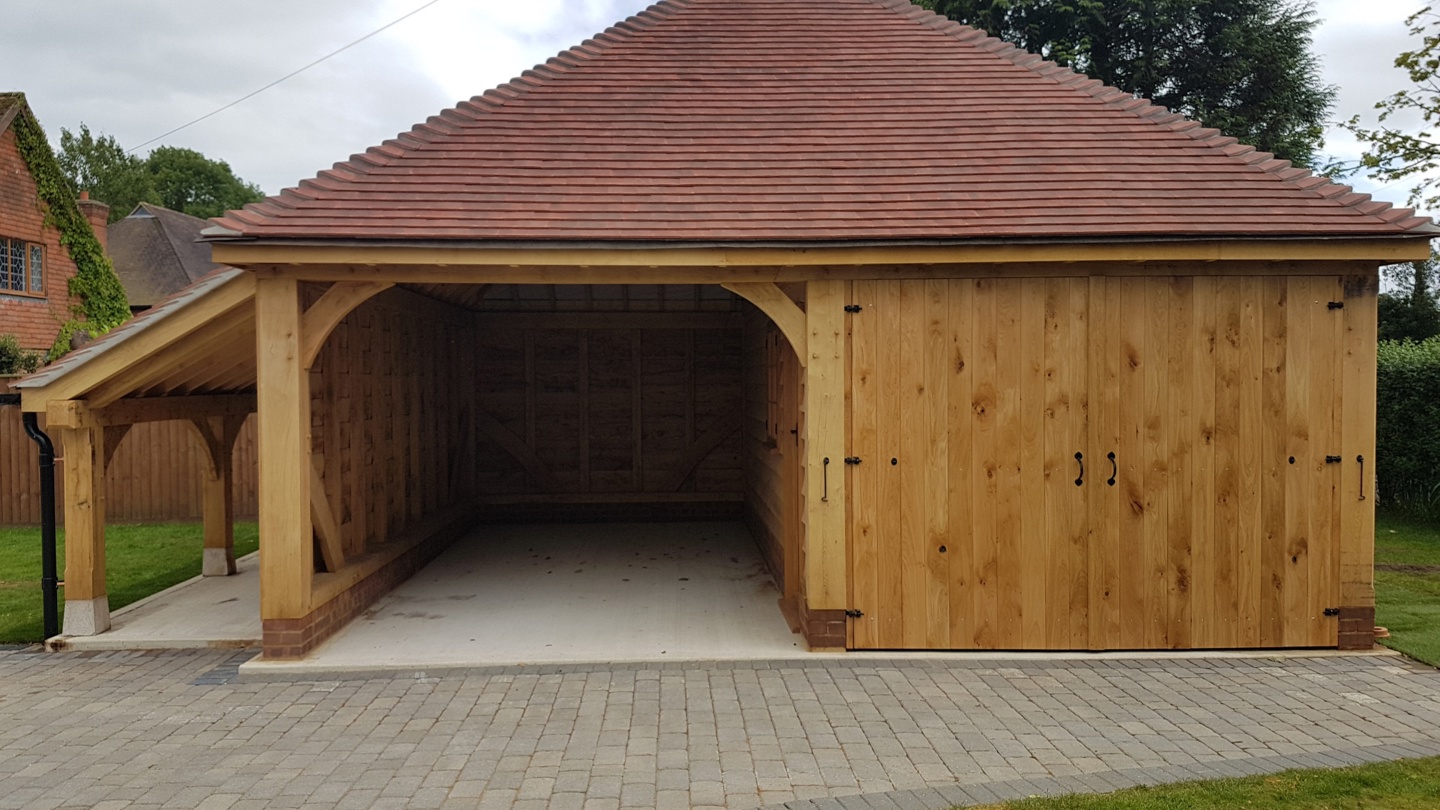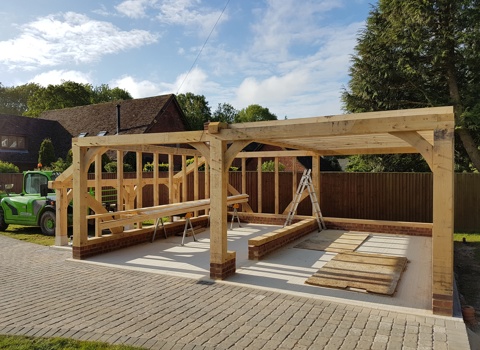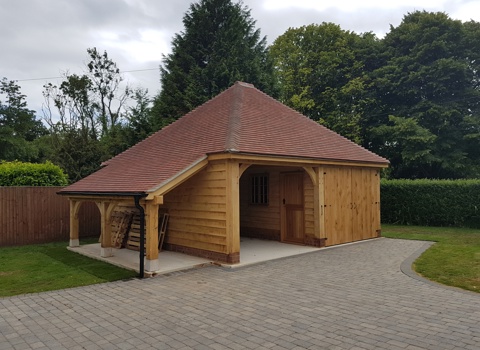 From the ground up: starting with groundworks, then putting up the oak frame, adding roof tiles and then oak cladding and doors to create this bespoke 2 bay oak framed garage with integral log store.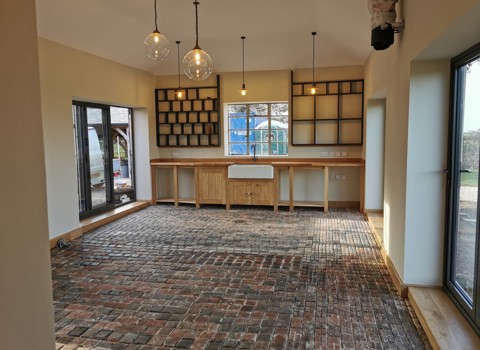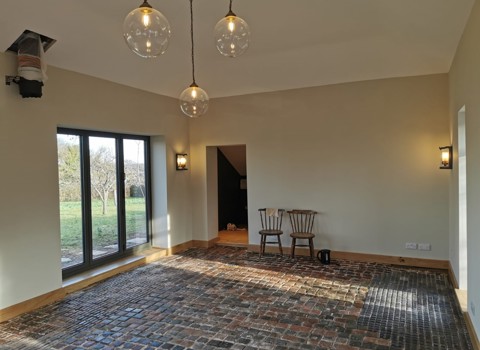 With the conversion completed, this old disused garage is now a fully equipped working studio. Large windows and doors have been added to flood the space with light from all aspects. The original floor tiles have been lifted, levelled, re-laid in the same pattern as before and wax sealed to maintain the rustic feel of the building. A handmade oak kitchen has been installed, with additional loo and shower facilities also catered for.
"We have got a wonderful result. Huge thanks to you and all your team for all the hard work and attention detail." Mr & Mrs B, Farnham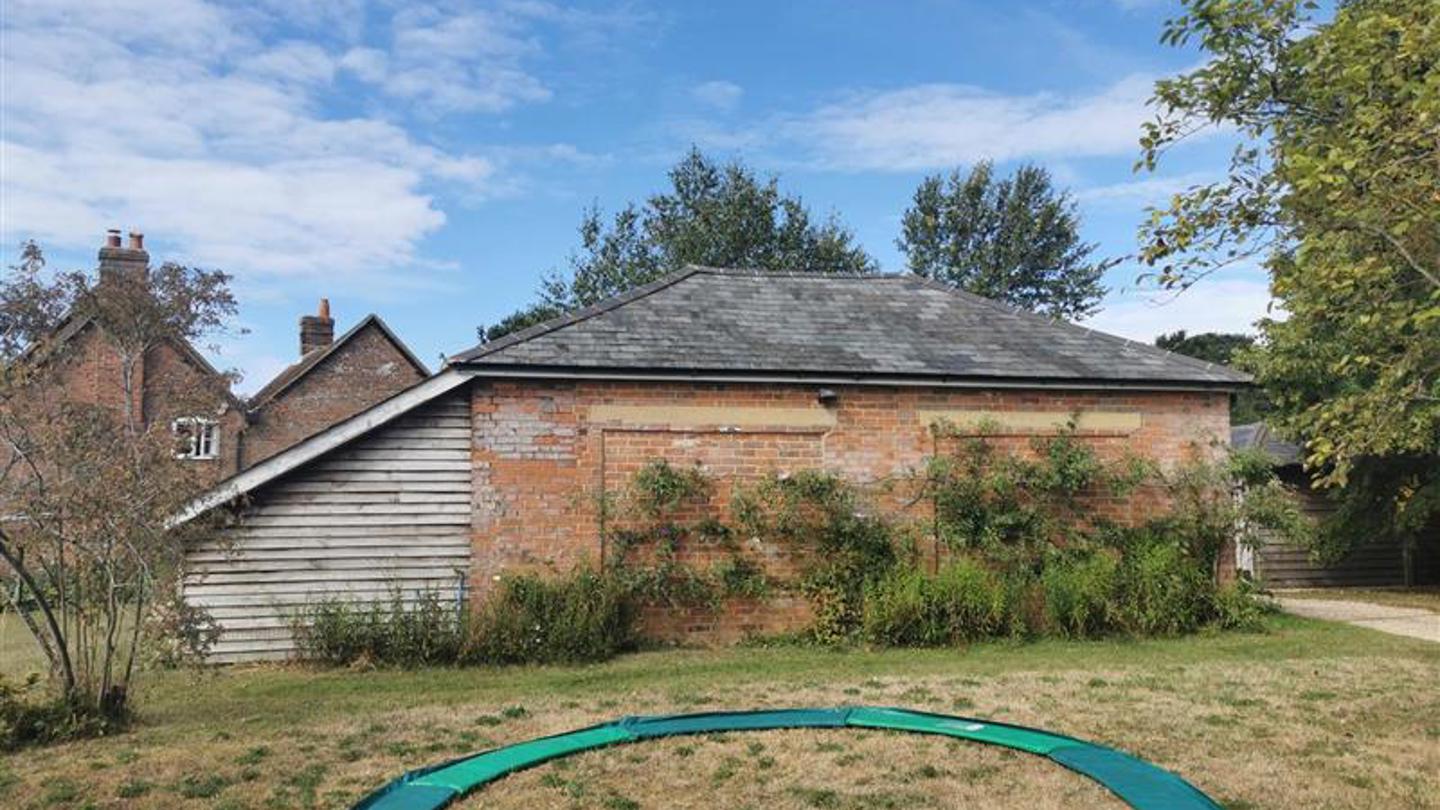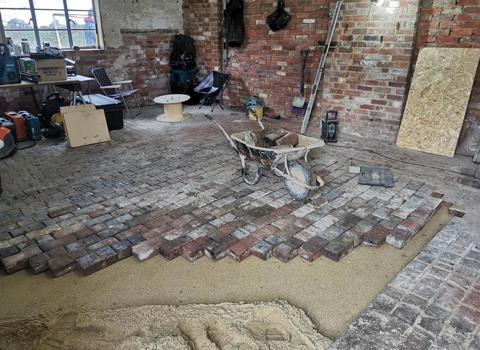 One of the first jobs we tackled during the conversion of this beautiful old garage into a usable working space was to level out the uneven floor. Made up of an assortment of odd shaped and sized cobbles, we lifted each one and re-laid them to re-create a safer and more stable floor. We then opened up the brickwork to install two large sets of bifold doors and a created a new entrance doorway to make best possible use of the available space.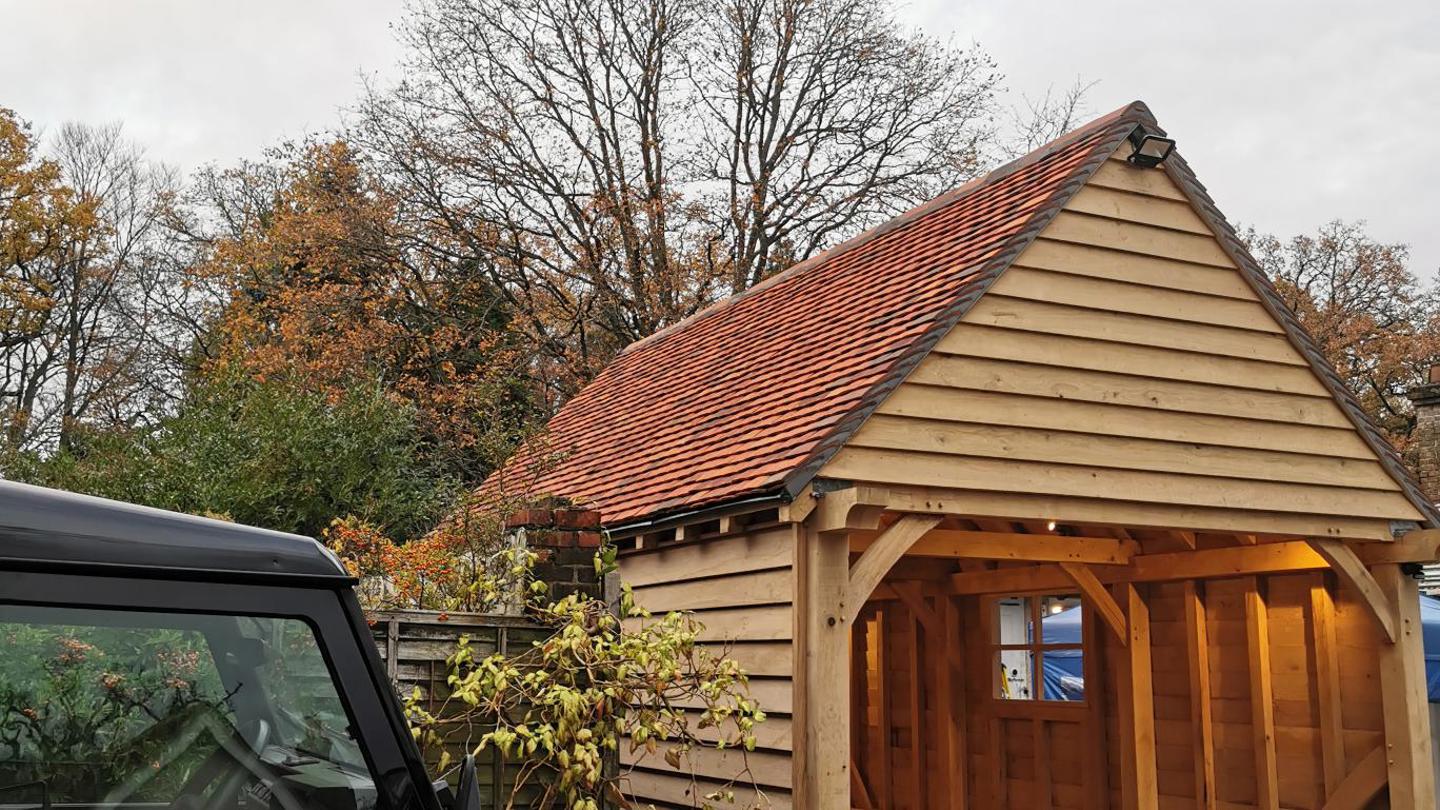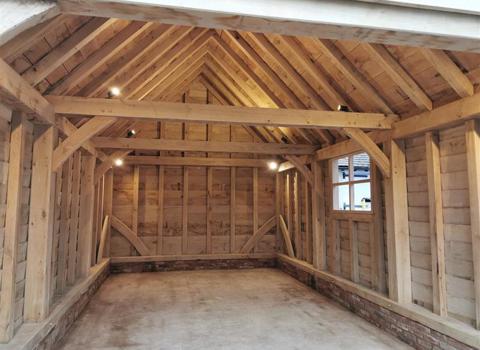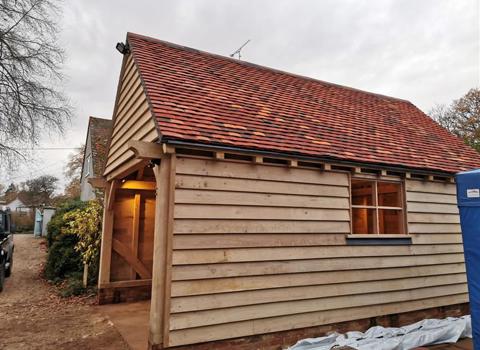 The frame goes up quickly...the finishes take a little longer! This beautiful single garage is oak through and through; with an oak frame, oak cladding, oak sarking boards and oak studs and rafters. The finished building sits on a low brick wall with a concrete floor, a clay tiled roof, a small side window, interior and exterior lighting and is fitted with power outlets inside.
"The Five Oaks team just completed this car port for us - their craftsmanship was flawless, such attention to detail. We are so pleased with the intricate, high-quality finish. We couldn't recommend them enough." David A. - Farnham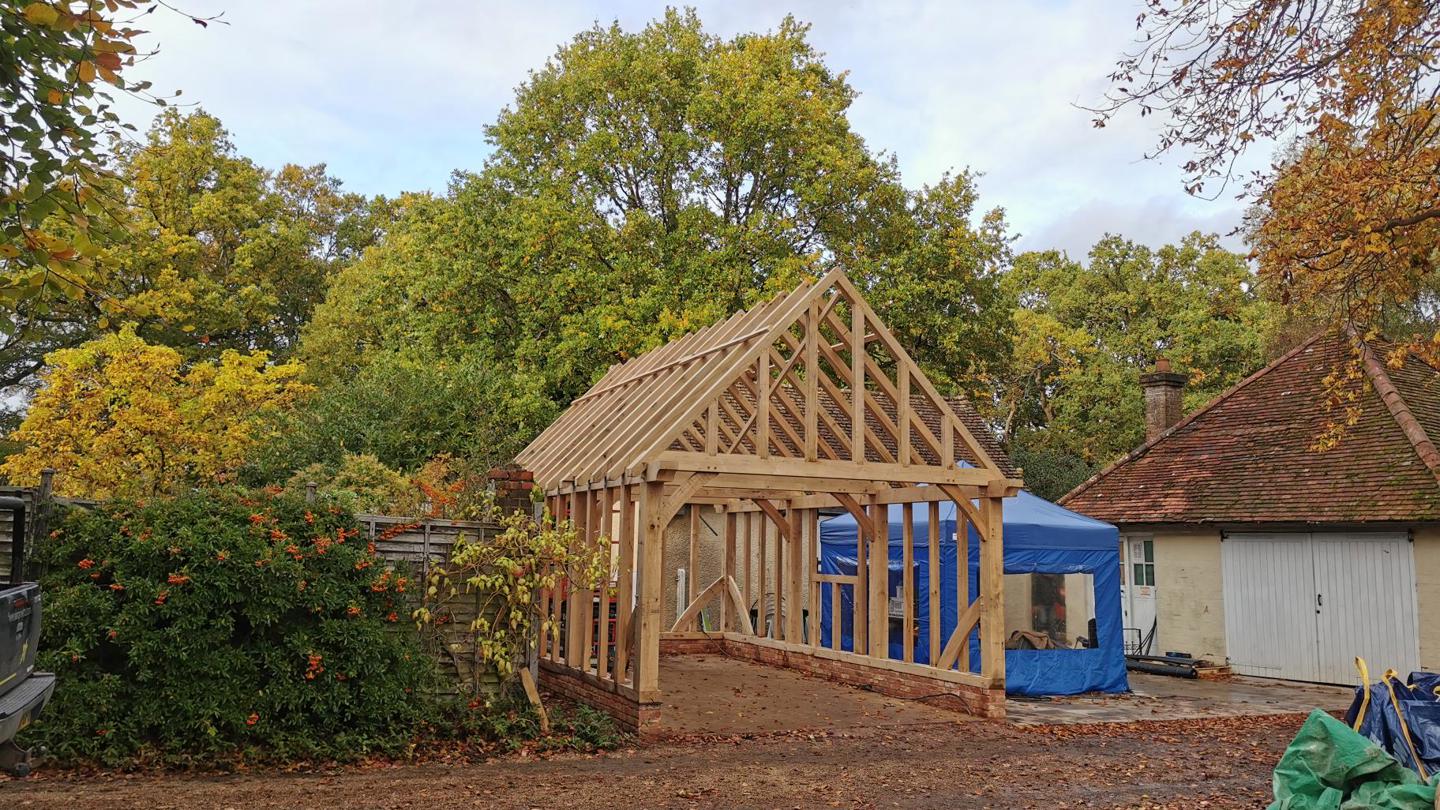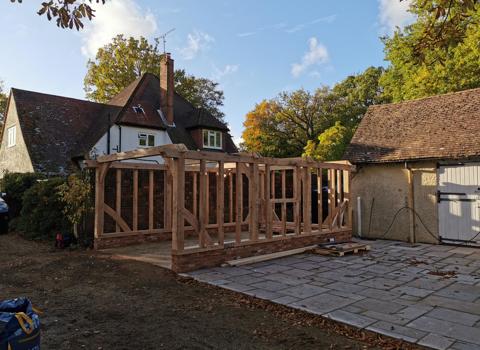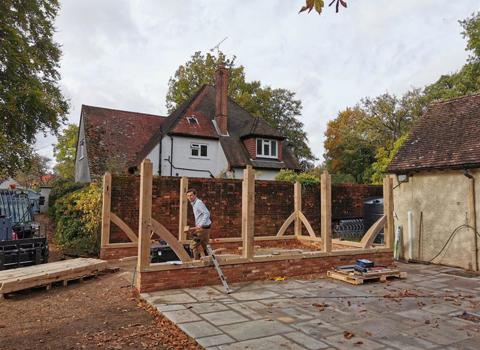 It took just one day to construct the frame up to roof height for this single garage and all done onsite with just a couple of experienced guys. The finished building will have a vaulted ceiling lined with oak sarking boards, with a clay tiled roof, and the walls will be clad with oak featheredge cladding (more pics will follow). A very quick and satisfying project for our guys to work on.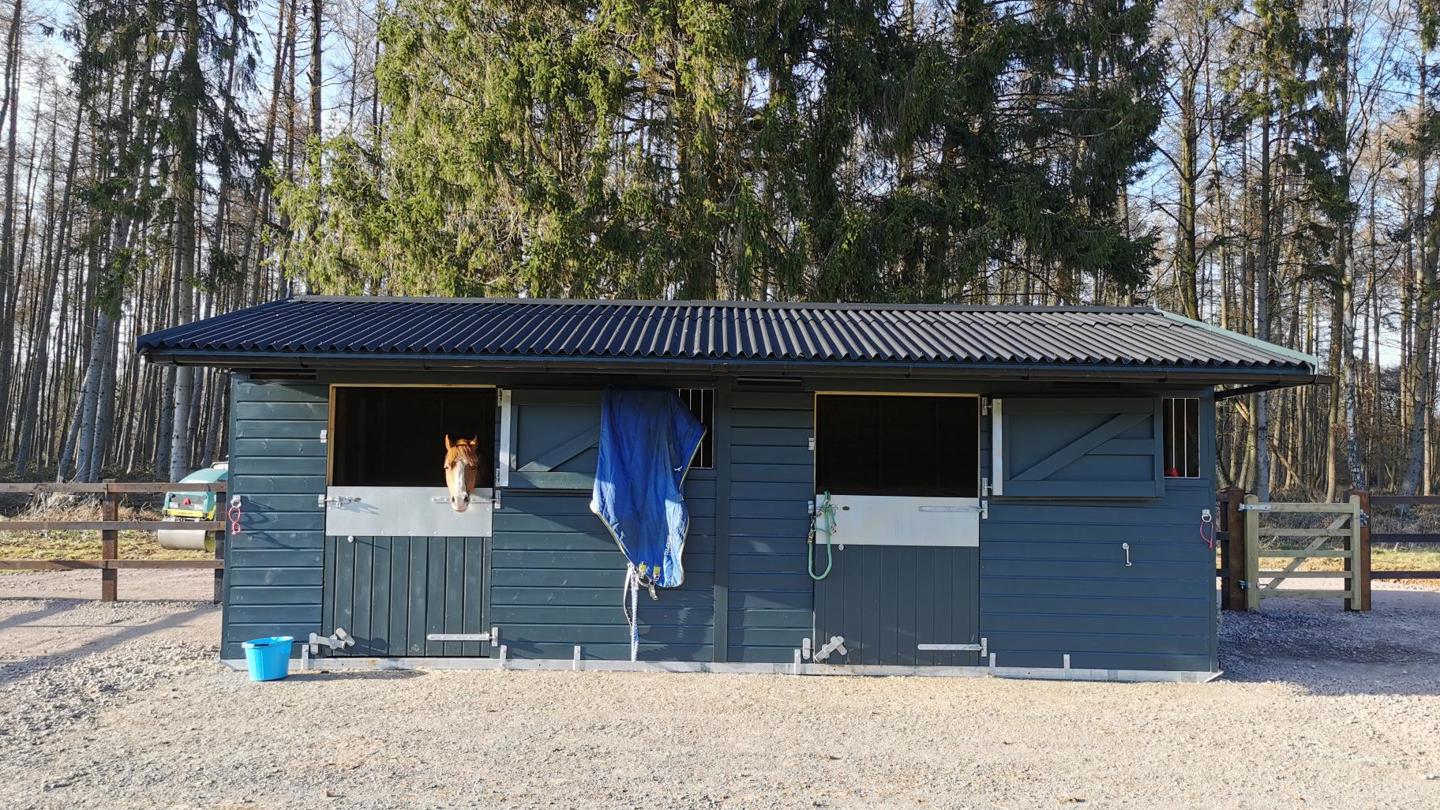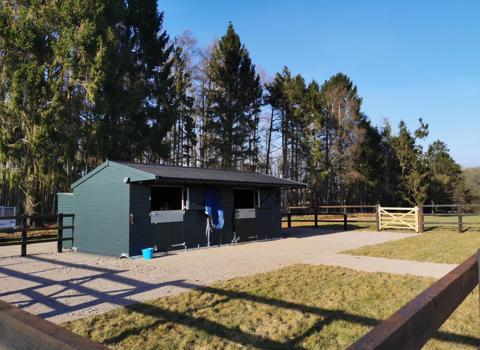 Whilst we work on the designs for a more permanent and substantial stable block, we have installed these mobile 2 bay stables to provide our clients with an immediate and effective temporary solution. With two further sheds attached to the back for additional storage, a solar lighting system inside and out and all painted a dark shade of green, we think they look pretty good!
Our clients have plans to turn this into a home office/workshop and showroom in the long term, but the flexible space is currently being used as a annexe. The building features a bespoke oak frame, double bay garage, with storage to one side and office space to the other at ground level. Dormer windows on the first floor provide plenty of light for the space above which can be used as further office space or accommodation. Bit of a messy site, with a range of other works going on around us (!), but the oak cladding is picking up the late afternoon sun beautifully.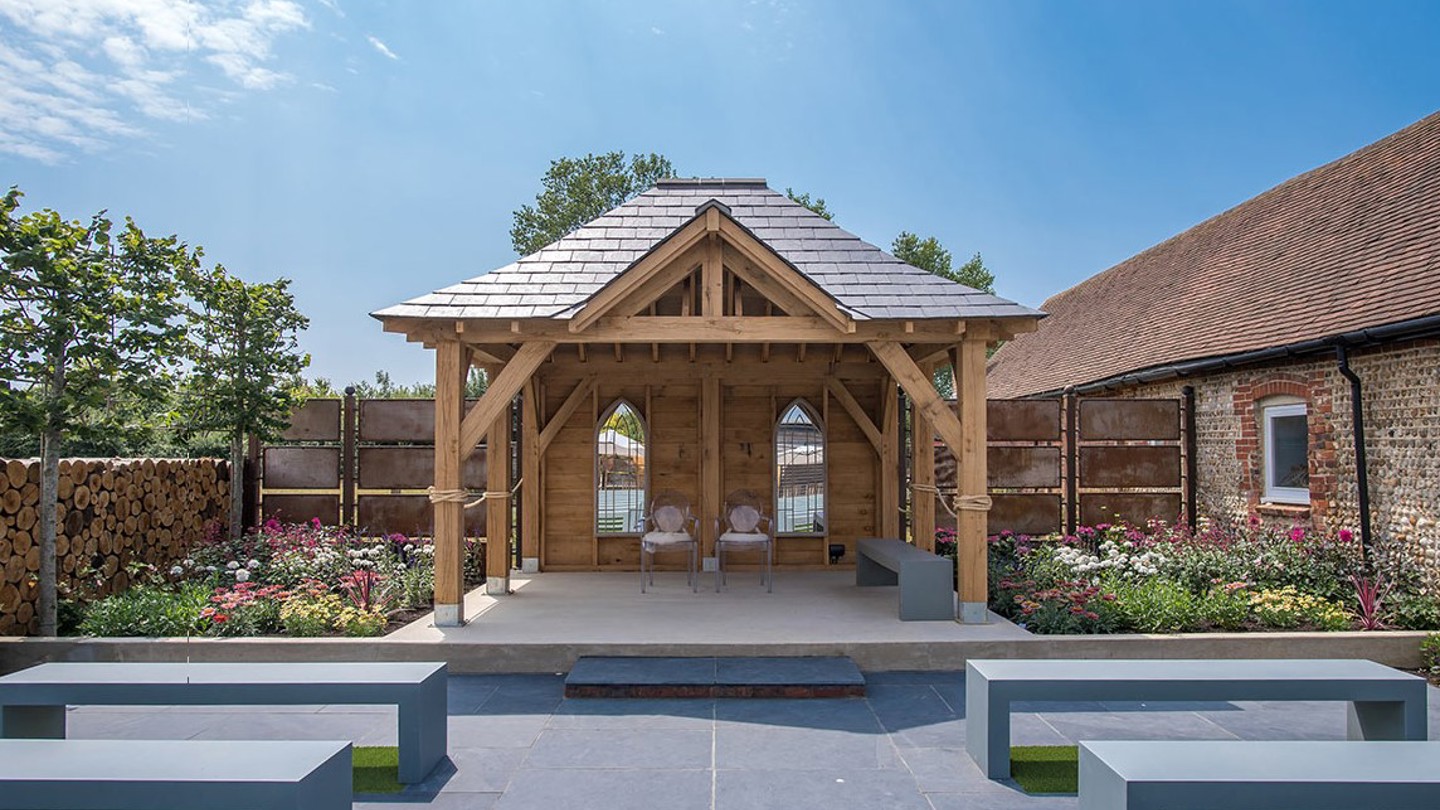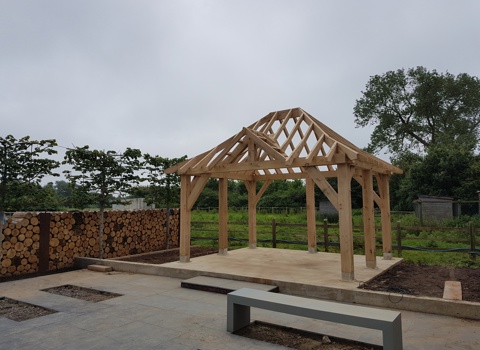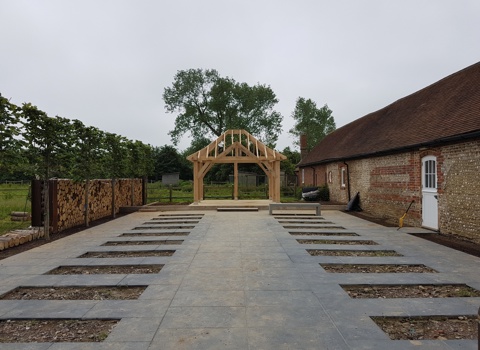 Our clients asked us to come up with a building that would be able to accommodate outside ceremonies at their award-winning wedding events venue outside Chichester. This is the oak-framed wedding pavilion we agreed on, which fits perfectly with the style and building materials already in abundance with their existing Threshing and Dairy barns.
"The team at Five Oaks say when they'll be onsite, do what they say they're going to do, deliver a high quality product, are craftsmen, their quote matches the invoice and we would definitely recommend them" Mariella Fleming, Chichester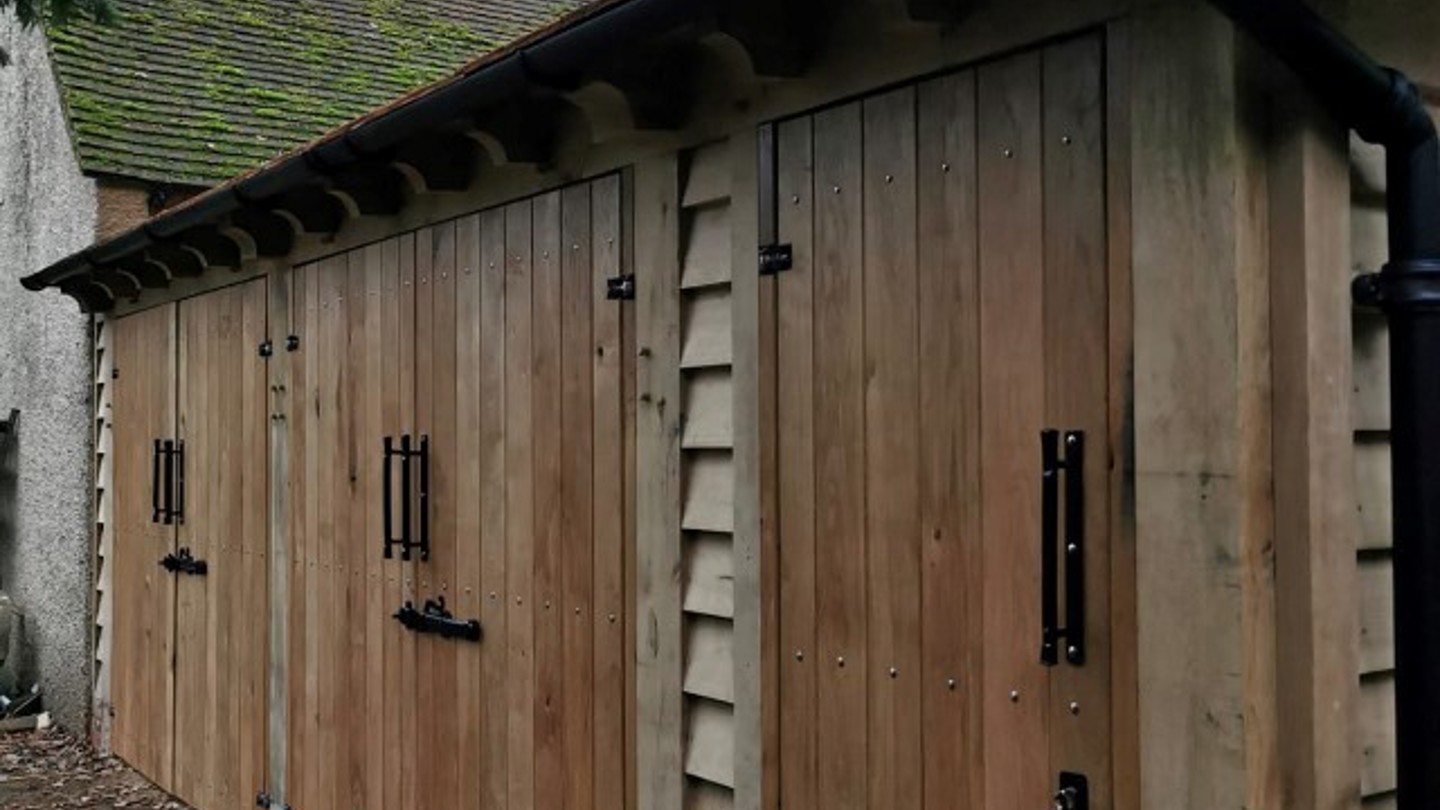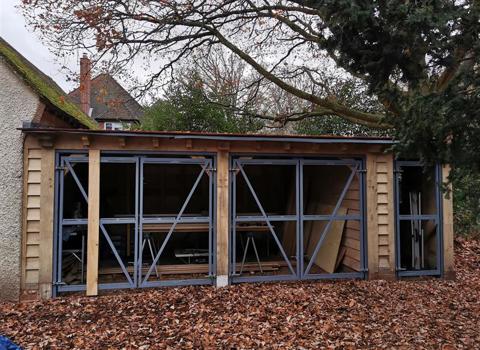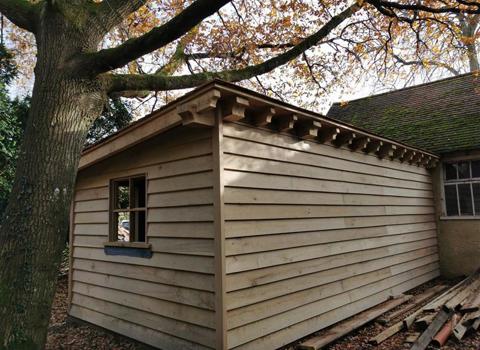 We've knocked down a derelict wooden structure that was attached to this building and replaced it with this oak framed, shingle roofed, weatherproof store room. It features a range of bespoke doors made of steel frames dressed with tongue and groove cladding and handmade ironmongery, to provide secure and flexible access to the new space, whilst still maintaining a traditional look and feel to the outside.
"All of the Five Oaks team were incredibly courteous and friendly during the weeks they spent onsite. Oli struck the right balance between listening to what we wanted but also suggesting his own ideas." David A. - Farnham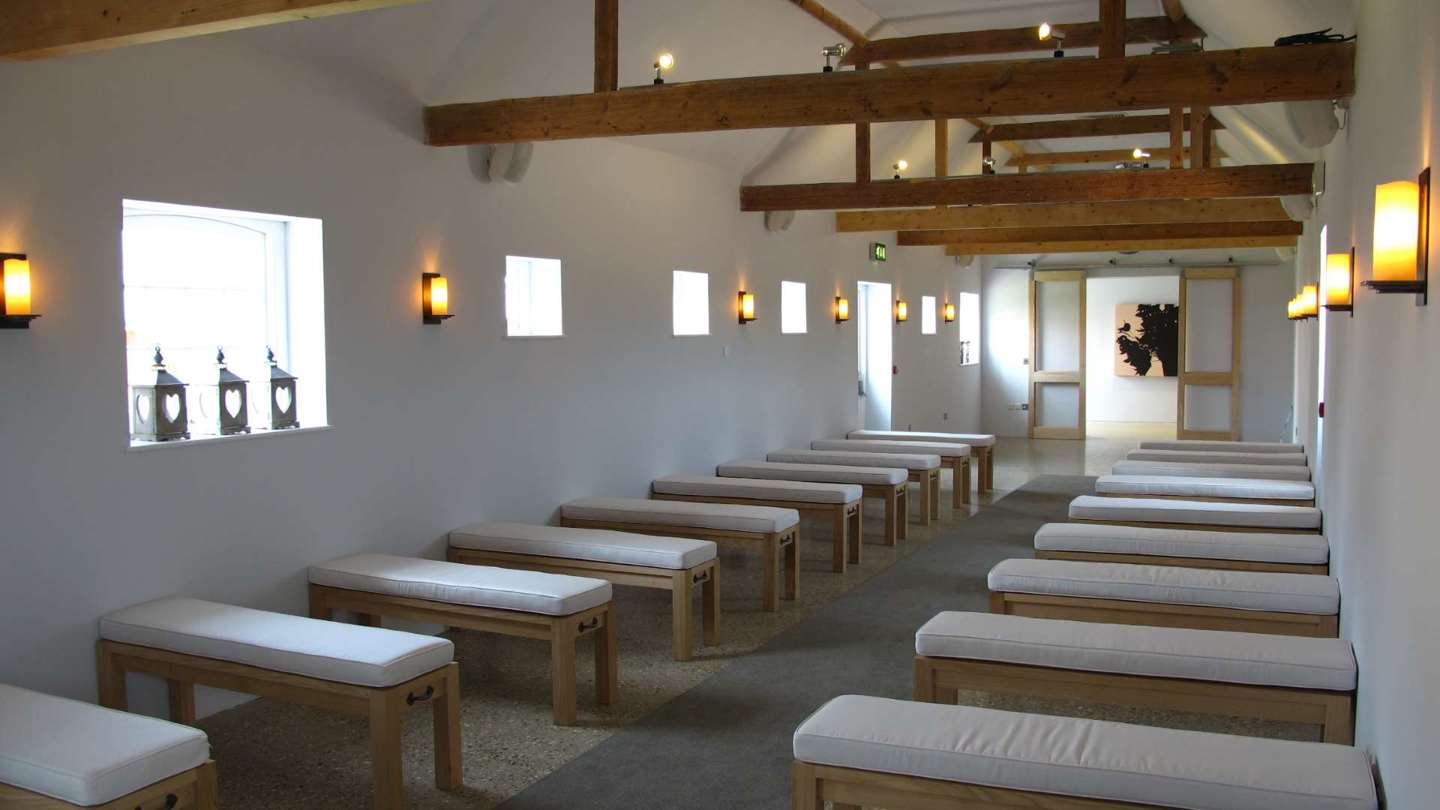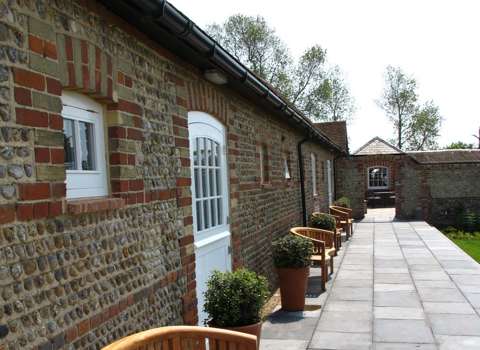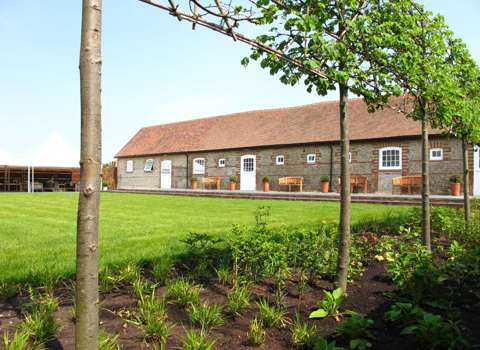 A vaulted ceiling exposes the timber trusses restored during the renovation of this Victorian brick and flint built dairy building, turning it into a wedding ceremonies room at www.southendbarns.co.uk.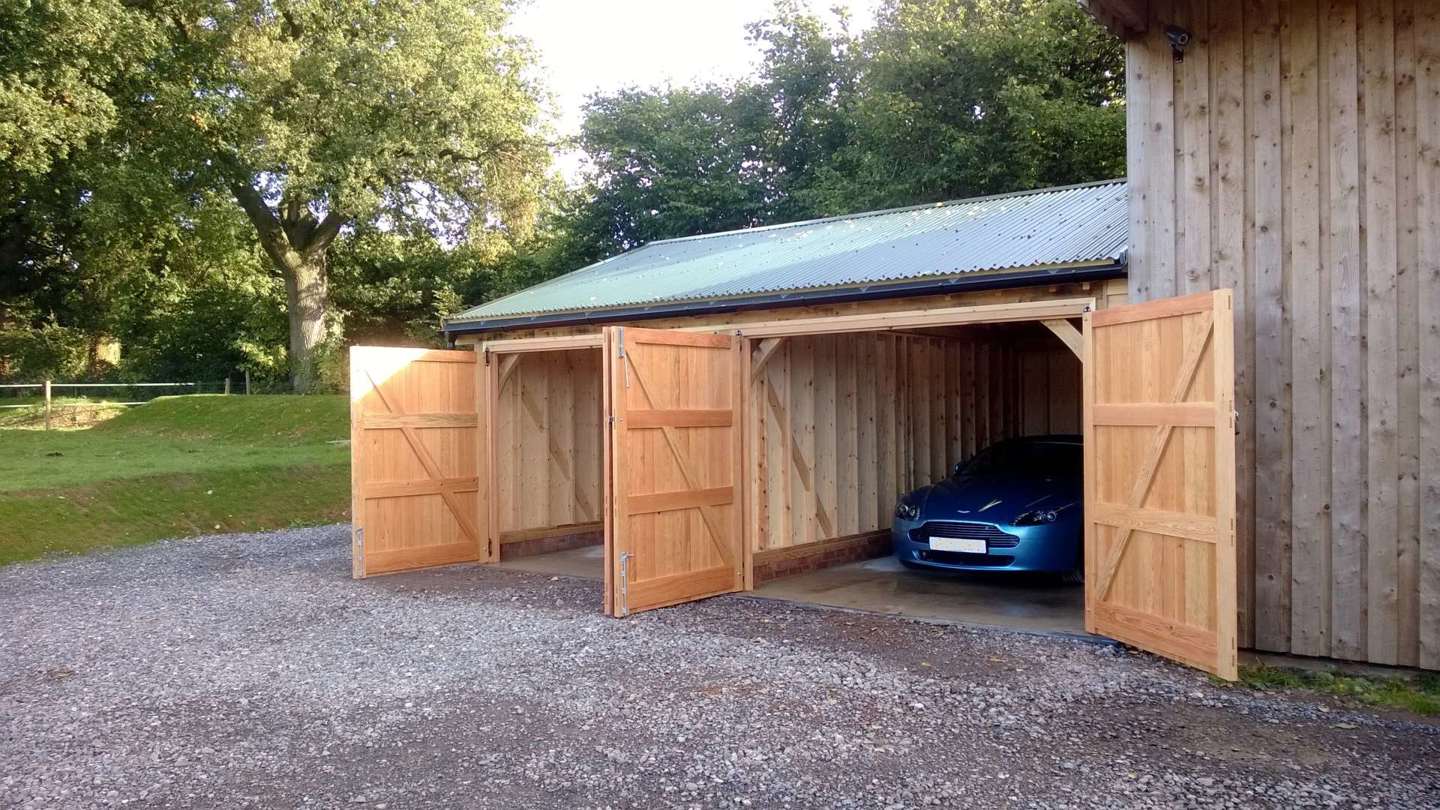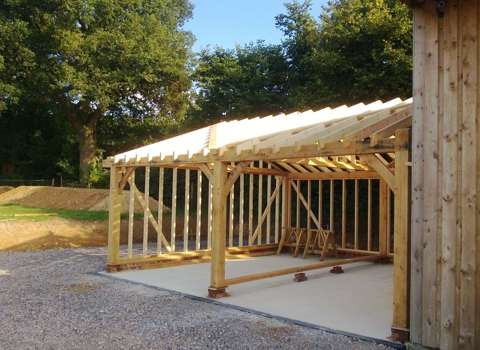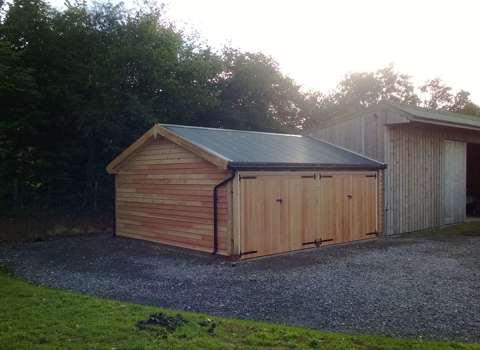 A simple 2-bay oak framed garage extension, clad in oak and with a corrugated roof, designed to match the barn it adjoins.
"Five Oaks handled our project from concept to completion including all planning consent matters. Project management was of a very high standard with appropriate consultation at all times. The workmanship was excellent and the quality of the finished buildings is faultless. They were a pleasure to work with and we would highly recommend them to anybody who wants a job properly done, on time and within budget." Ian and Kathy R, Hampshire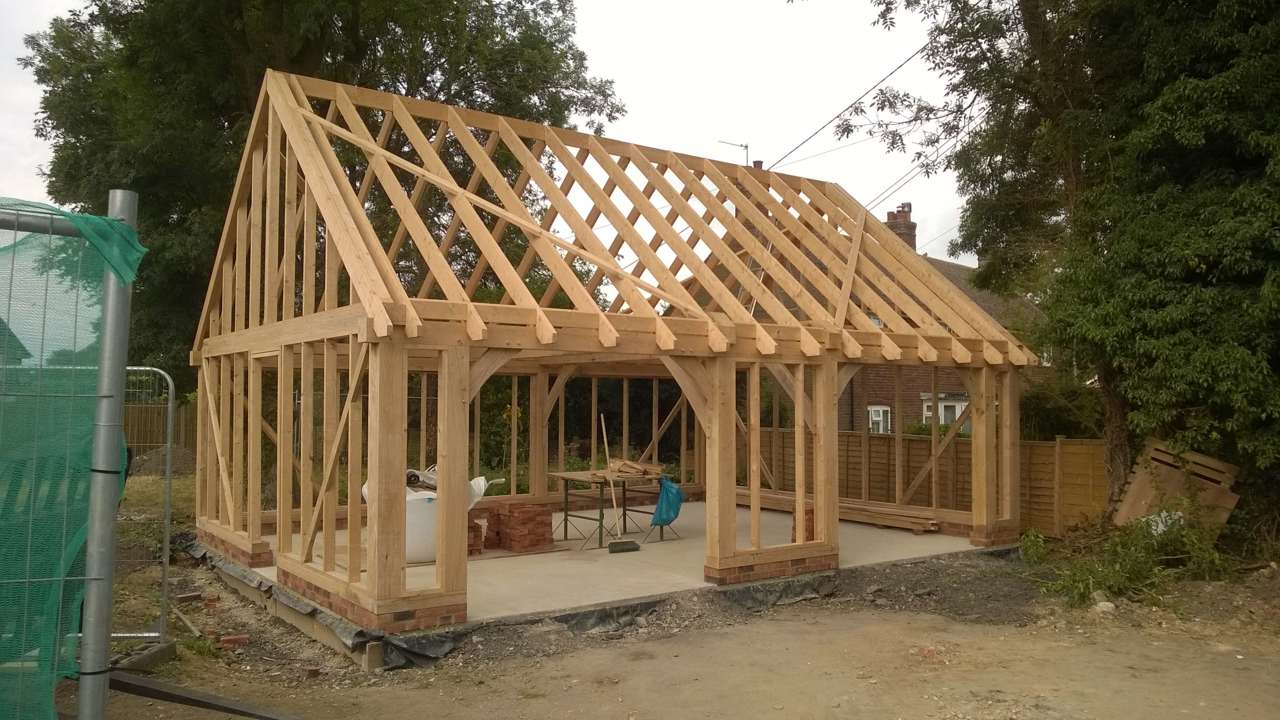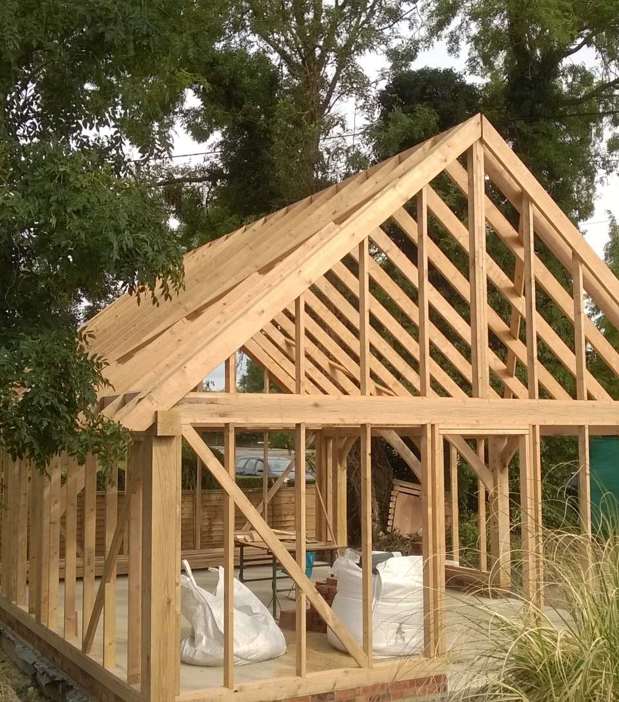 Here we've provided the oak frame and softwood carcass for a 2-bay lofted garage addition to a listed property on the high street in Odiham.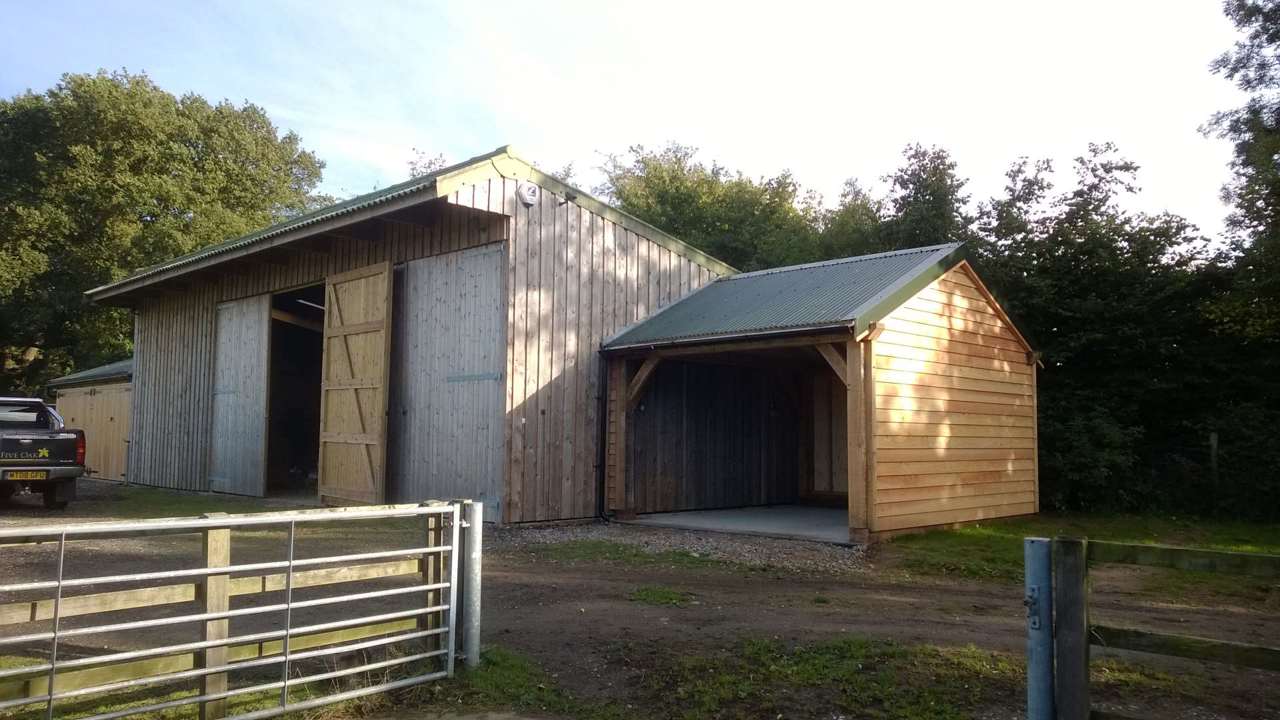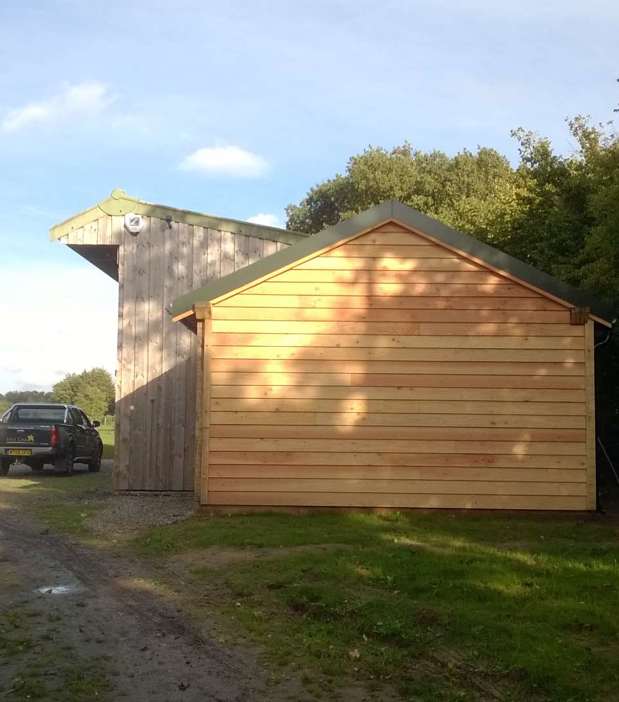 An unassuming addition to an existing farmyard barn creates a wash down stable for horses.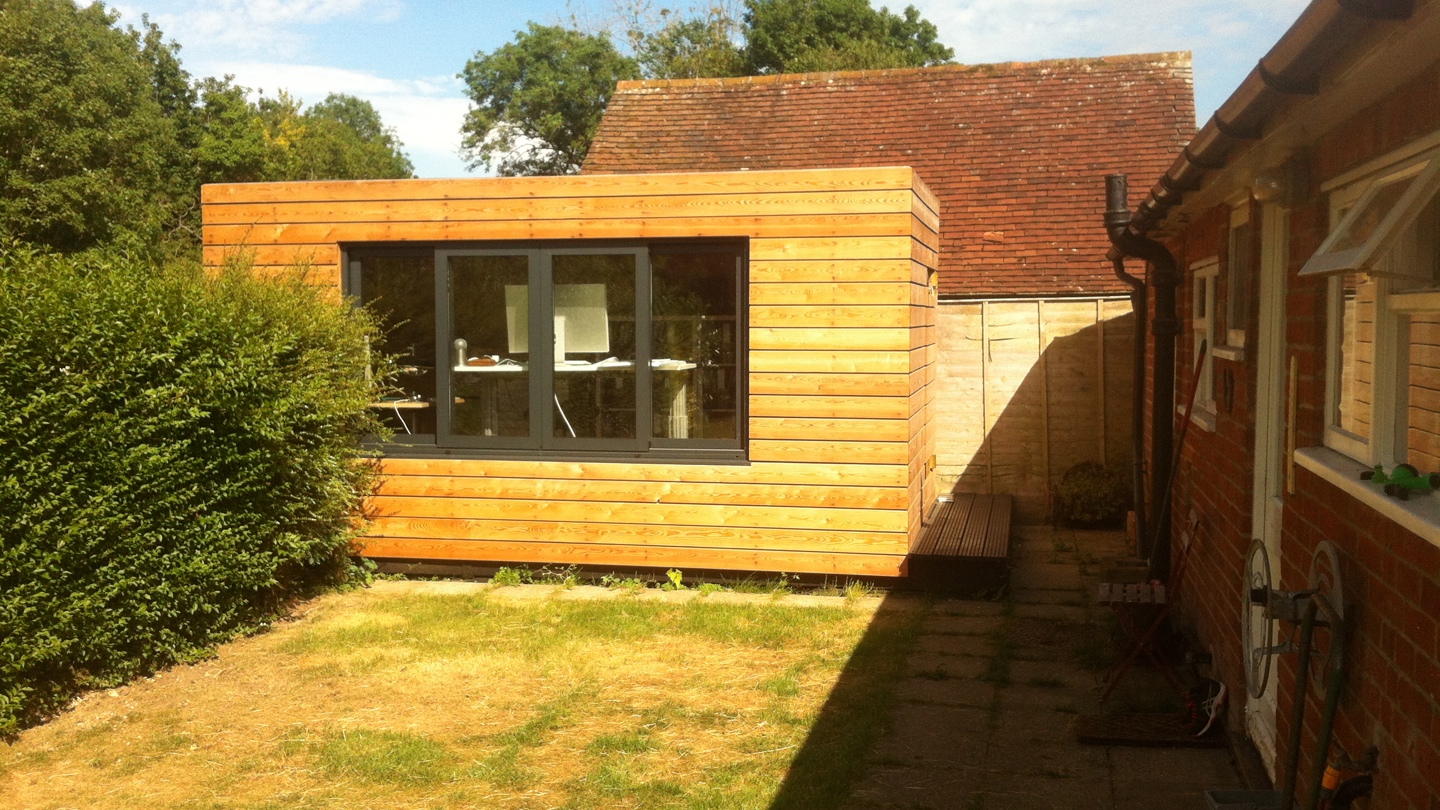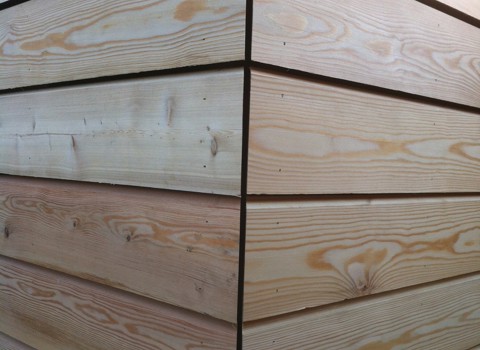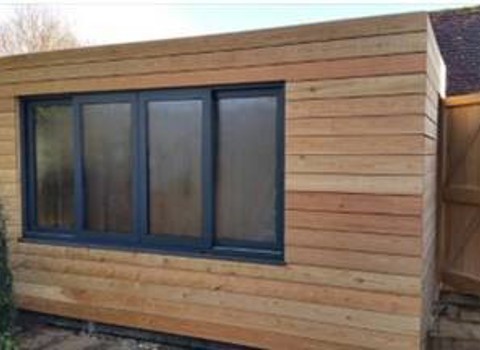 A simple box design, clad in profiled pine boards, creates a Scandinavian style cabin for use as a home office, children's playroom or man cave!
This two bay garage features a clay tiled catslide roof and store room to the rear and parking bays to the front. The internal walls are clad with vertical butt and bead softwood and the roof space lined with oak sarking boards.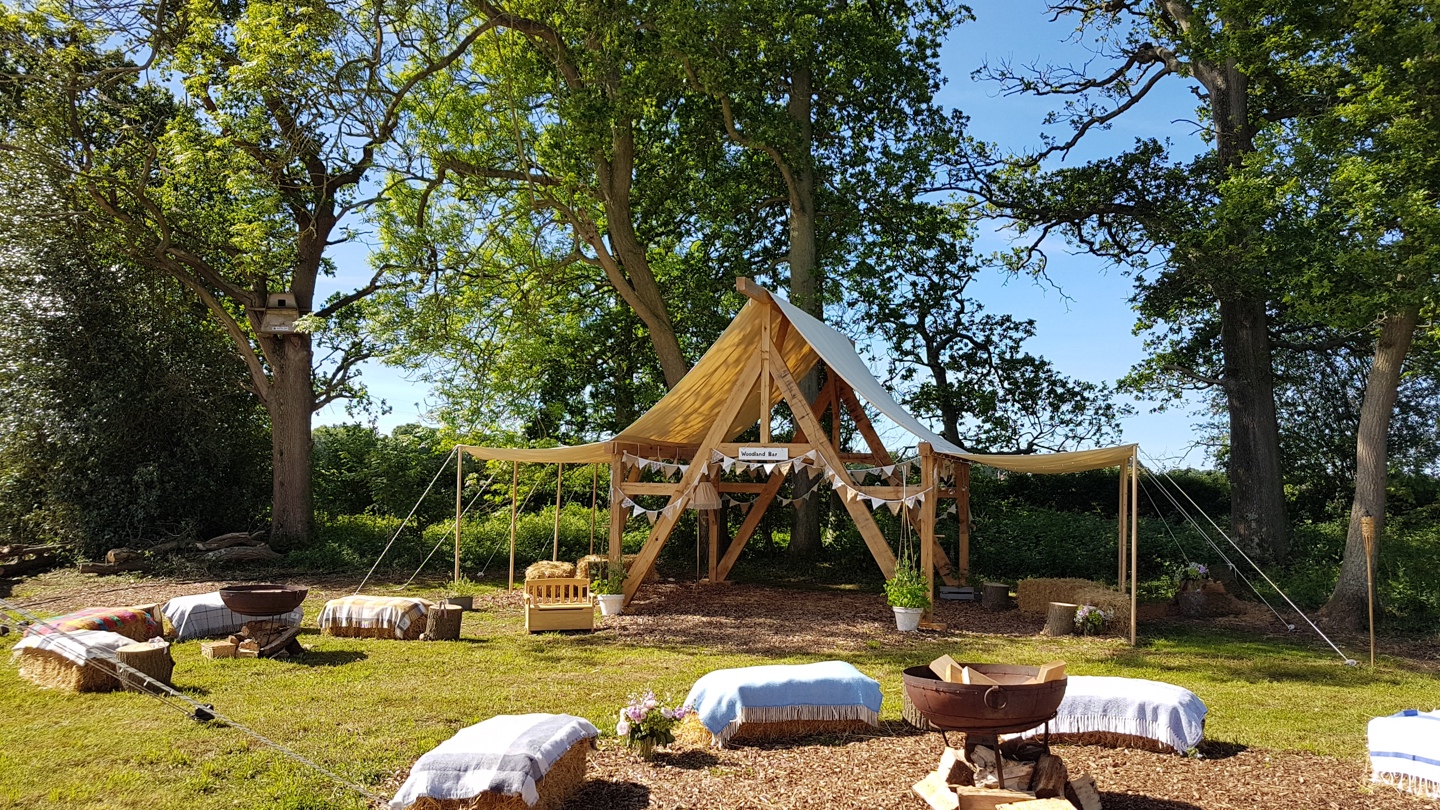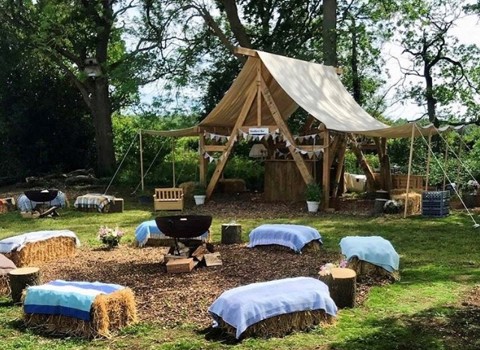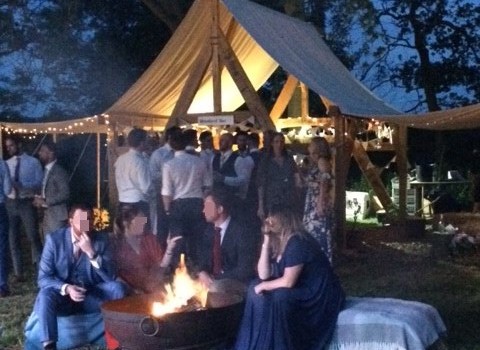 This canvas covered oak framed marquee has been specially designed for outdoor events, parties, weddings or BBQ's etc. Here it is set up in a rustic style for a wedding as a 'Woodland Bar' with fairy lights, hay bale seating and tree trunk tables, but it works equally well with a formal table setting and chandelier lighting. The sides can be rolled up or extended (as shown here) and it is available for hire for your event...