Restoring this derelict barn into a family home is one of the most satisfying projects we have completed to date. It took almost a year to do, involved a lot of conversations with the planning office and a number of ecological surveys to ensure we provided alternative accommodation for the bats, owls and kestrels that now breed in specially provided boxes in and around the site. Much of the original timber frame is in evidence inside and outside the house and any restoration work to previously rotting timbers are seen as additional and unique features of the building.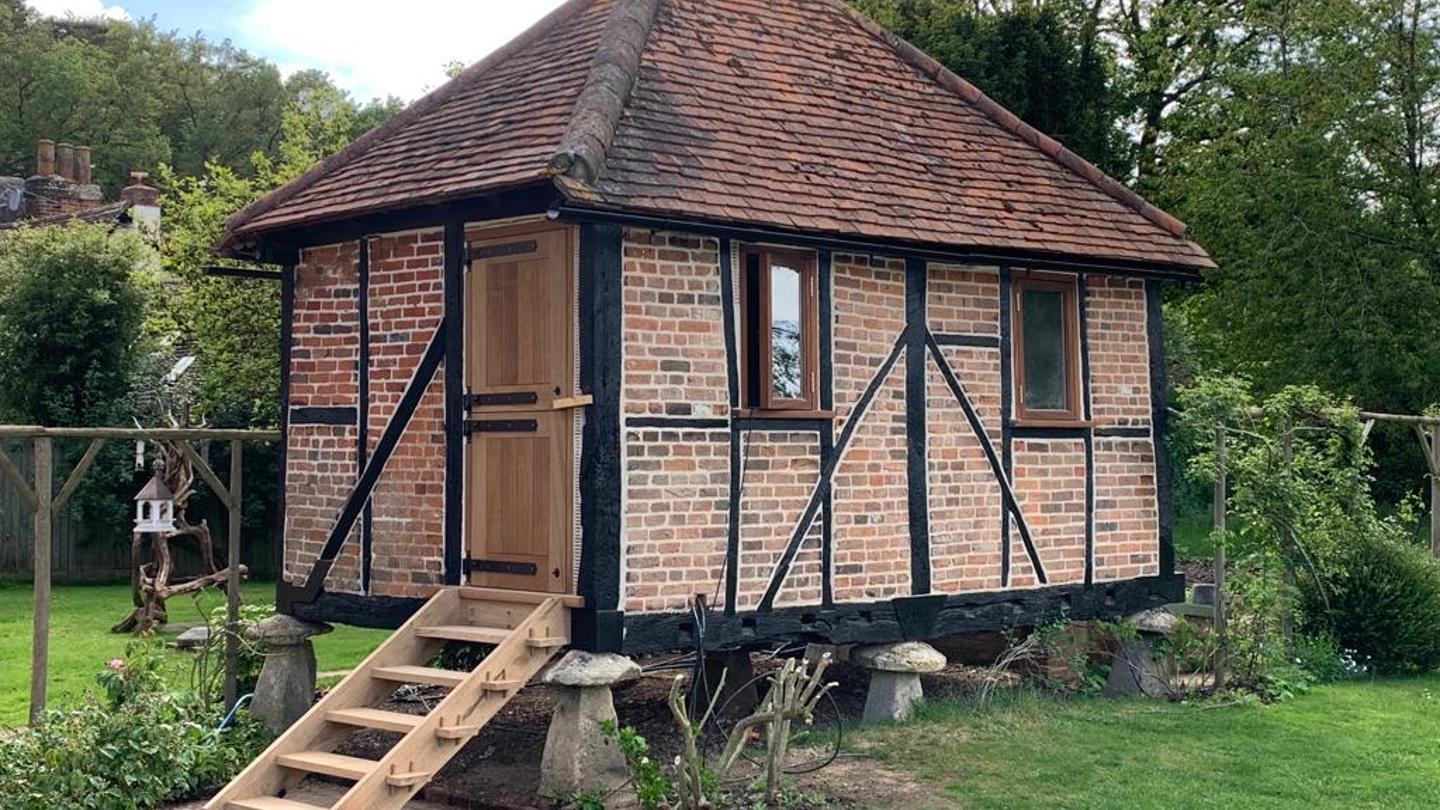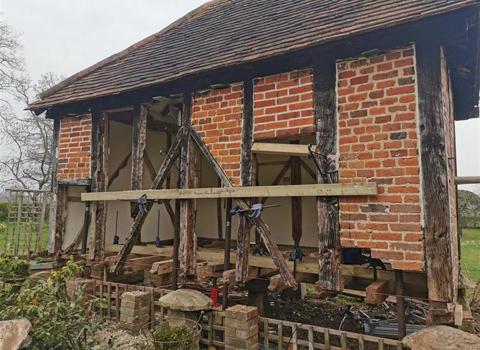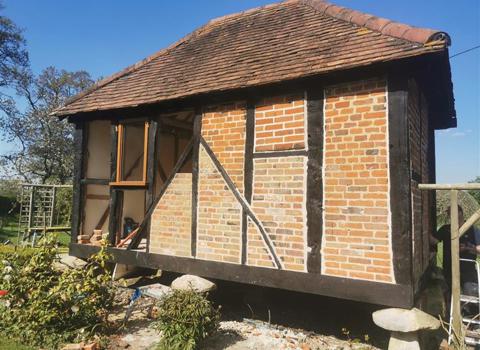 A beautiful little listed granary has been given a new (long and healthy) lease of life after we replaced the rotten ring beam - being the main support for the whole building, sadly it was beyond repair. The brick walls were carefully dismantled but, having been pointed with modern cement mortar at some point in the buildings' past, this caused them to shatter when removed. As a result, we reused what we could and supplemented with colour matched reclaimed metric bricks, which had to be hand cut down to imperial size before being lime mortared into position. Given the non-uniform shape of the openings, hand made oak door and windows were crafted and installed and this little beauty was finished off with a hand made set of oak steps.
"We are super happy with it...she's in beautiful shape. You and the team have been absolutely fantastic on all of this, so big thanks to you and them." Mr & Mrs S, Hook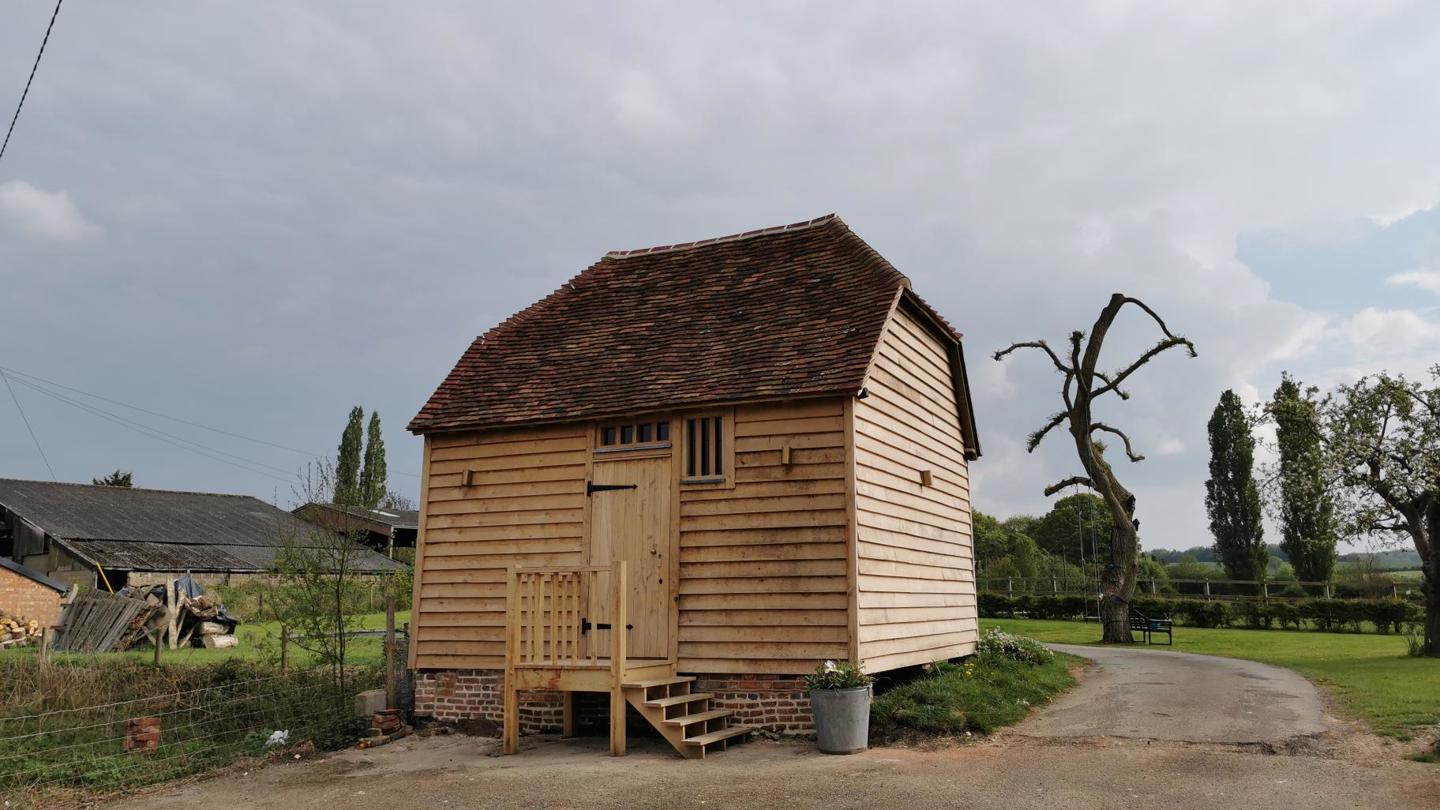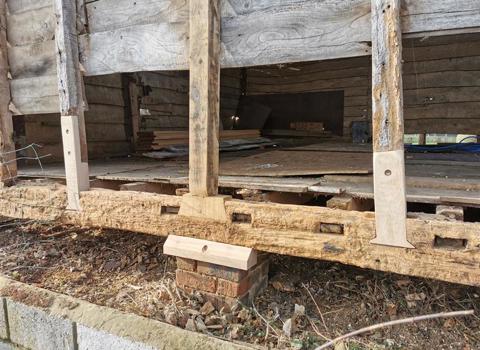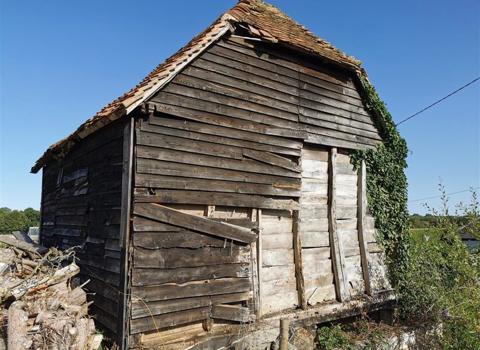 Another listed granary that was in much need of restoration! We have to strip the building back to its basic frame to fully appreciate what work is needed and assess what can be kept and what timbers need to be strengthened by splicing with new hand crafted oak. Once the integrity of the building is restored, we re-dress it with oak cladding, reclaimed roof tiles and, in this case, hand crafted oak mullioned windows, steps and doors - both front and back. Lastly, we restore the dwarf brick wall with original bricks and traditional lime mortar to finish.
"Excellent job. The granary looks amazing and we are so pleased with it. Thanks for all your and the team's work." Mr & Mrs T, Odiham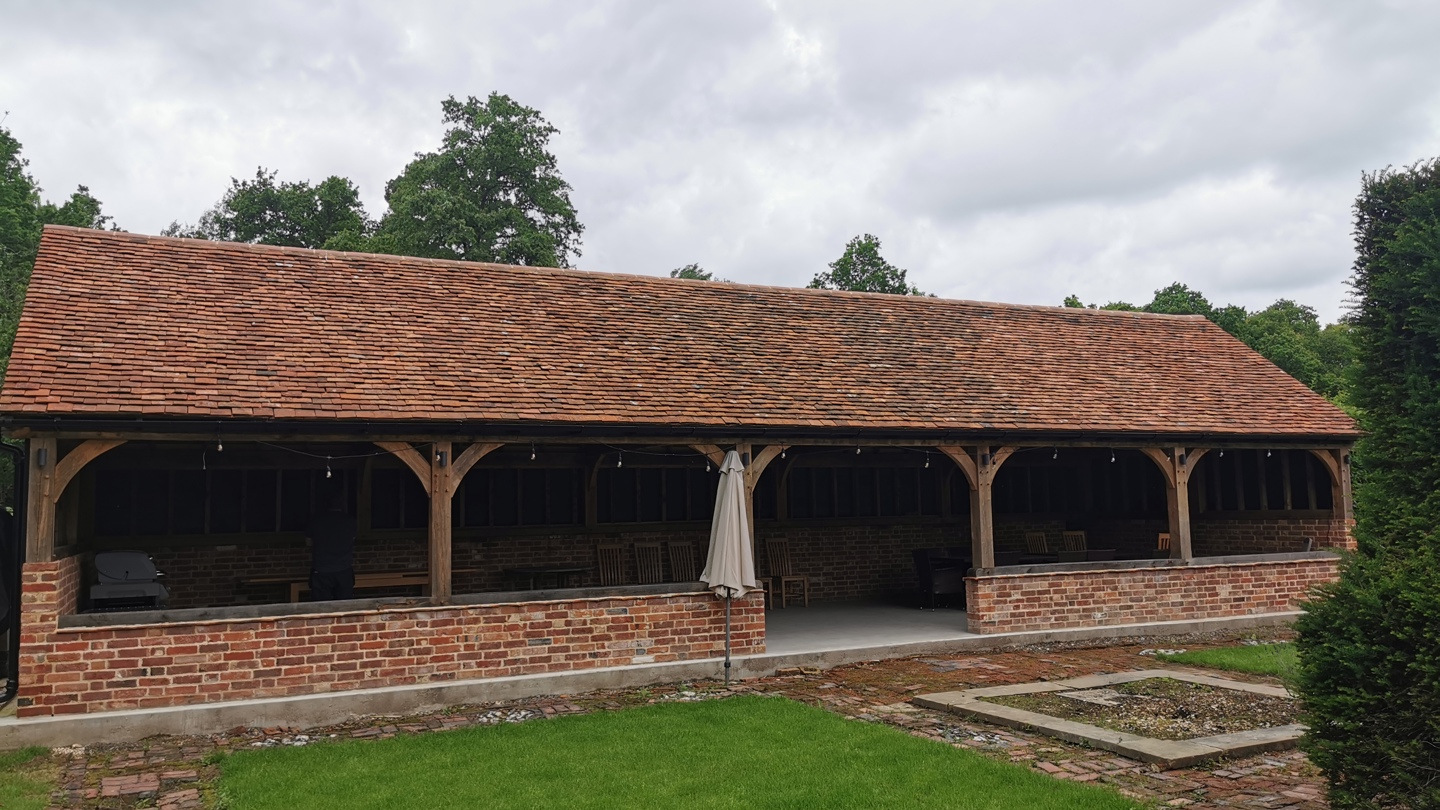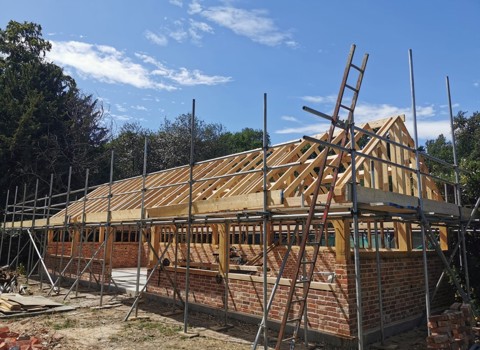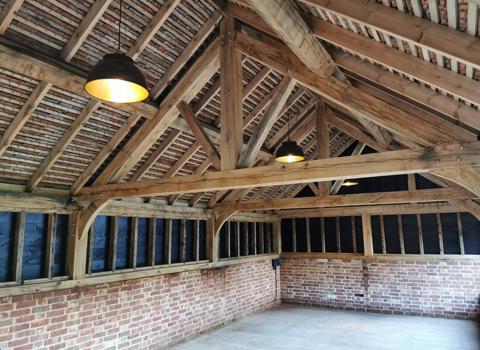 With a listed cart shed to re-build following its complete collapse, we started by salvaging from site as much and as many of the original materials as we could find to include bricks, timbers and roof tiles. Using traditional methods and materials we then set about re-creating an exact match to the original 5-bay building. Each individual reclaimed roof tile is fixed in position with individually custom drilled, hand crafted oak pegs. A true labour of love...
We were called out to make emergency repairs to this beautiful listed granary for our clients in Mattingley, which was at risk of complete collapse. Visible rotting timbers and disintegrating brickwork needed to be removed in certain places and then the building made safe over the Christmas period, until a more comprehensive programme of restoration could commence in the New Year. Using acro-props and weatherproof membrane, we were able to secure the building in time and all materials removed have been safely stored for re-use wherever possible in the next phase of restoration. You can see how the restoration looks as it nears completion in the next set of images.
Restoration projects are some of Oli's most favourite jobs and he has LOVED restoring this crumbling listed granary! Decisions on what can stay and what must go are not taken lightly; each piece of the building is individually assessed and only replaced or repaired if necessary. Any replacement pieces of oak are hand crafted on site to fit as sensitively as possible, at all times retaining a strong sense of respect for the original building and its construction. Any new bricks were sourced to match the originals and replaced using traditional lime mortar. See the poor state of the building pre-restoration in the previous set of images.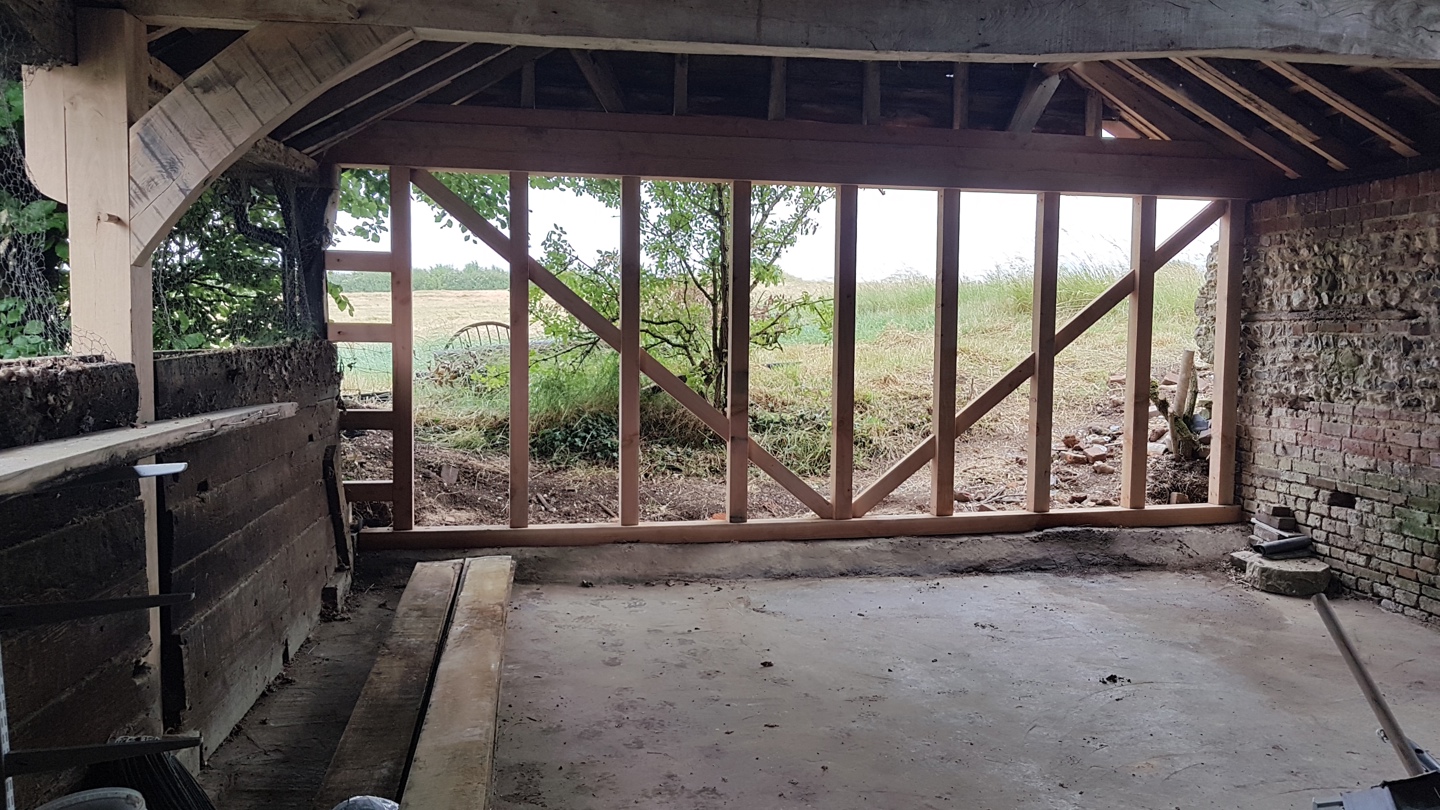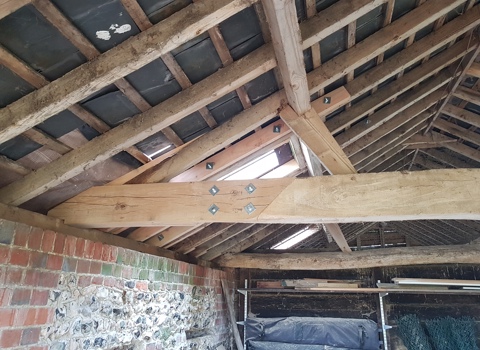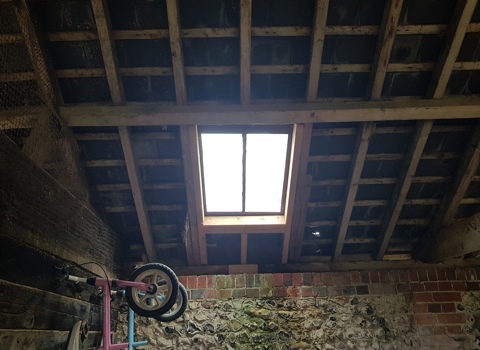 We've made essential repairs to the key structural elements of this elm framed barn to include the tie beams, roof window frame and the gable end wall. You can clearly see where sections of rotten wood were removed or reinforced with new timbers.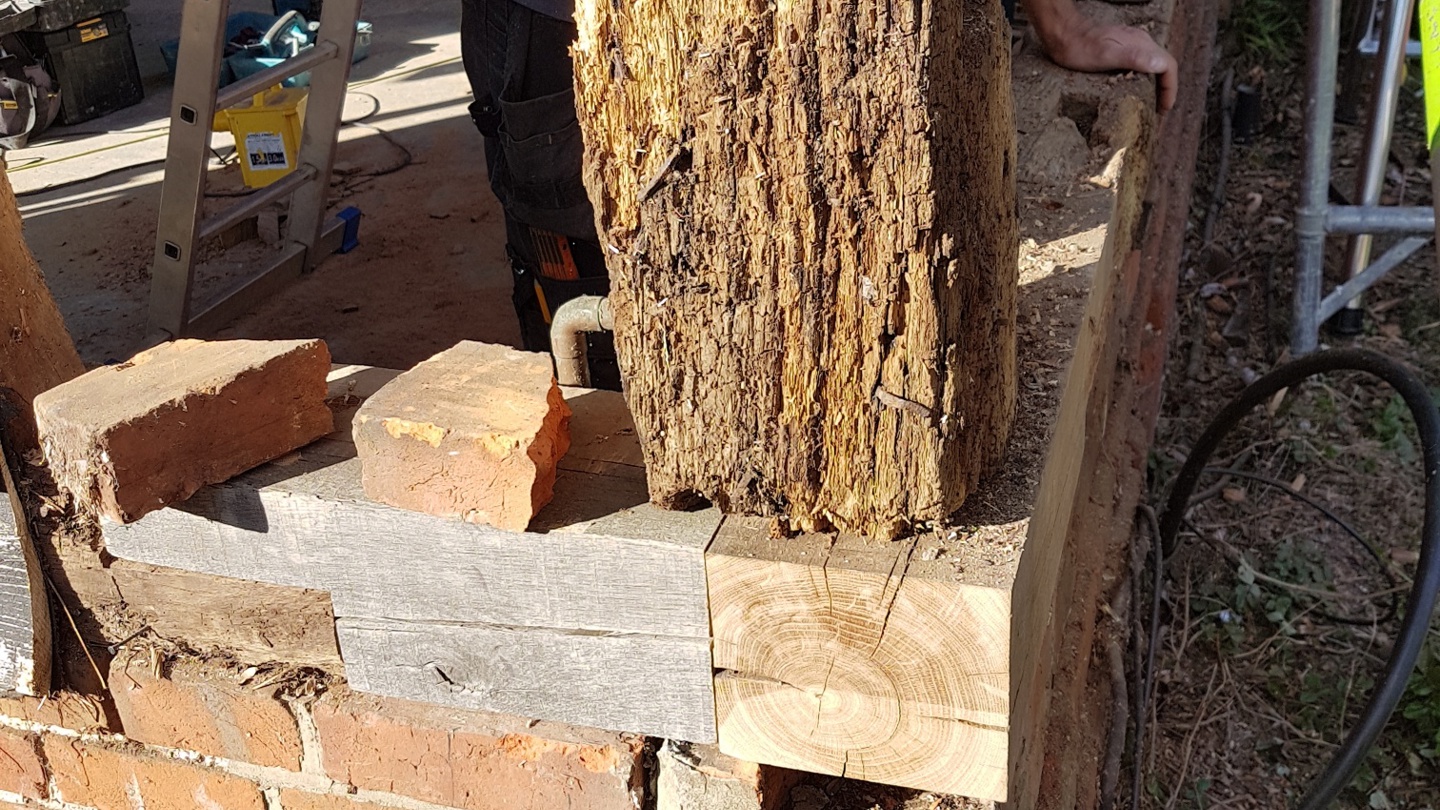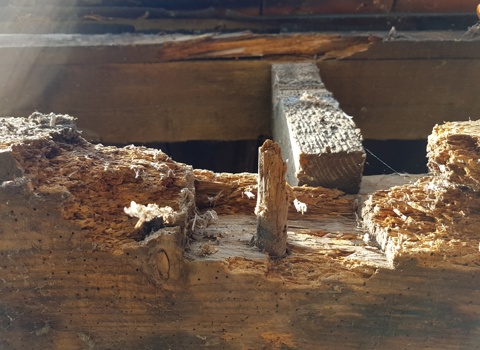 A familiar site is to come across badly rotting timbers in an old barn, no longer providing the support the structure requires. Whilst keeping as much of the original timber as possible, our job is primarily to ensure the building is made safe and structurally sound. We cut away the worst of the rotten timber, and craft new pieces of oak to slot in and replace what has been removed.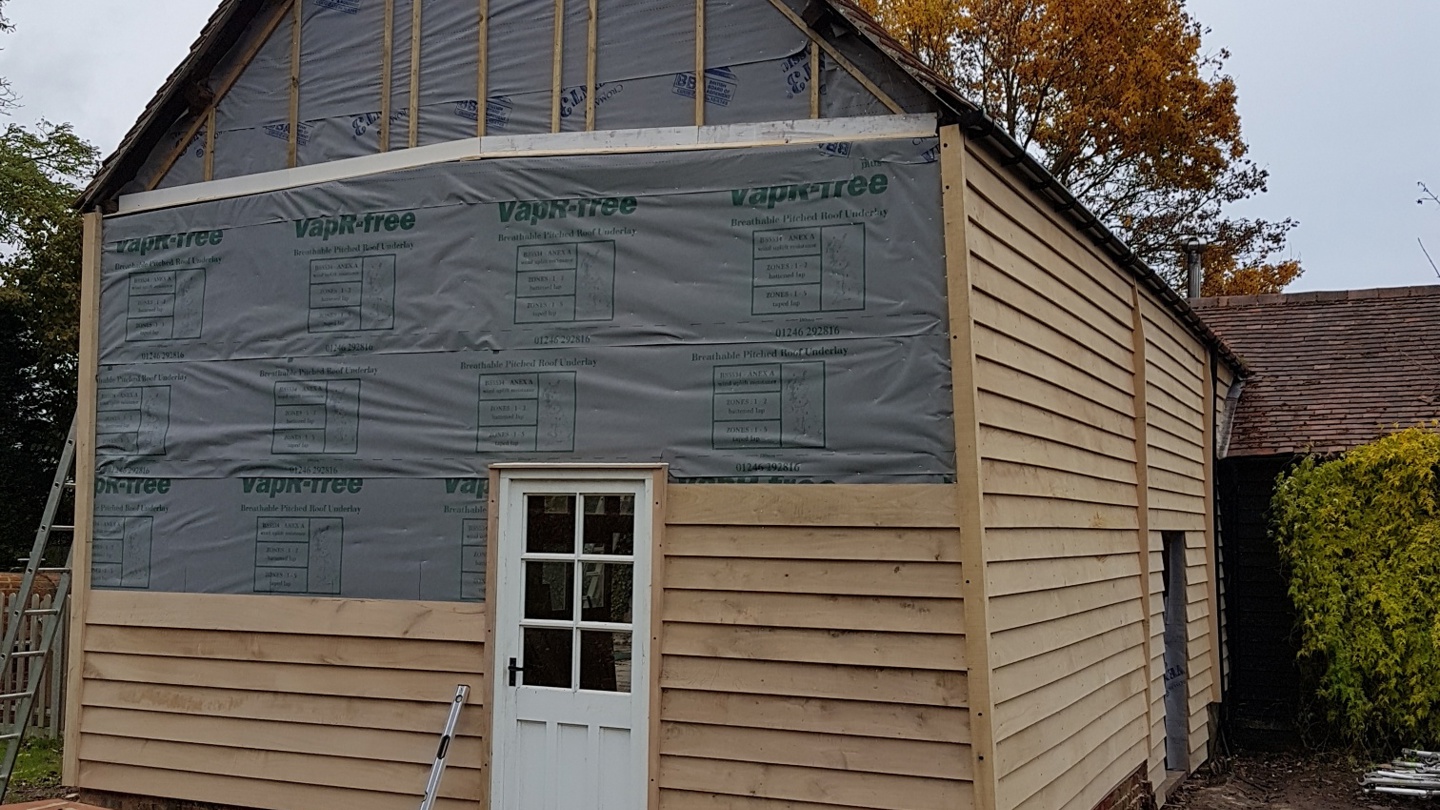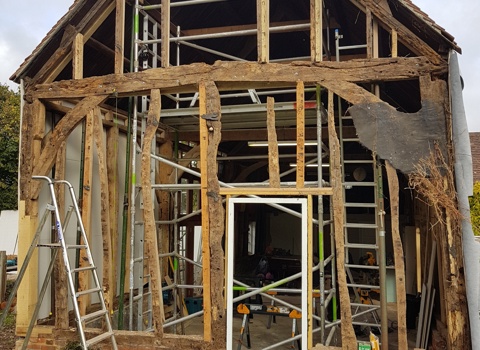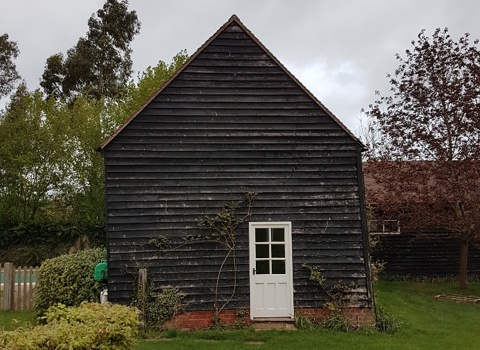 A full barn restoration project to turn a disused and run down building back into a flexible, secure and insulated space. Once all the timbers were treated and repaired as required, the barn was dressed with oak cladding which will eventually fade to a subtle silver/grey colour.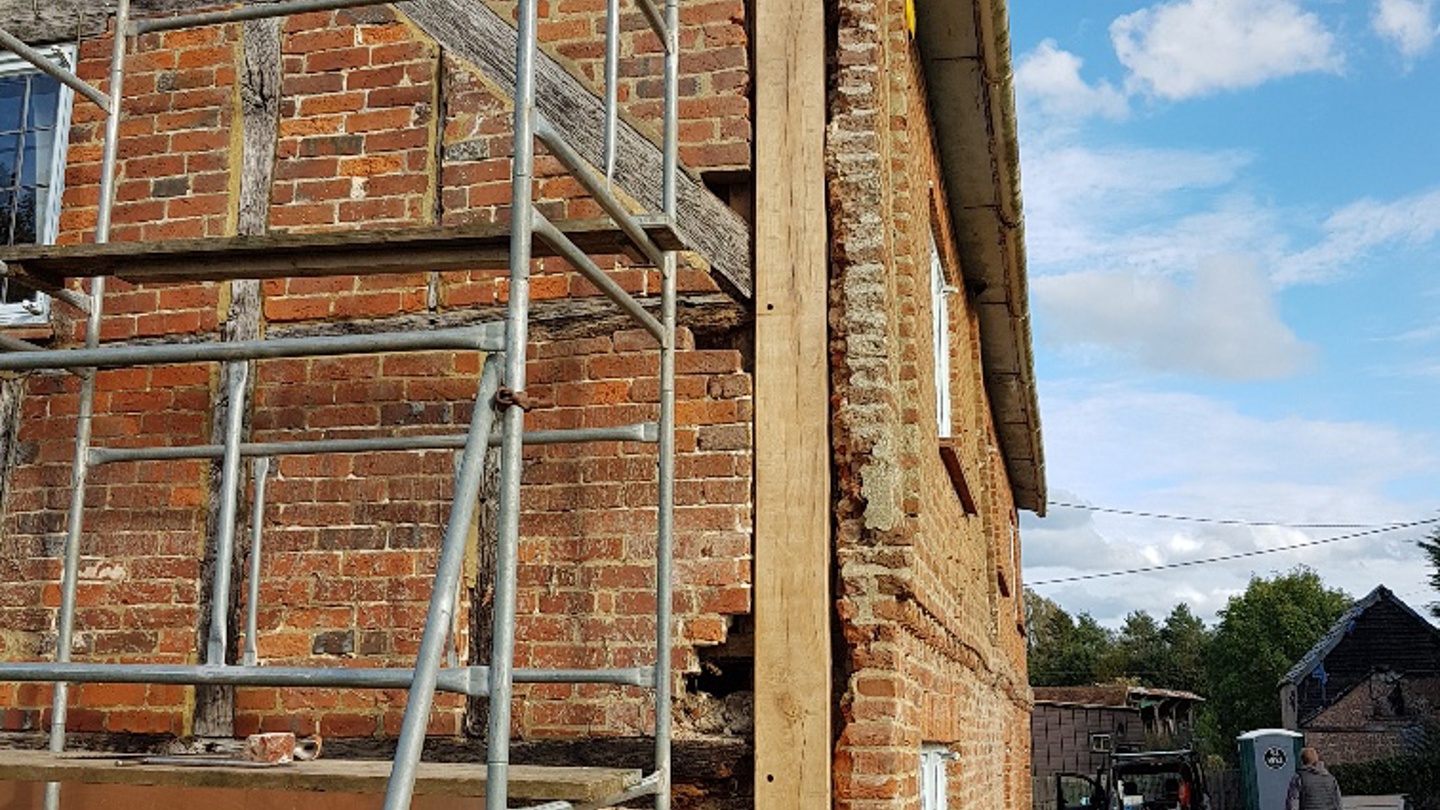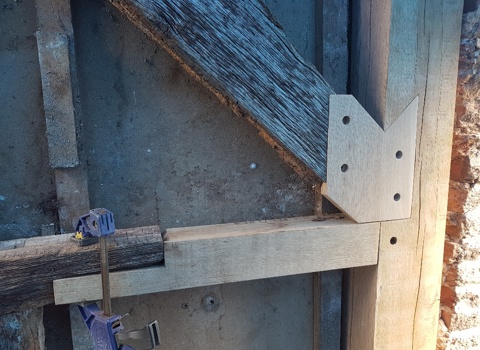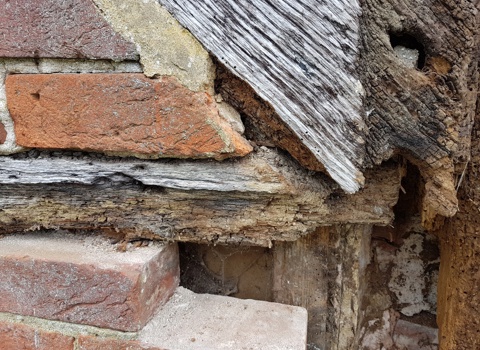 The  gable end of this Grade II timber framed house was in a desperate state of disrepair when our clients bought it. Commissioned to make essential repairs, with the appropriate permissions in place, we set about replacing the decayed wood with new solid oak timbers.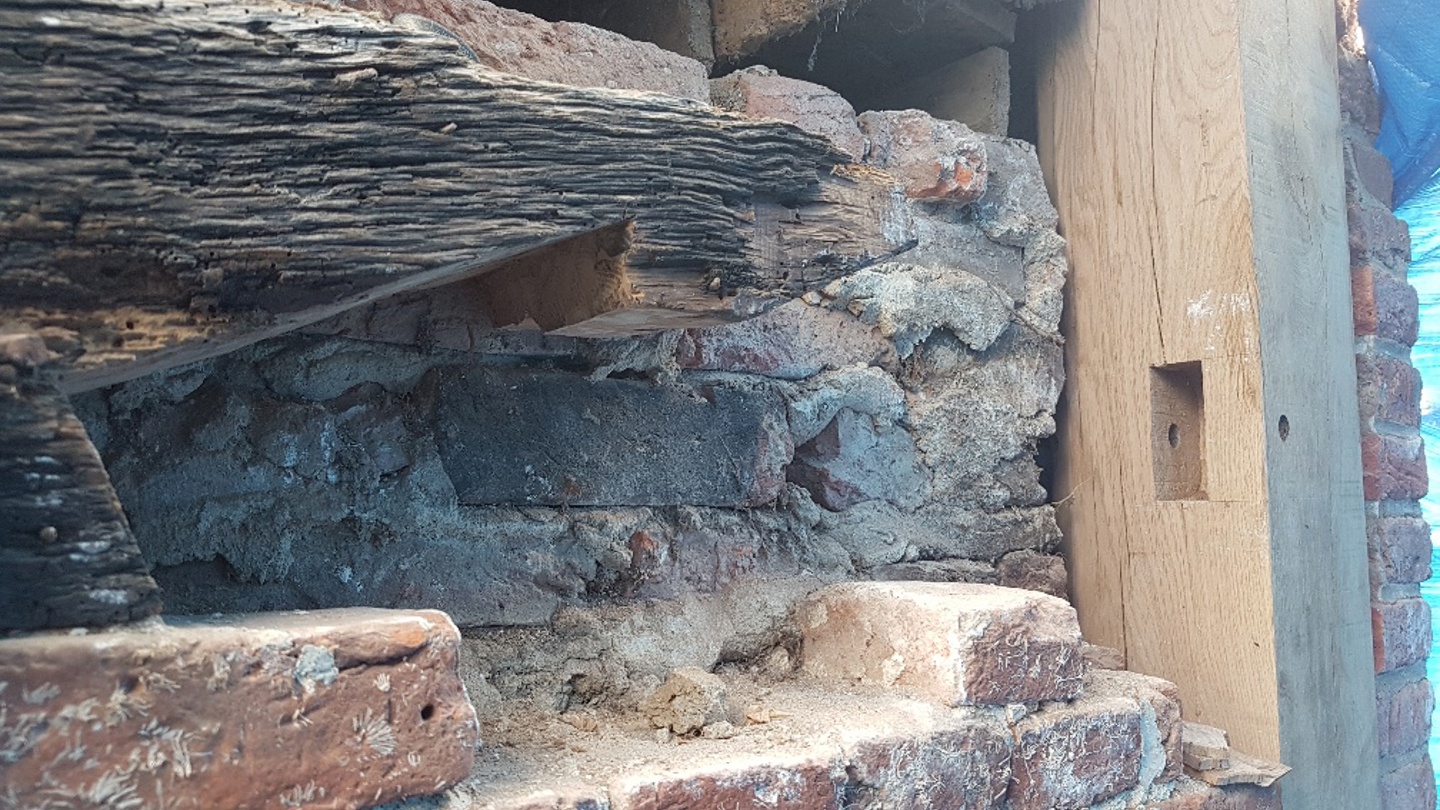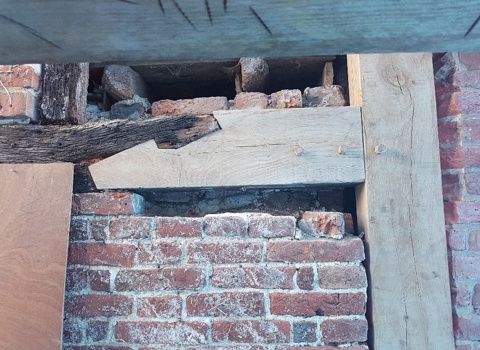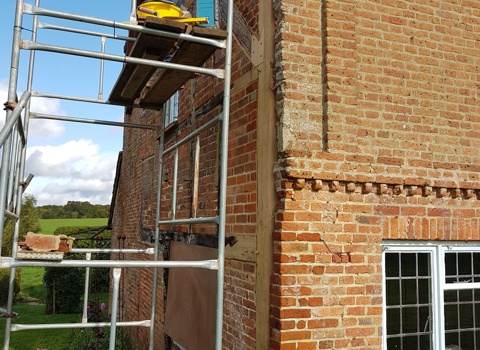 Part of our job as restorers is to retain as much of the original materials as possible, whilst still ensuring we make a good repair. Here we've removed the crumbling bricks and cut back the original oak post until we find solid wood. We then hand cut a new piece of timber to fit and brace the two together. The finished job shows the repaired wood and replaced brickwork, all carefully chosen to match the existing finish as is possible.
Lifting the floorboards in the bedroom of this listed home, revealed not only some badly rotting floor joists but evidence of badly executed patched repairs in the past which rendered the floor unsafe. Our first priority therefore, was to remedy this whilst, at the same time being careful to ensure we only replaced what was absolutely essential. In this case, we determined that we needed to replace 6 of the worst joists with like-for-like oak timbers.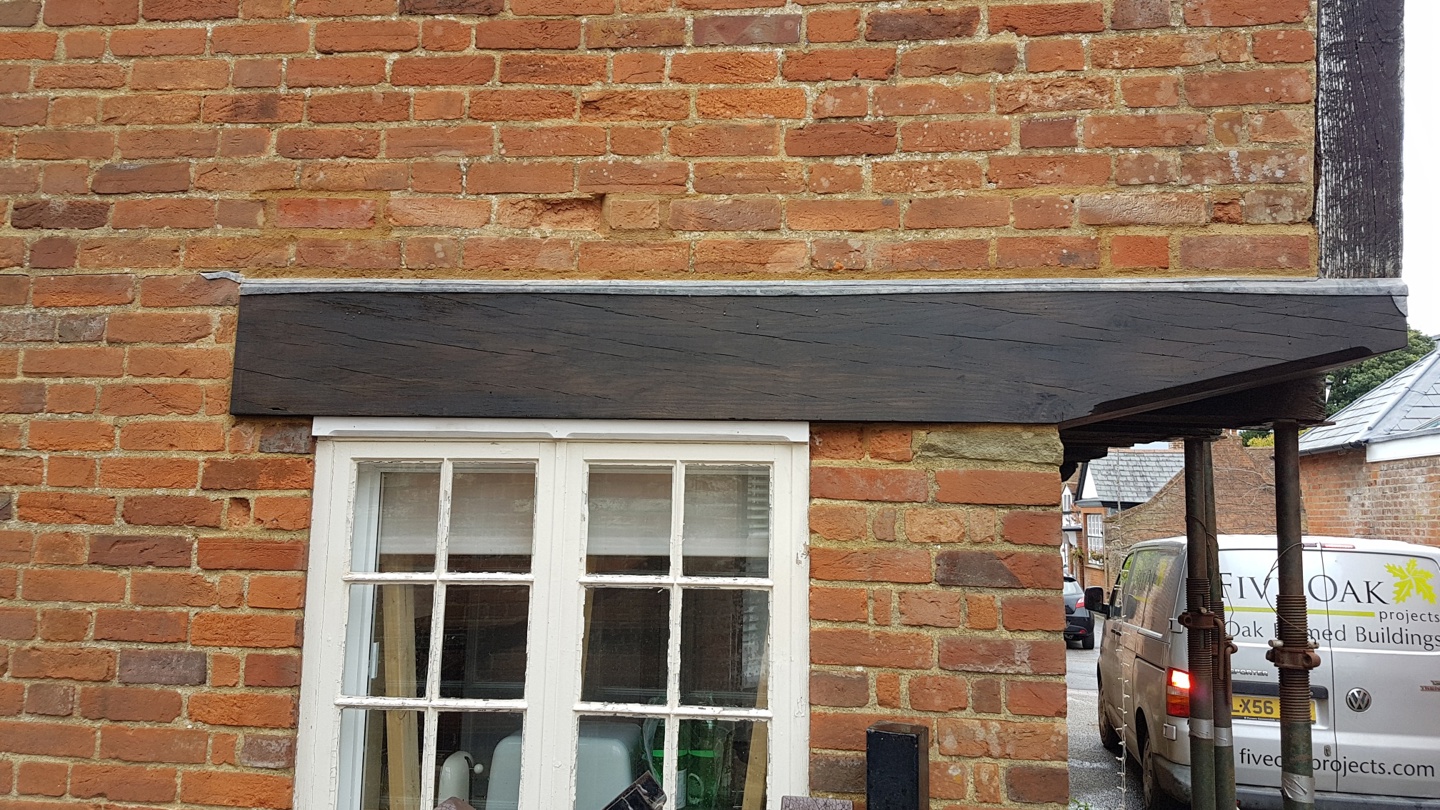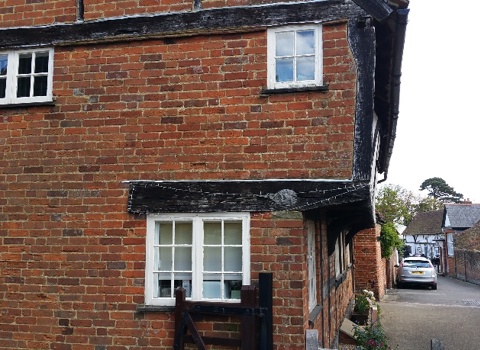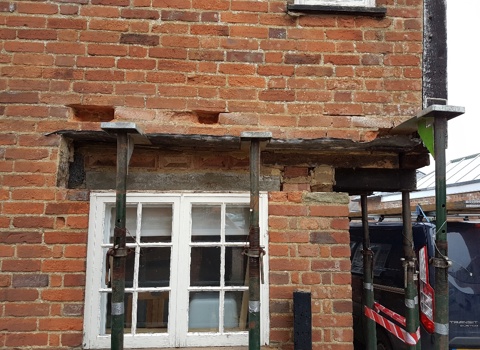 This rotting beam, holding up the corner of this listed cottage, was badly in need of replacement. A new beam was fitted and the job was finished with matching bricks to the conservation officers' and our clients' satisfaction.