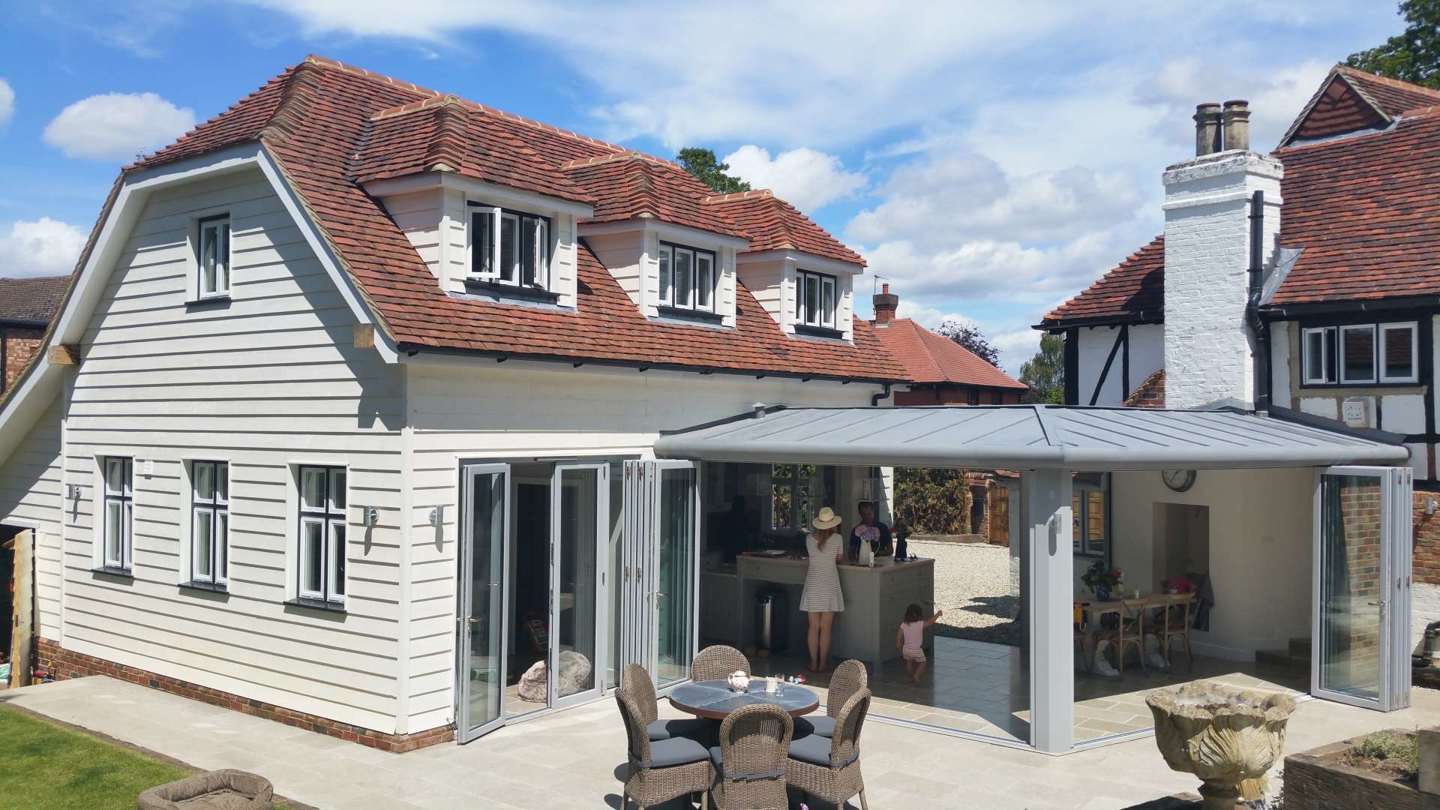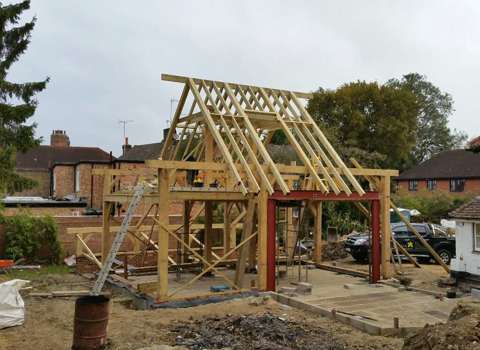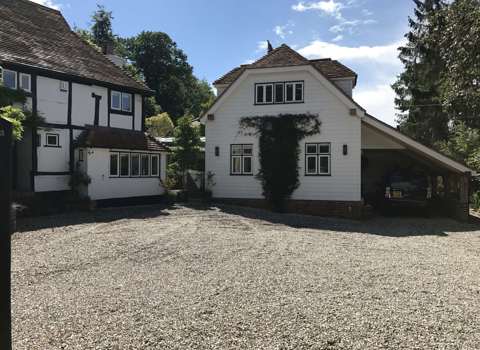 Building a completely new 3 bedroom wing, attached to this listed property by a glass link, got round certain planning issues with ease to create a sizeable and stylish extension to this family home in Surrey.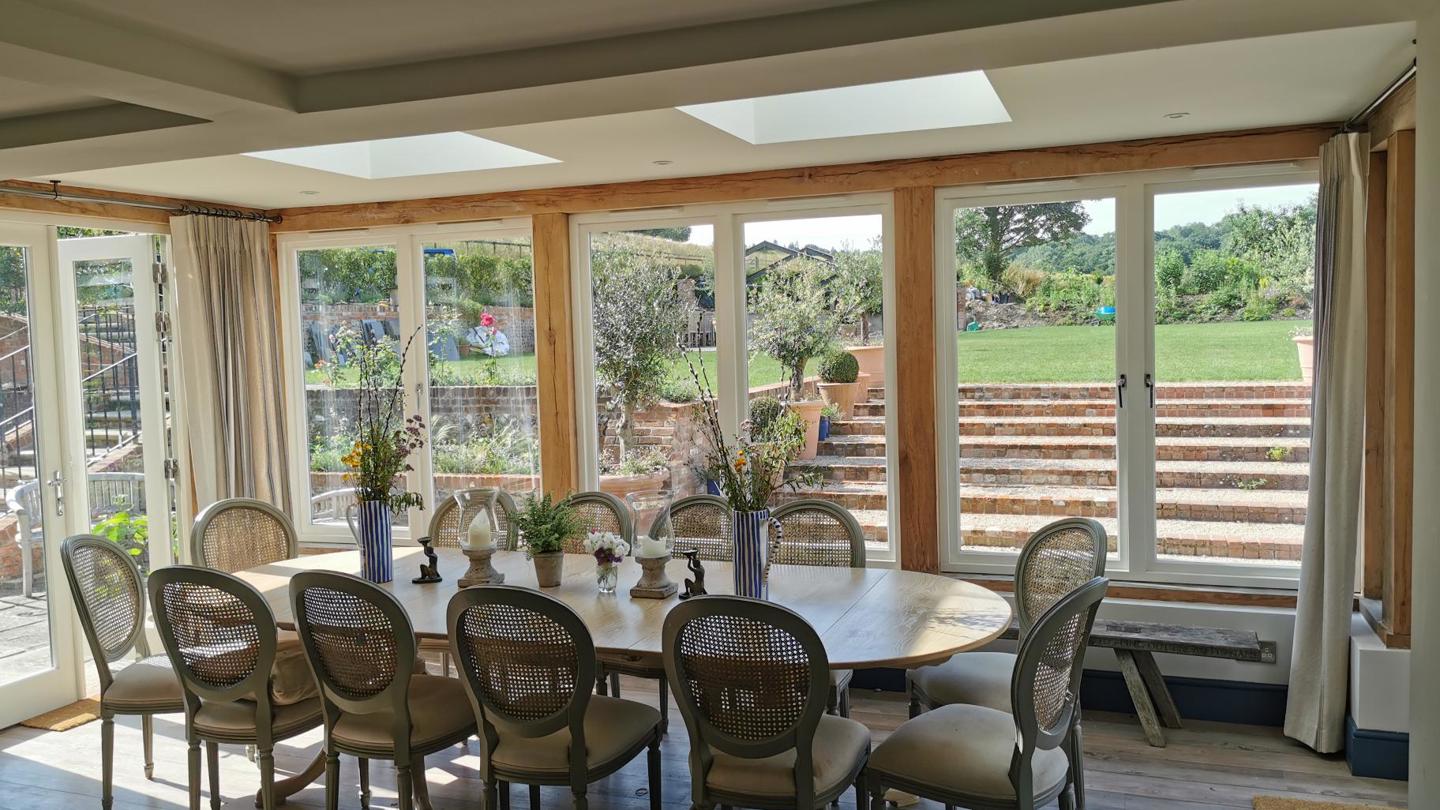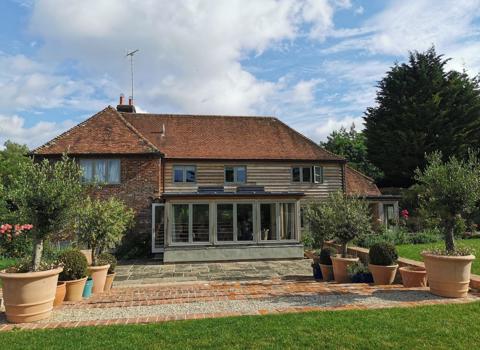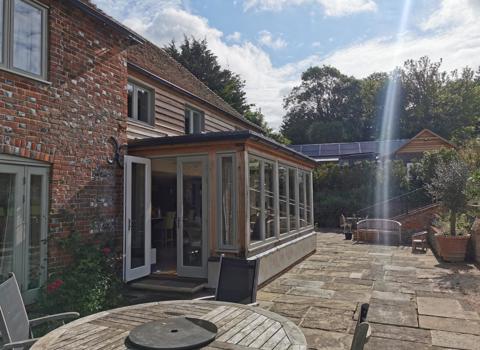 This green oak framed extension was added to the kitchen to create a generous and light-filled dining room. Doors at either end lead onto the rear patio and three quarter height windows connect the house with the large garden.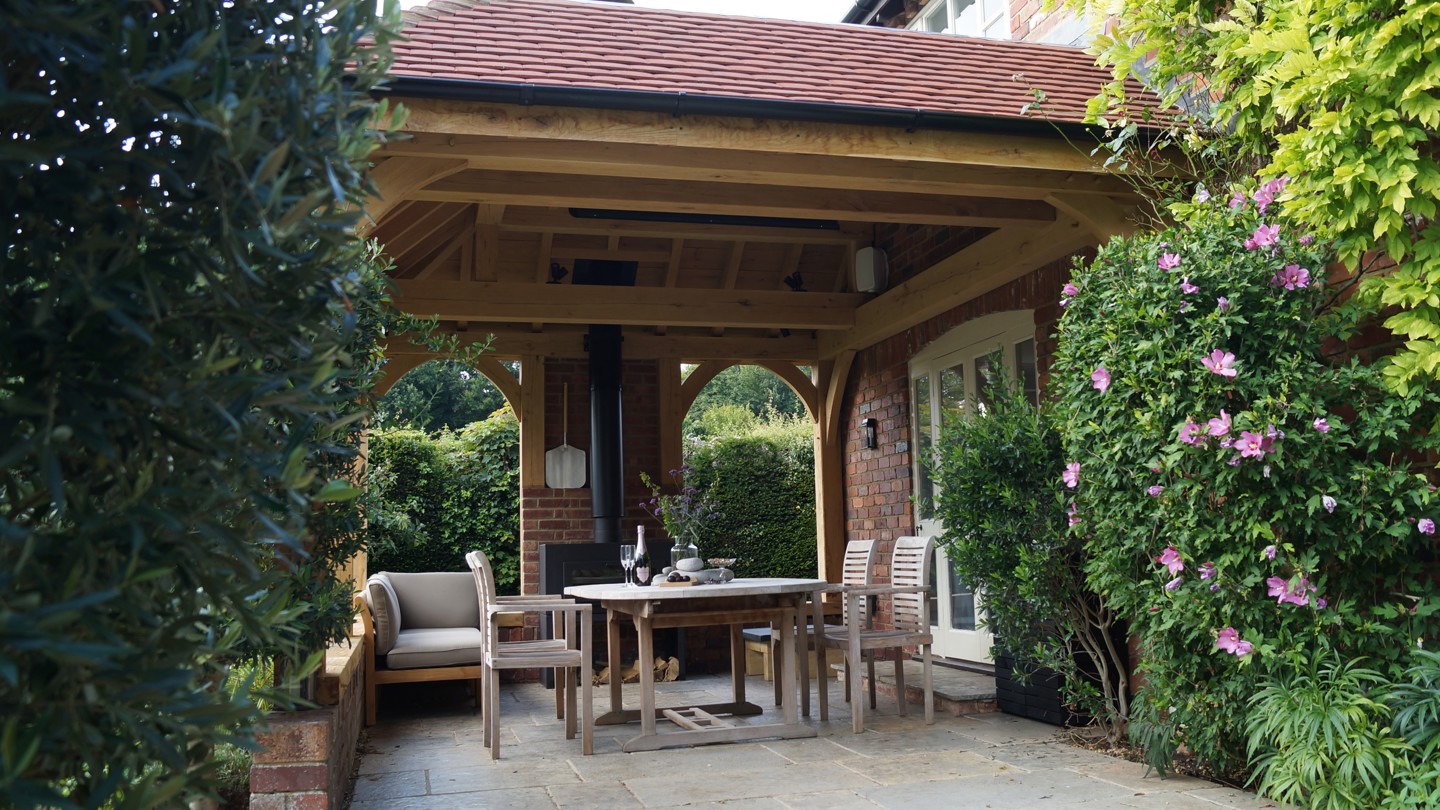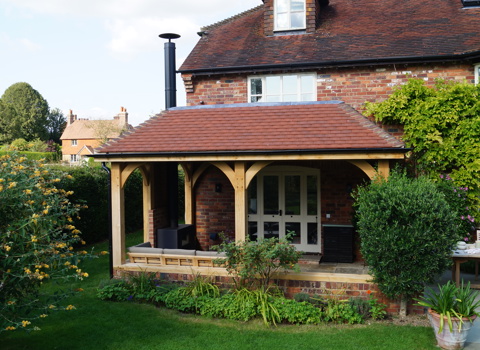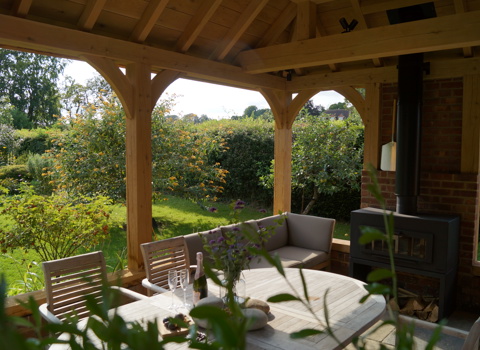 This garden room features a hybrid log burning stove and pizza oven and has really provided our clients with an additional, flexible, sheltered outside seating and dining area that successfully connects the house with the garden. 
"Could not have been happier with the team...unrivaled quality, clear passion for the job they do and will not leave a project until they, and the client, is 100% satisfied. Their craftsmanship throughout and the finished result could not be faulted." Simon & Lizzie F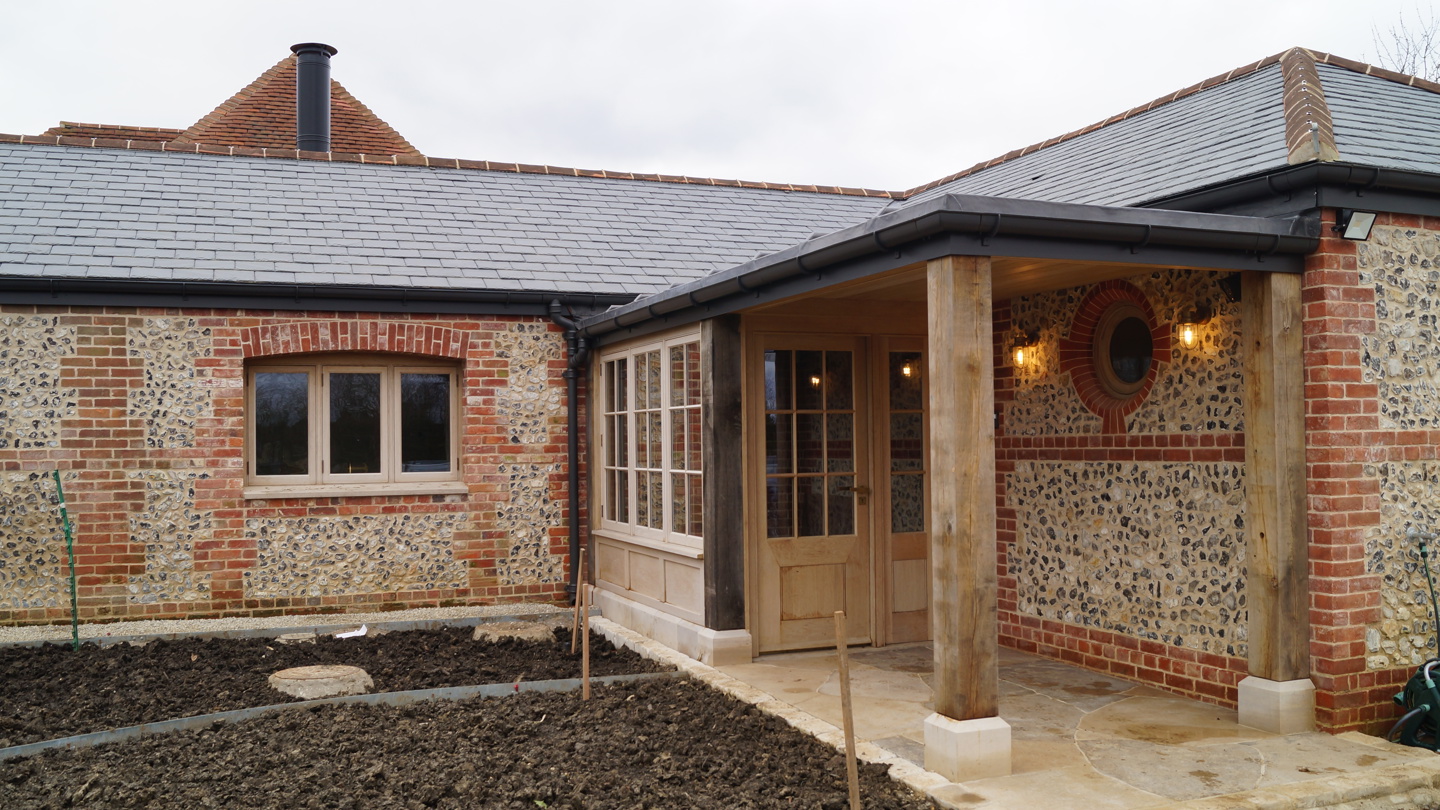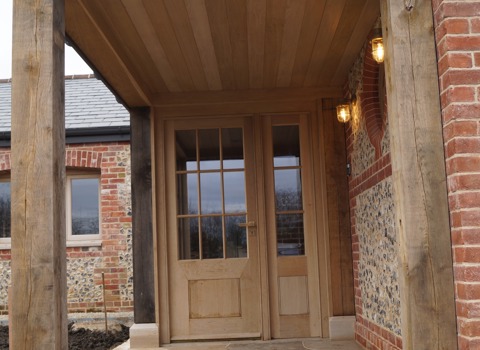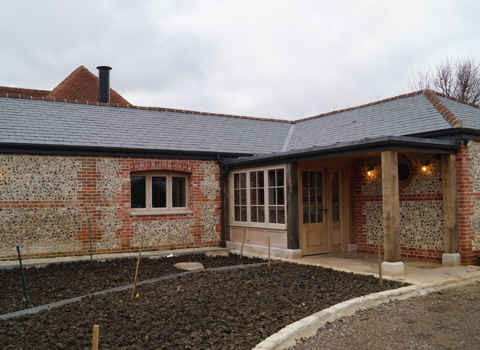 Chunky oak posts provide the support for this half and half flat roofed porch extension creating the entrance to this single storey home (half is an internal hall, the other half a covered approach).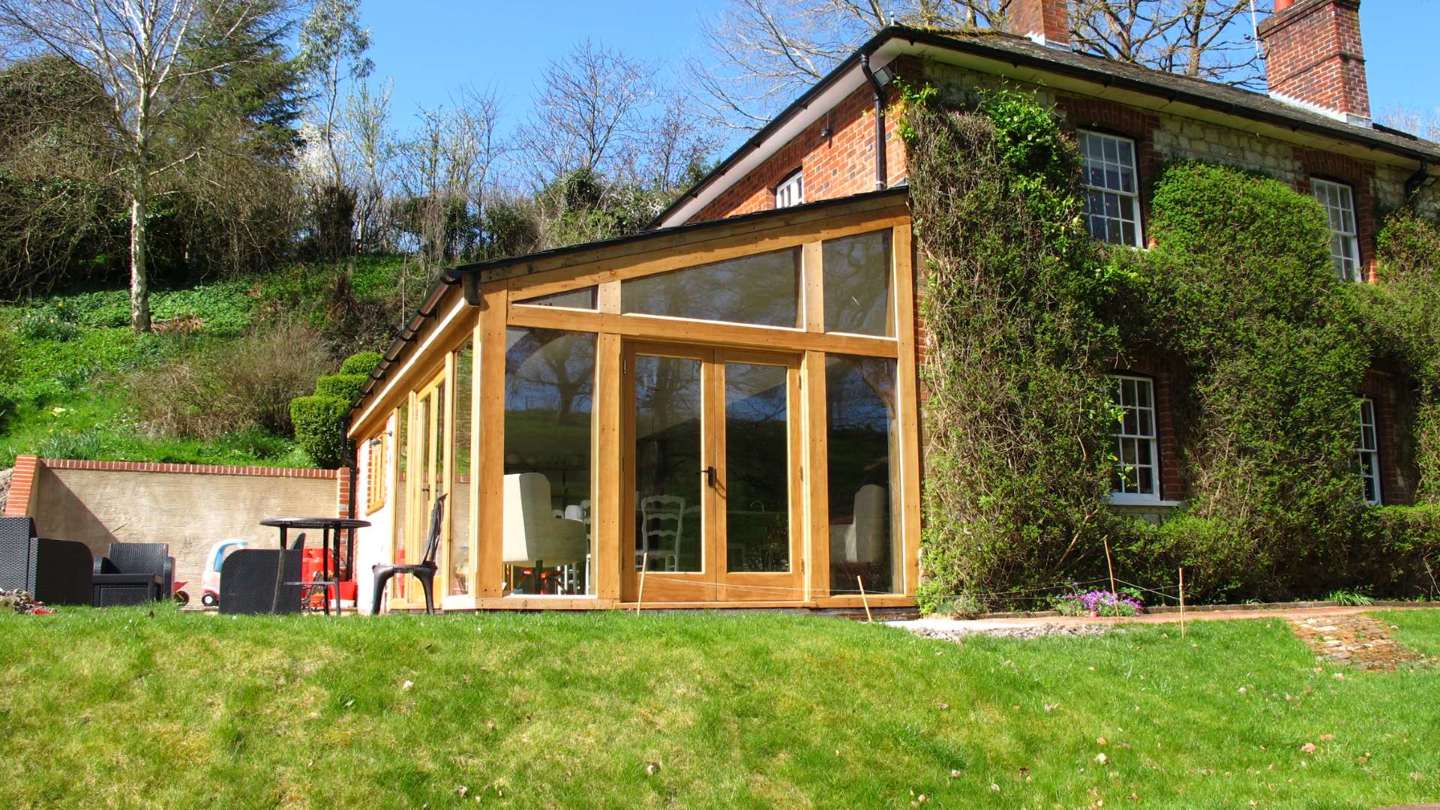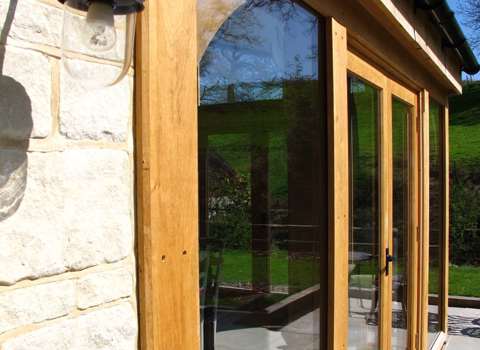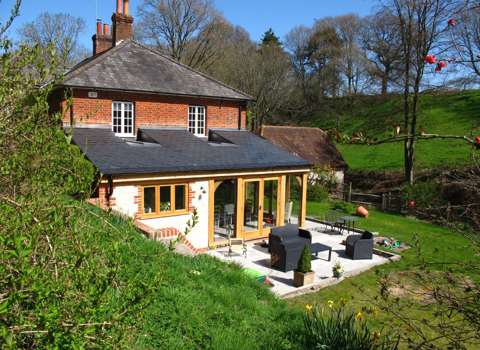 A full-width, traditional oak framed extension makes a stunning addition to this period property. Now housing a new kitchen and dining room, the room is flooded with light and features double doors to both the garden and the patio for al fresco dining. A cleverly designed slate roof gives maximum height to the extension, without obstructing the 1st floor windows.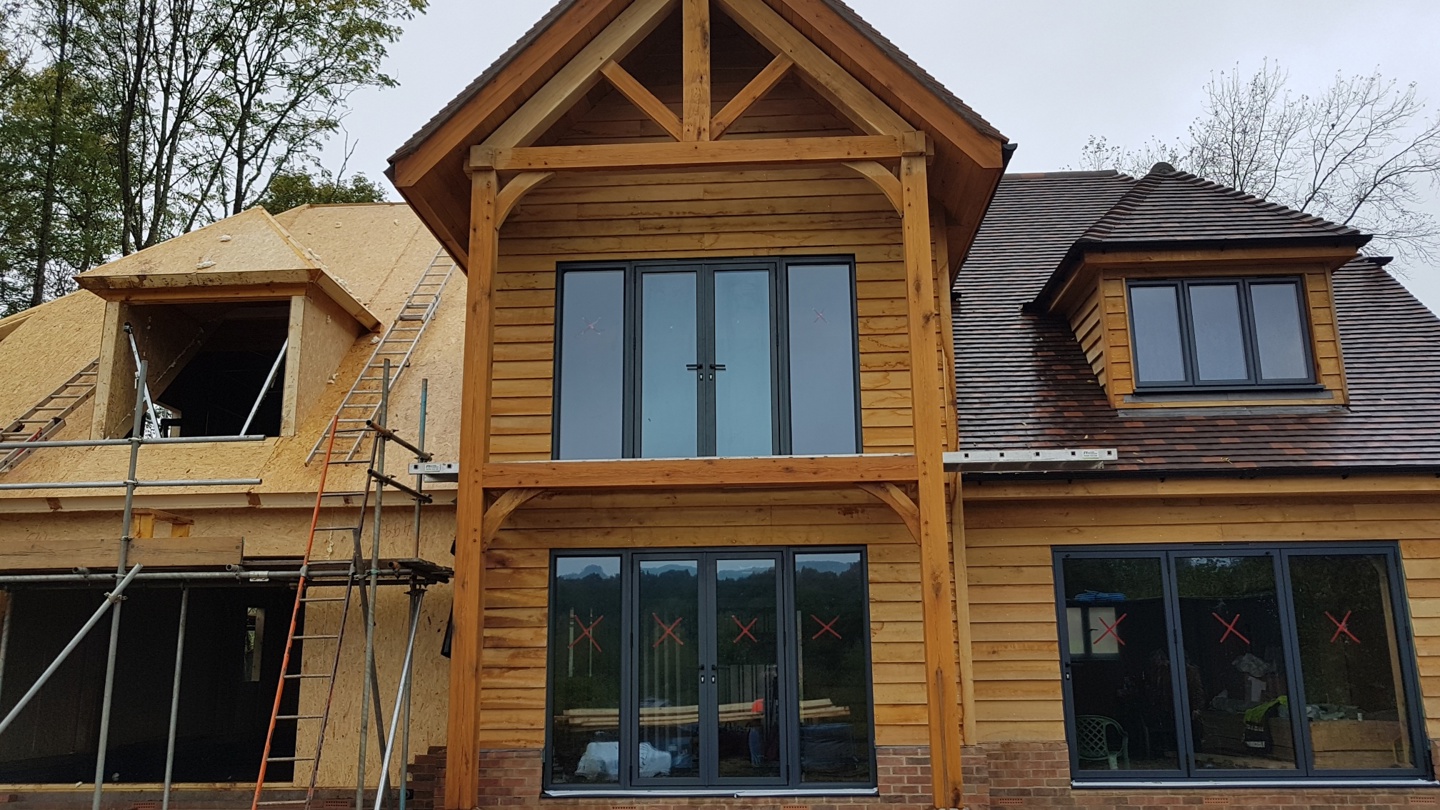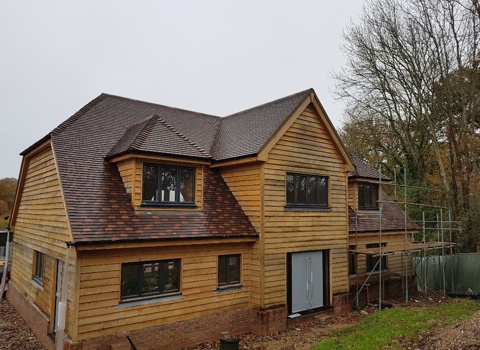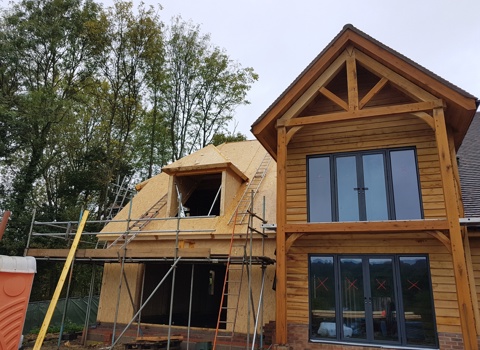 This house was built in two stages, with the central gabled section and one wing constructed before we returned to add on a whole side extension to mirror the existing wing. The finished house is now fully symmetrical with the extension providing two further en suite bedrooms upstairs and more living accommodation downstairs.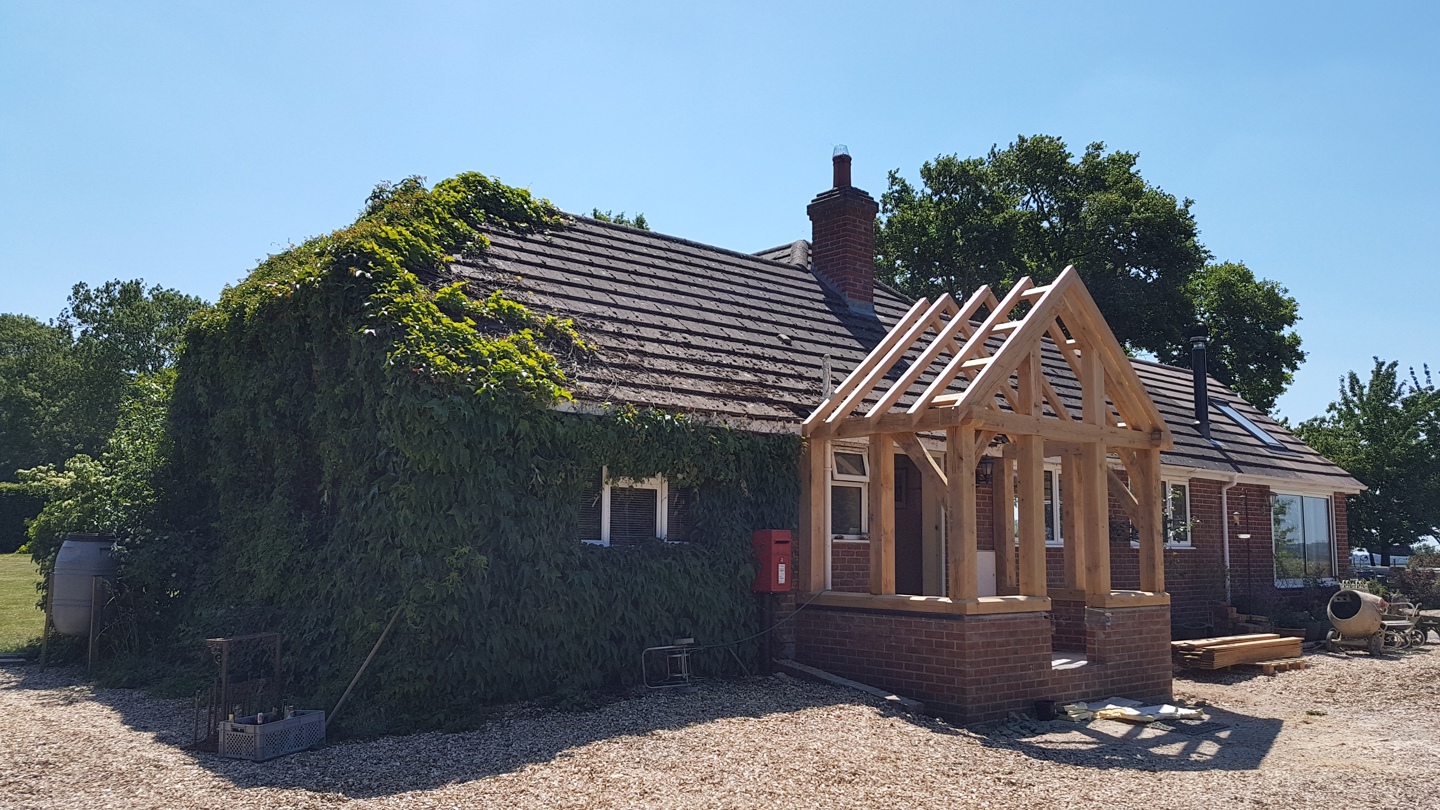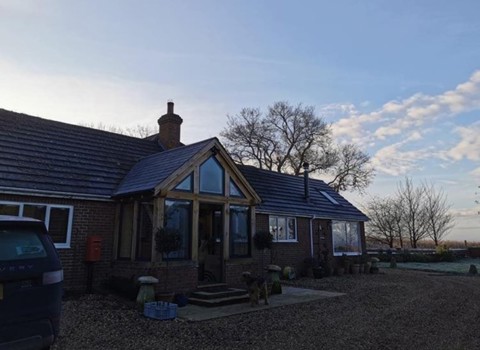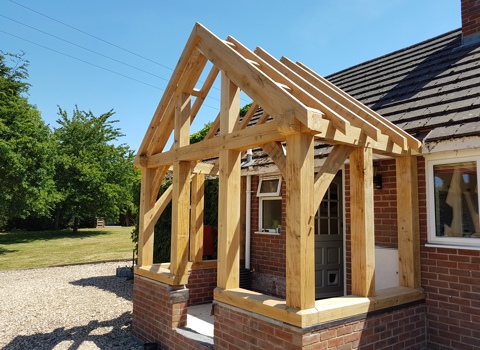 This elegant oak framed porch gives our clients valuable additional usable space that serves as an extension to this bungalow. A cost effective way of increasing the footprint of a property, as well providing another layer of front door security, kerb appeal and, of course, added value. We popped back on a freezing cold morning to see how it was weathering in.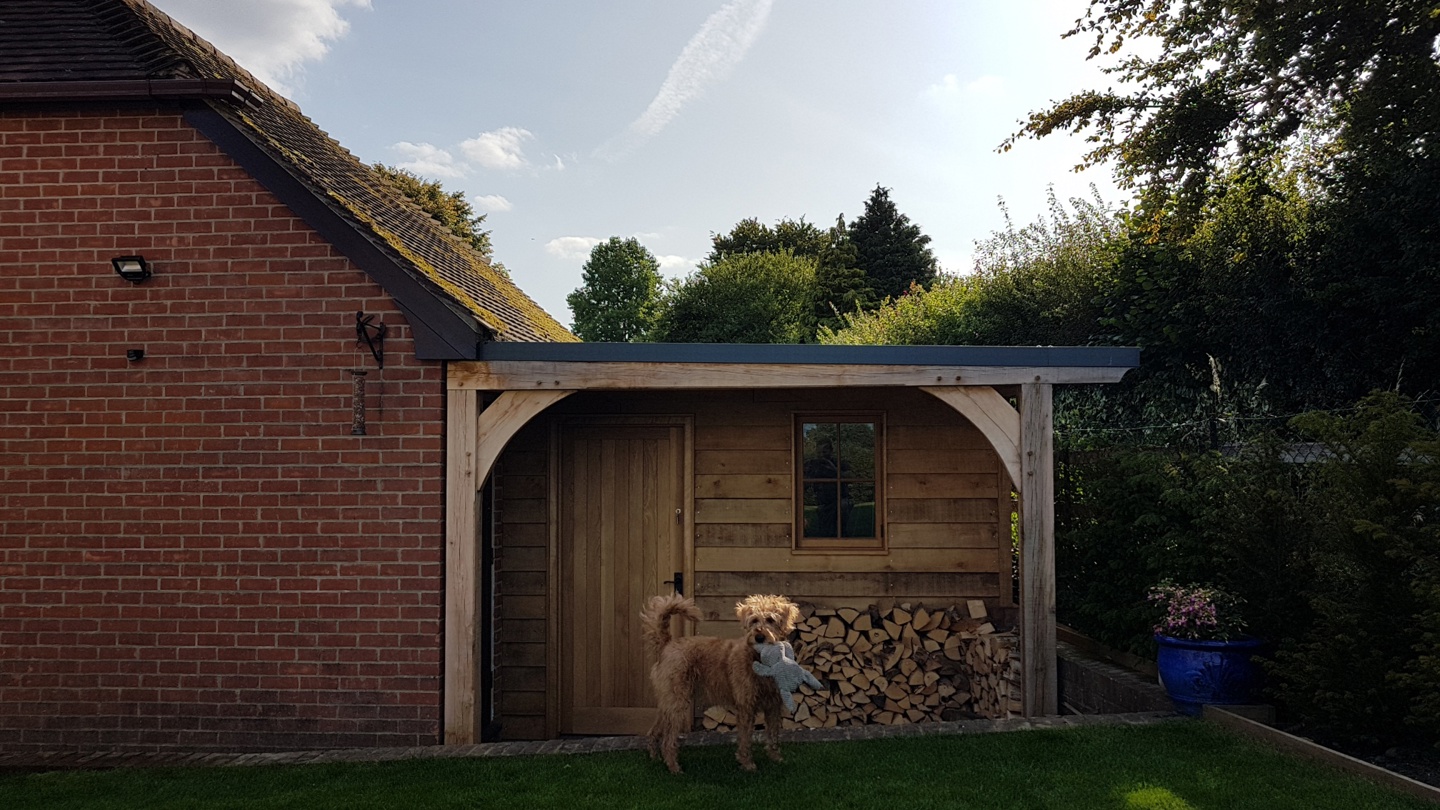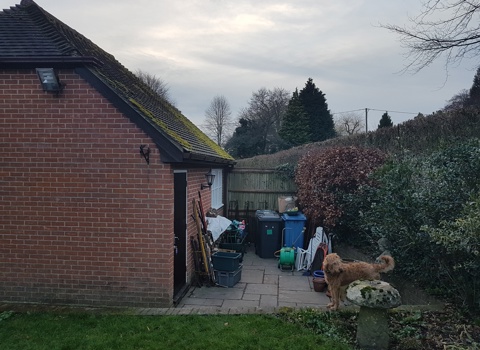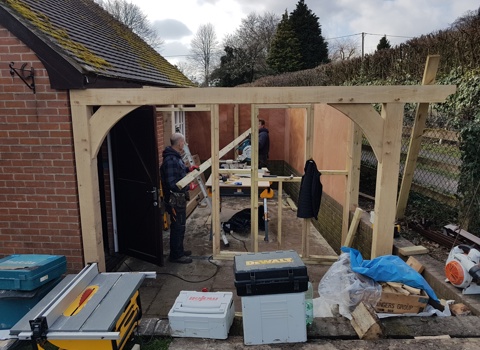 The odd shaped space beside this garage used to be a dumping ground for unsightly bins and miscellaneous garden detritus. Building a bespoke oak framed shed/extension allowed our clients to neatly hide away unsightly items, giving them a more practical and attractive solution instead.
"The team are excellent, friendly, efficient, tidy and dependable" Martin & Jane McCulloch, Crondall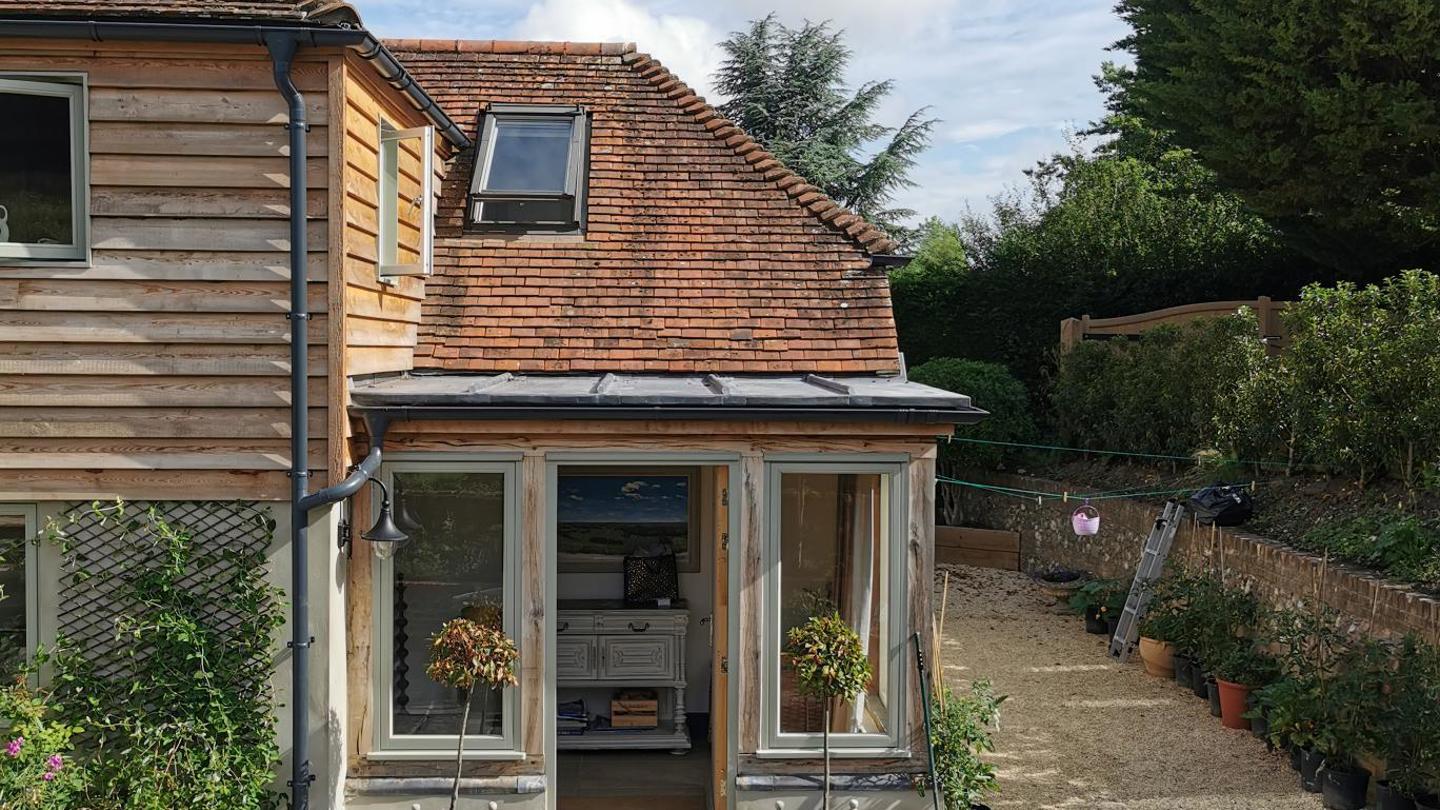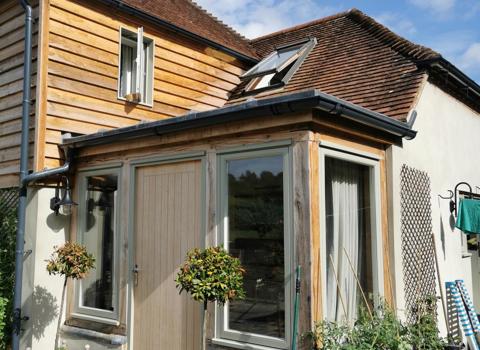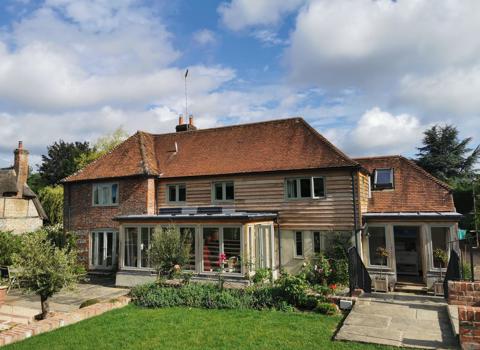 We designed and provided the oak frame for this glazed lobby for a repeat client in Wiltshire. They are thrilled with it and the extra usable space it provides. As we return to measure up for another project, it's lovely to see it weathered in and fully furnished.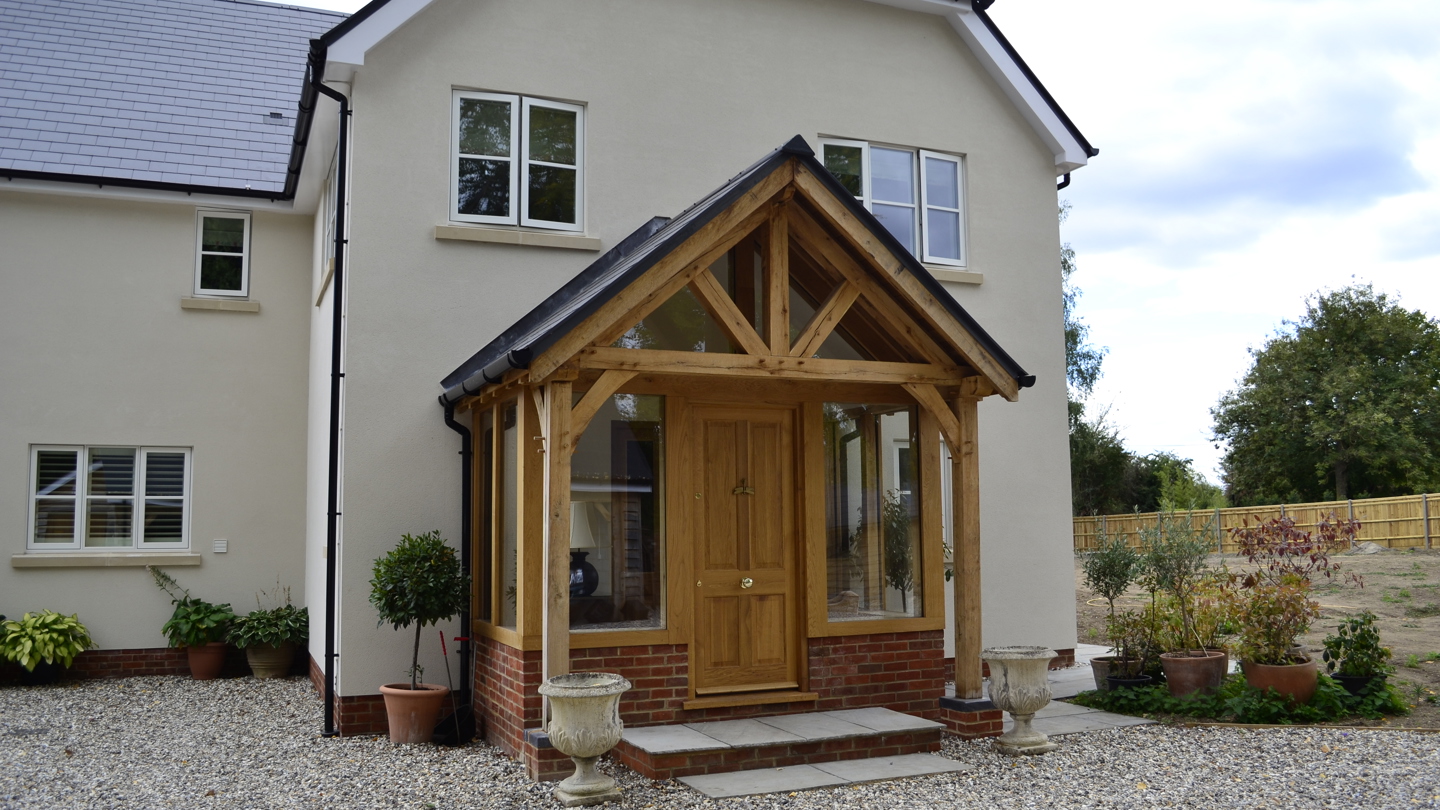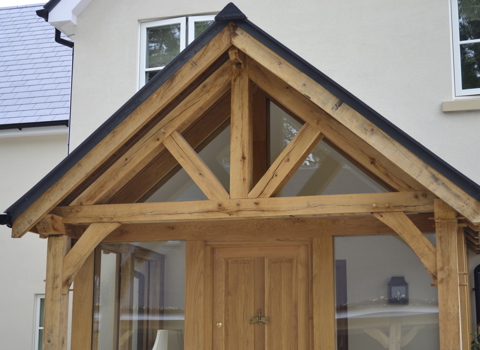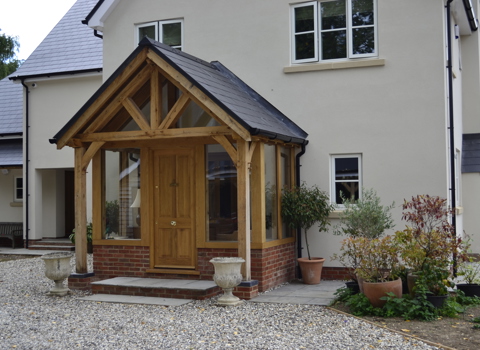 Adding a beautiful oak framed porch to this new build house adds character and practicality. Built on a brick plinth, with glazed panels into the apex and a solid oak front door, the porch itself is recessed under the tiled roof behind two oak posts standing proud, finished with a wide flag stone step.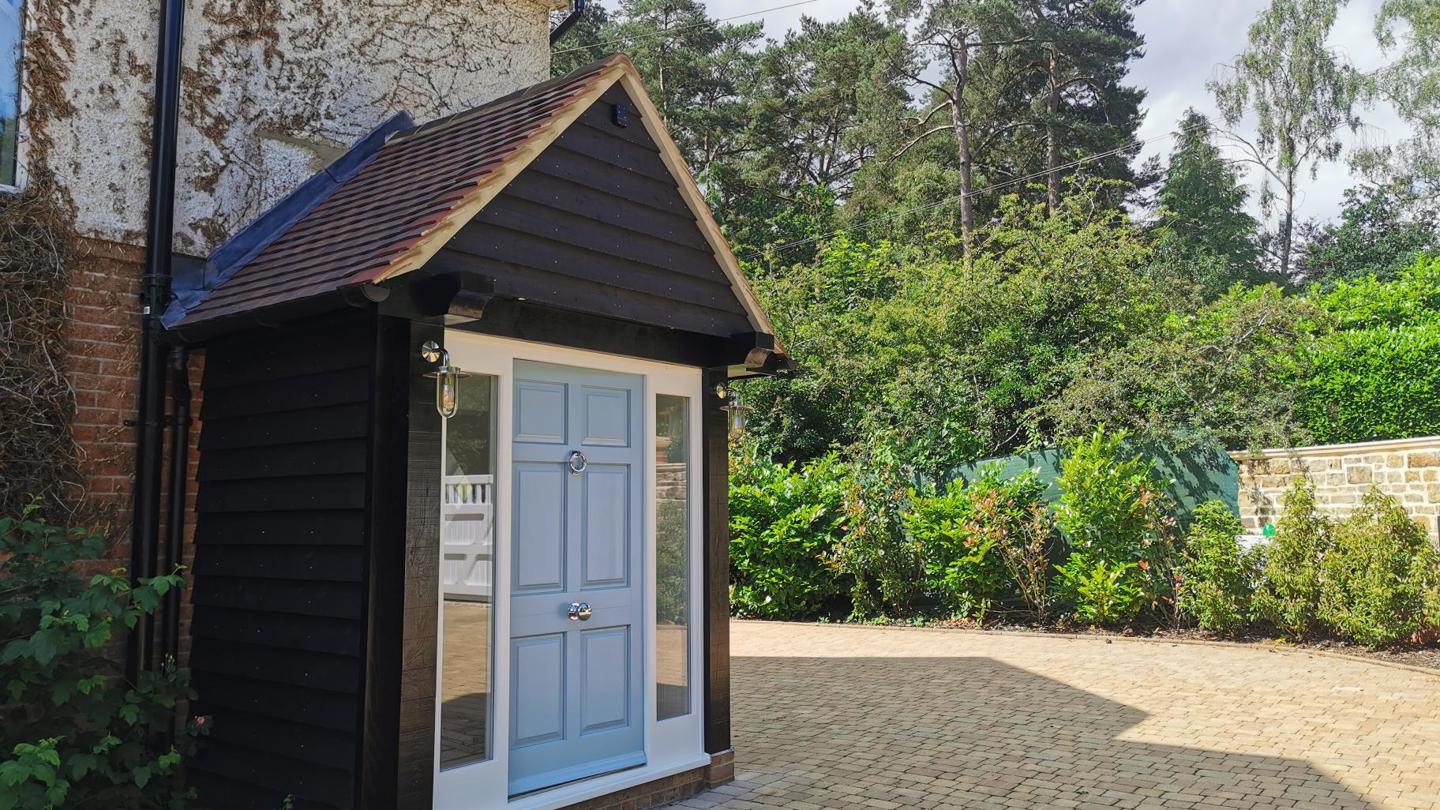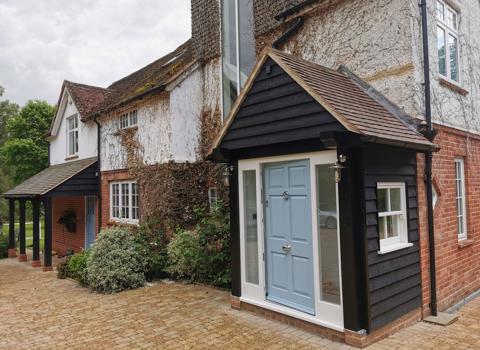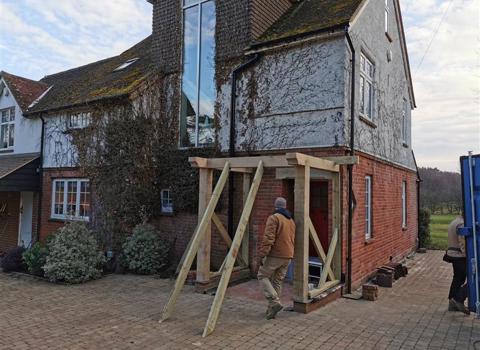 Fully insulated porch extension with black stained cladding, a new side window and full height glazed panels either side of the front door to let in plenty of light.
"We think it looks fab! Please pass on our thanks also to Toby & Ryan, who worked so hard during those cold months." Mr & Mrs R Hill, Tilford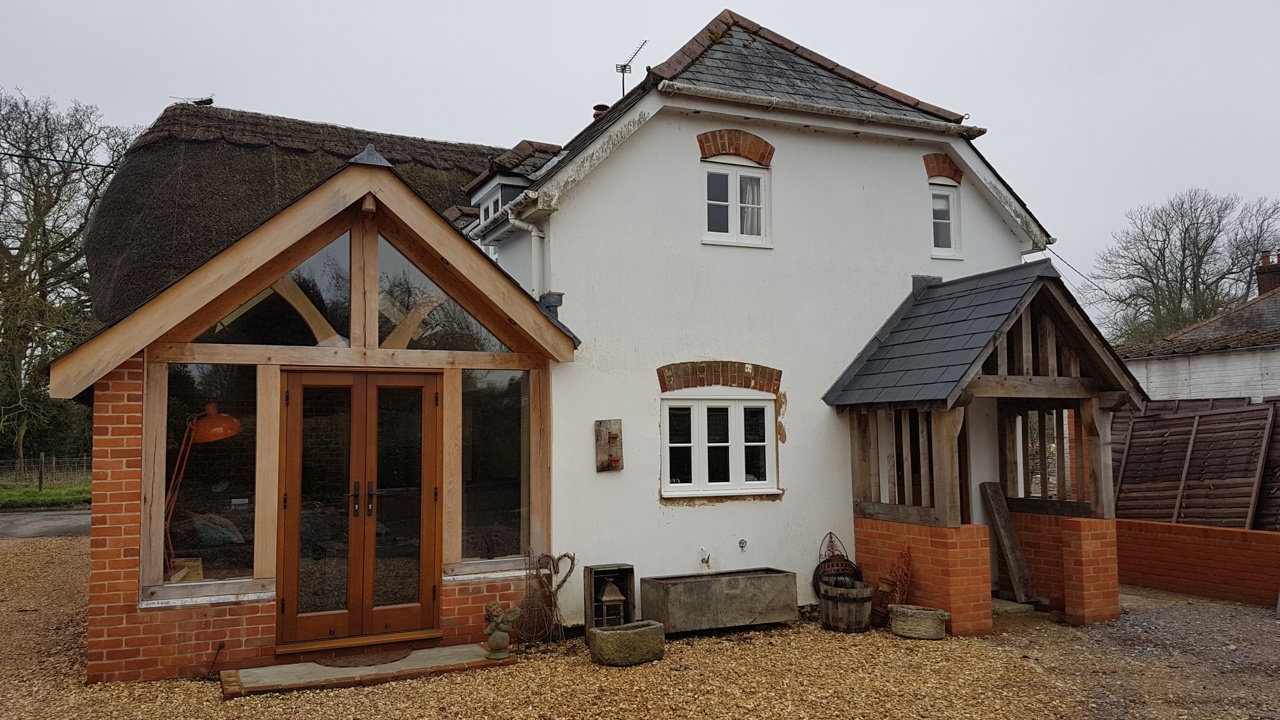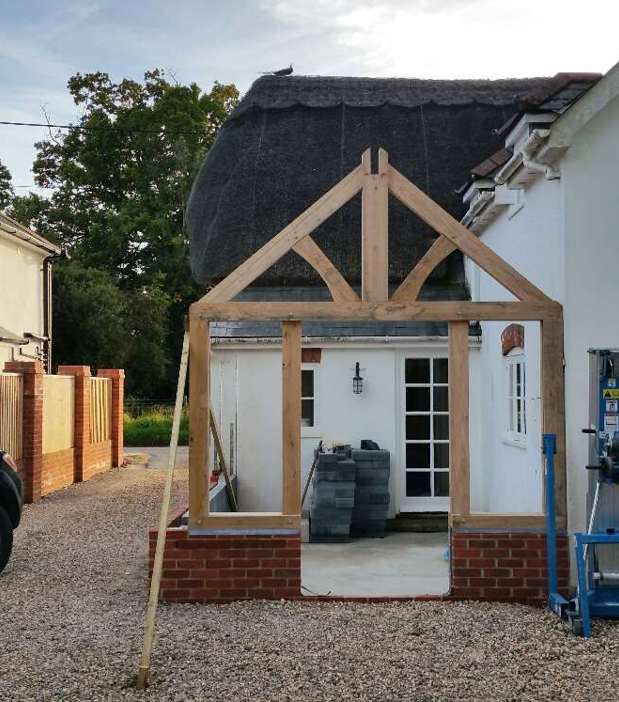 An oak frame extension to the back of this part-thatched period property in Stockbridge, designed to house a new kitchen. The oak frame will eventually fade to a silvery grey colour to match the existing oak porch.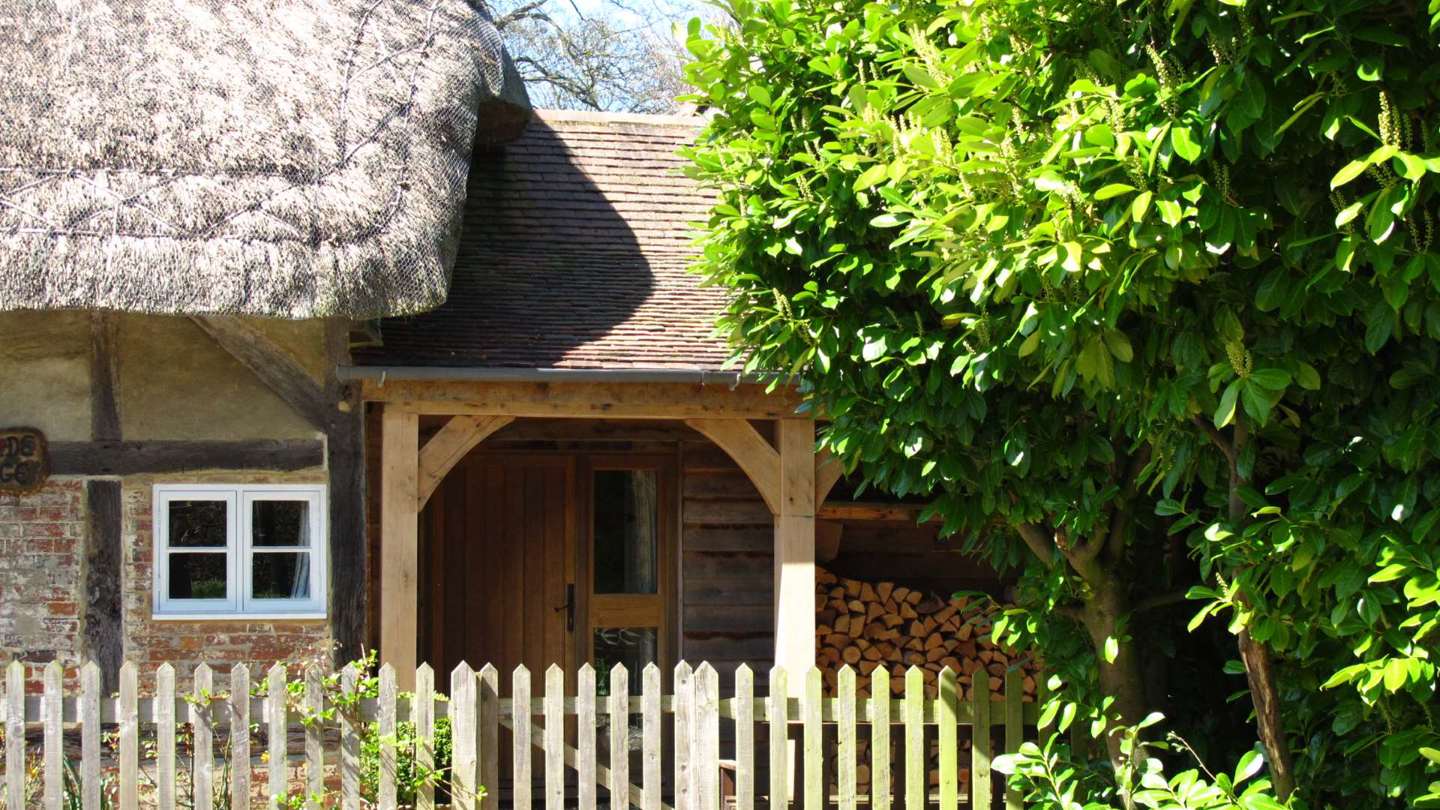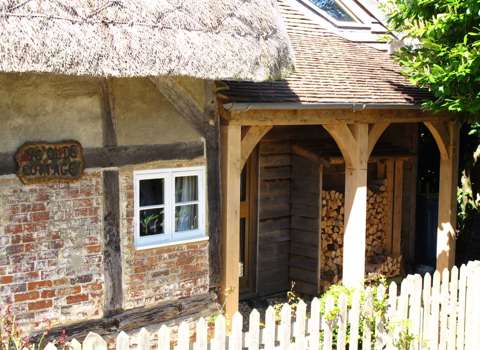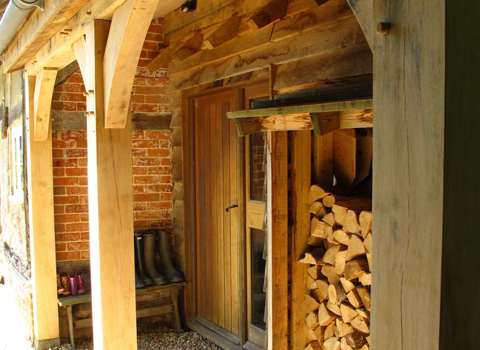 Adding an oak framed porch to this thatched cottage, with a reclaimed tiled roof, enhances the overall appeal of the house and provides practical and attractive storage at the same time.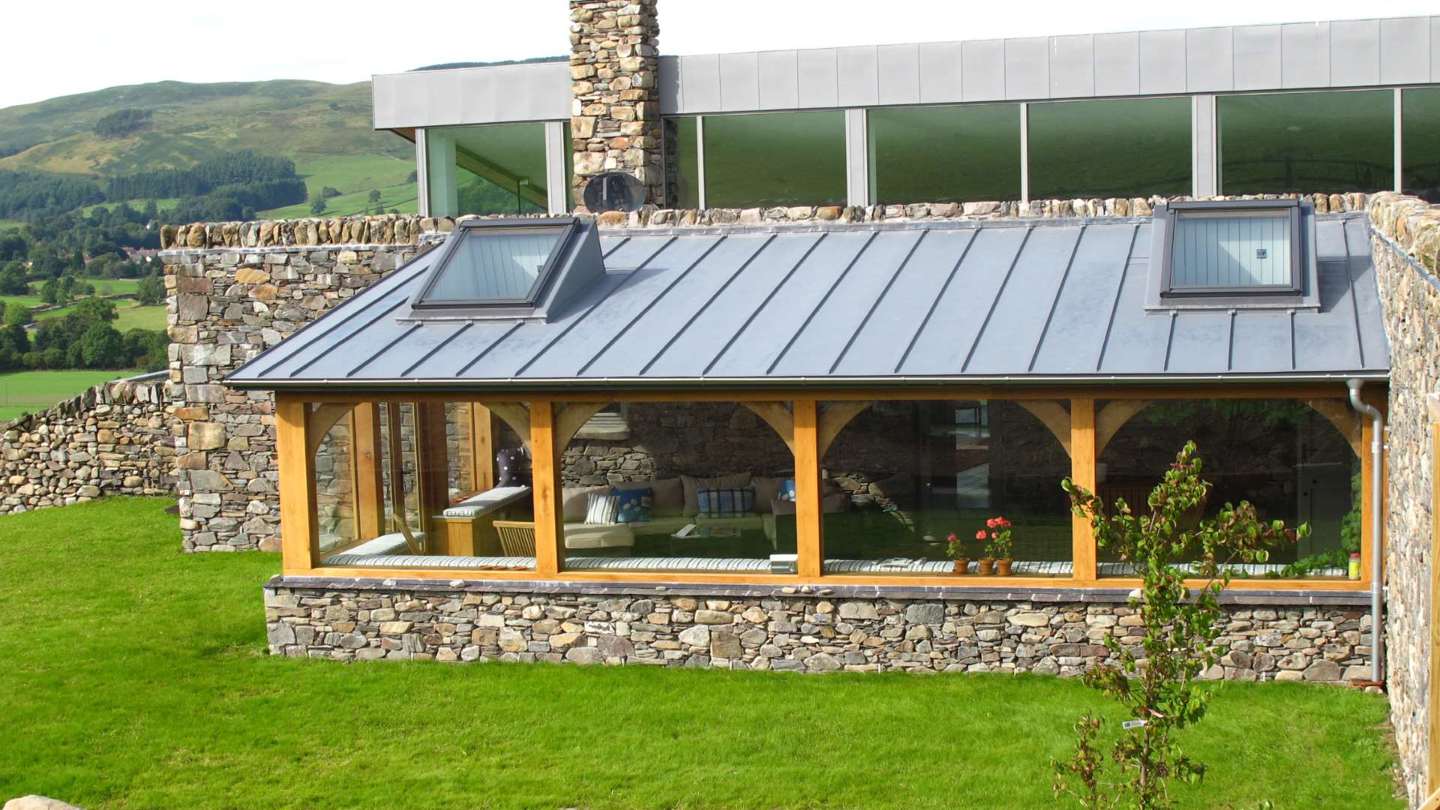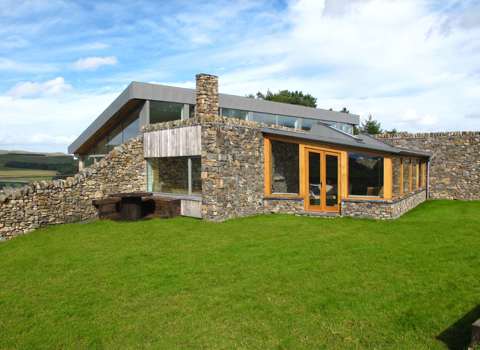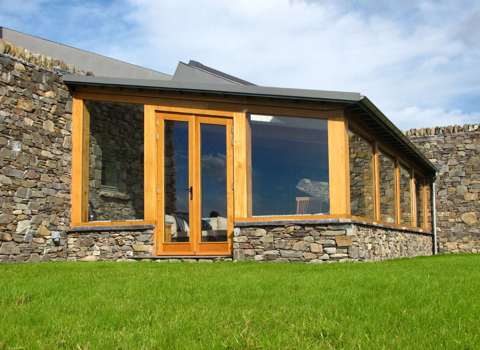 Just inside the Scottish borders, our clients were looking for a large garden room extension to complete their award winning new build eco house. Using the same stone wall technique and zinc roof of the main house, the oak frame was designed to ensure large windows took full advantage of its south-facing position and spectacular hillside views.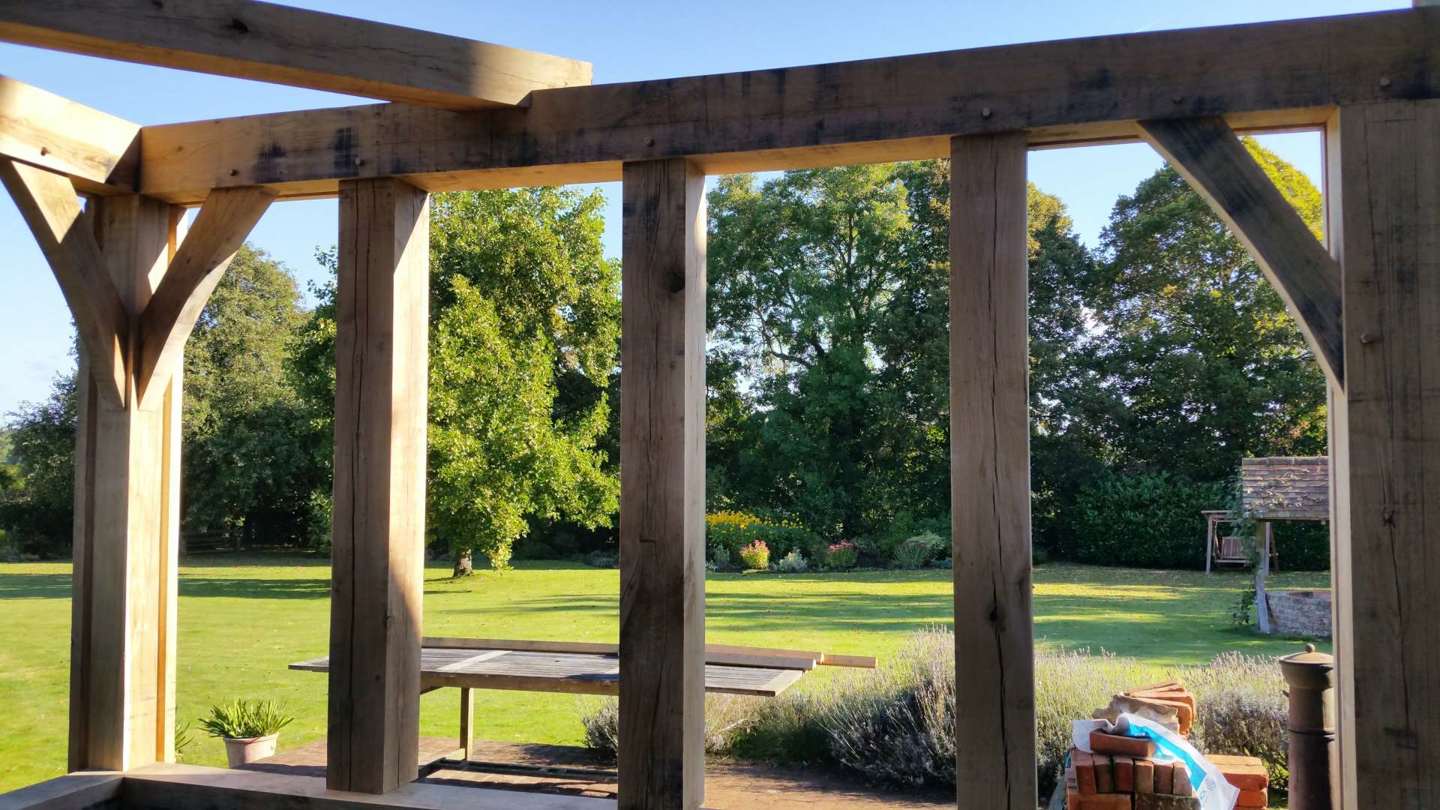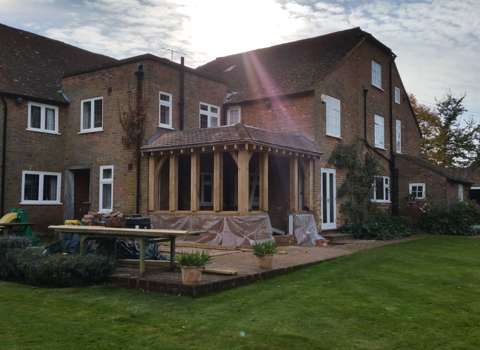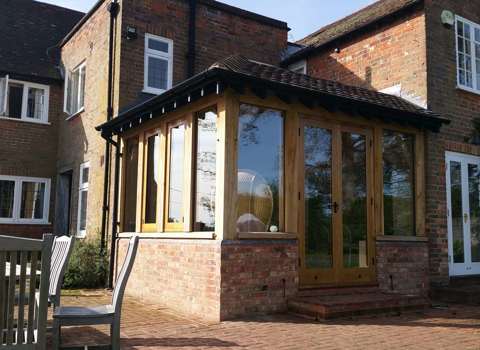 A traditional oak framed extension enhances the existing architecture of this period property in Odiham and creates a stunning new garden room/conservatory. Five Oak Projects provided the green oak frame for this build.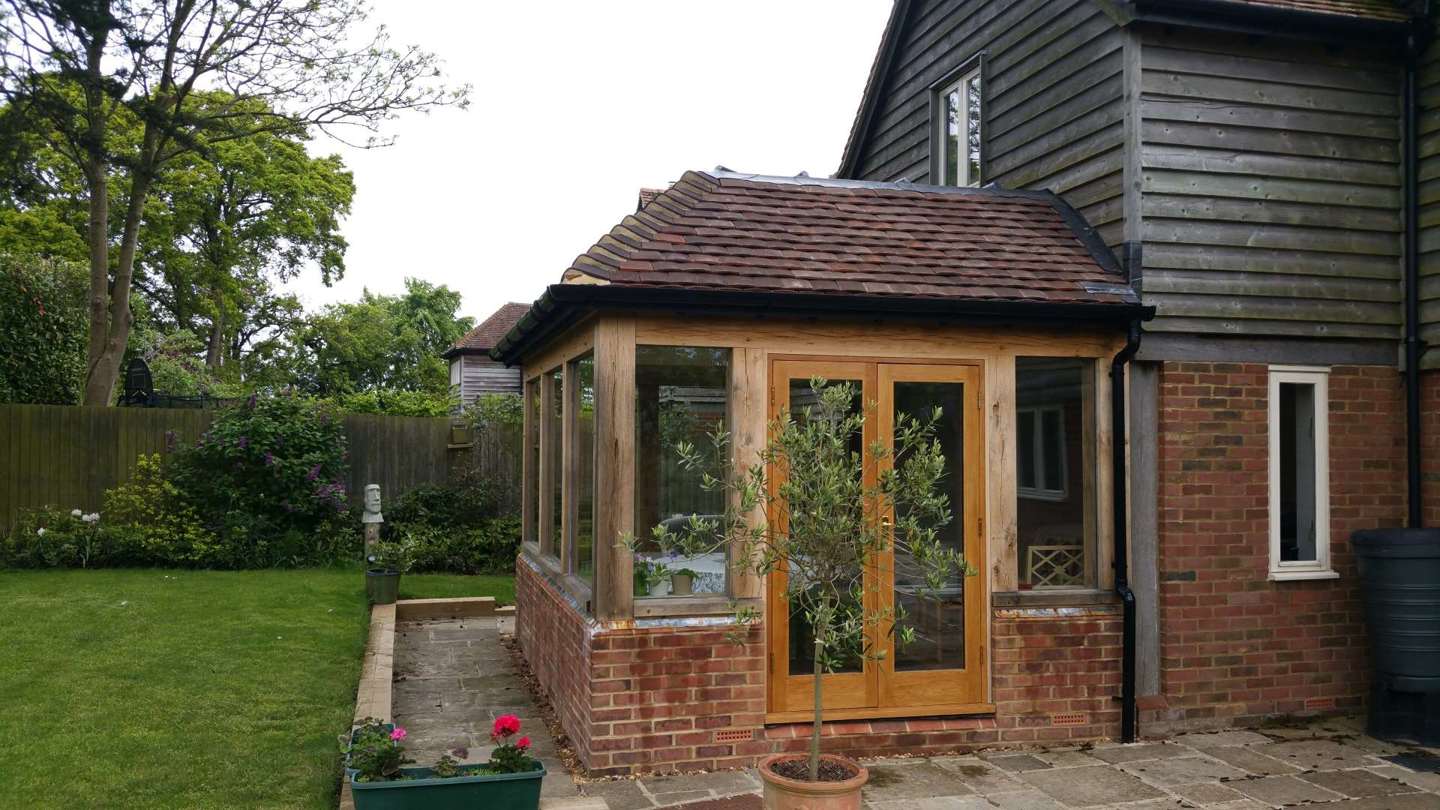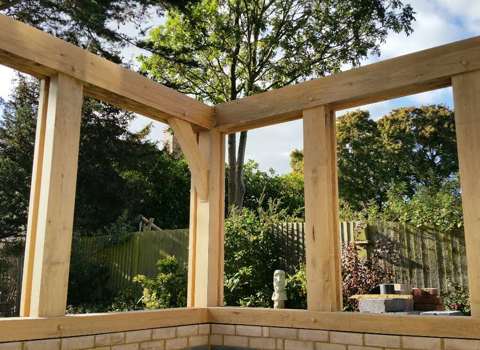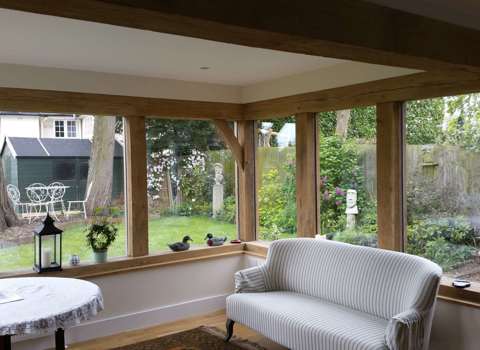 Utilising a classic and very popular design to create a functional and flexible oak framed extension to this property in Hampshire, we also provided the green oak frame for this build.
This bespoke oak frame, with standing seam metal roofing, has been crafted and built to house an outdoor kitchen. Whilst still waiting for the island, sink and base units to be installed (by others), our clients couldn't wait to have a party and were thrilled we were able to install it at short notice!