Valentines Day
Five Oak Projects are very proud to have been accepted as members of The Guild of Master Craftsmen. You can keep your chocolates and flowers...when you work with your hands and focus on delivering top quality bespoke projects, this is the stuff that gets your heart racing!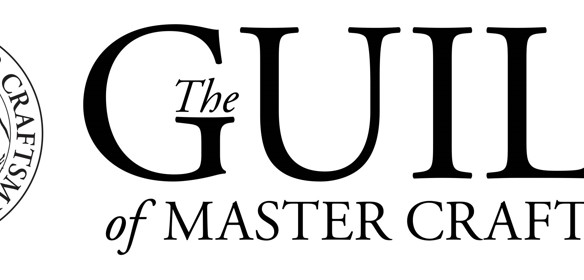 February 2019
This custom built bike/bin shed is made with Siberian larch cladding - which is particularly weather resistant. With padlockable latches, it is large enough to house the ugly wheelie bins we all have nowadays, plus provide secure storage for a couple of road or mountain bikes.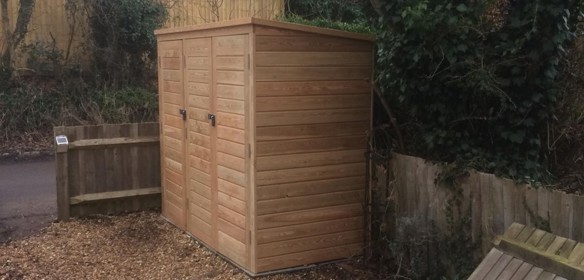 January 2019
We start 2019 with a number of very exciting projects in the design and planning stages, and an equal number of projects with Planning Applications submitted already and awaiting consent from Hart District Council. Each of these are for bespoke buildings and they include an oak-framed kitchen extension, two very different agricultural barns and a garden office. Watch this space...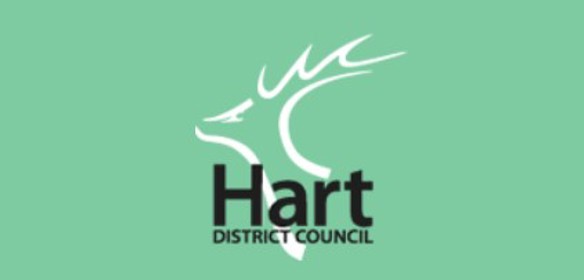 New Year 2019
Coming soon...in response to demand, we are launching a new section to this site called The Gilded Oak. Currently under construction, it will feature details and images of some of the wide range of products we produce that are either ready to go, or available to order for bespoke commissions. All items are handmade onsite from sustainable materials and can be customised.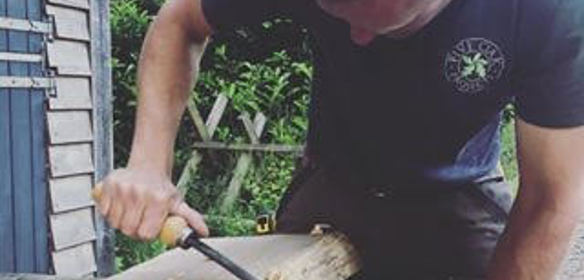 December 2018
Making improvements to your existing property by building an extension, remodelling the interior, or creating a home office or studio in the garden are just a few examples of how you can beat the reportedly stagnant market created by the uncertainty surrounding Brexit. We're doing exactly that for these clients by re-purposing the interior of this previously unused barn to create much-needed flexible space.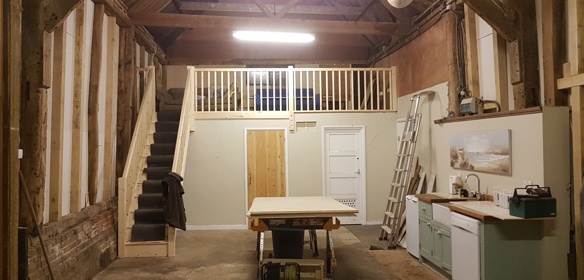 November 2018
A range of hand-crafted pieces created for sale at a Christmas charity fair this month to include; doorstops, table centres, display blocks, antler horn jewellery holders, candle holders, decorations and crates. All handmade from sustainably sourced materials by the boys, with gilding and glitter added by the girls!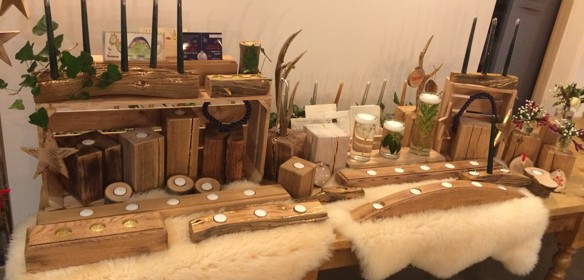 October 2018
Oli and the boys have made good progress this month, giving this lovely old barn a bit of a nip'n'tuck. When they've finished replacing and repairing the rotting oak support timbers, the building will be given a full facelift with the installation of new oak feather-edge cladding.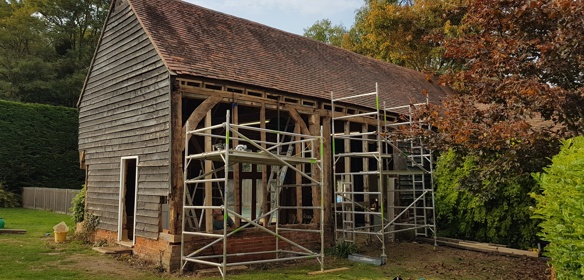 News Flash
The second episode of the new series of Grand Designs sees Oli featured as part of the eco-build project recently completed in Cornwall. Our clients recreated the house that featured in the 1986 movie Ferris Bueller's Day Off on the plot of a former dairy farm. The GD team were onsite filming a number of times and Oli, employed as the Project Consultant, is seen giving his insight into the build.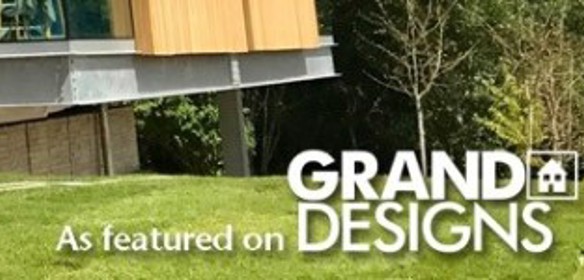 September 2018
We've stolen a little bit of space from a bedroom to build this stunning en suite shower room with roof light, white subway tiles on the walls and geometric concrete tiles on the floor (with underfloor heating). Refurbishing the bedroom to the same standard has provided our client with a top class self-contained guest bedroom suite.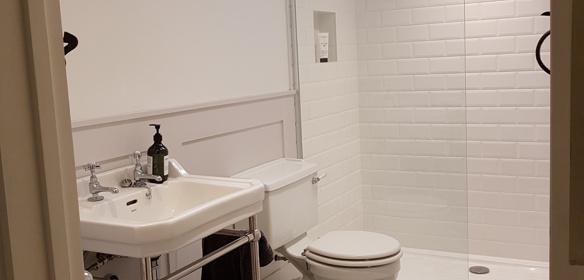 August 2018
What an amazing Summer we're having...and it's so lovely to be working outside for this Hampshire client, building them a large new terrace with brick edged steps and oak sleeper planting beds. They couldn't wait for us to finish before setting up the table and chairs!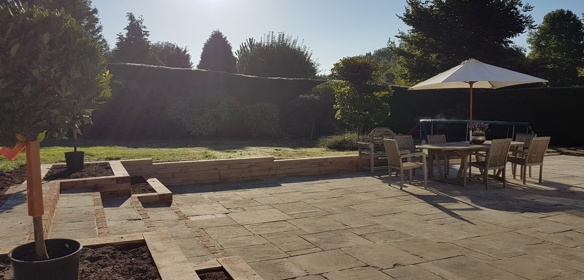 July 2018
This rustic swing was handmade by Oli, where he has worked with the natural shape of the oak to create this lovely and unique piece. Sold at a fundraiser auction earlier this month, it raised a healthy sum for a worthy cause. I'm sure we could persuade him to make another one if you wanted one similar...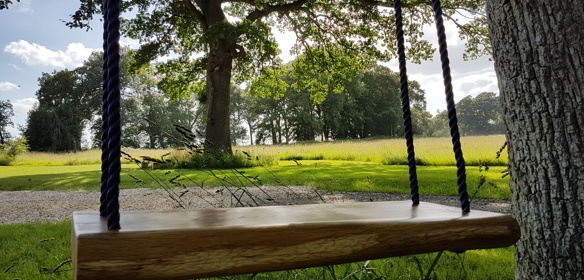 June 2018
This stunning solid oak bench was handmade in the workshop by the very talented Fritz in response to a client request. It sits perfectly outside to compliment your existing garden furniture, around a fire pit (with maybe one or two more), on a veranda, outside your new oak framed building (as per the original client request) or in the cooling shade of a tree.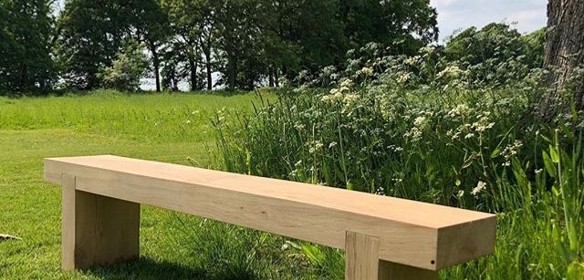 May 2018
We've returned to our clients in West Sussex to build a bespoke wedding pavilion to accommodate outside ceremonies. Designed and built to compliment our former work on their existing barns and beautifully landscaped, award-winning event venue at southendbarns.co.uk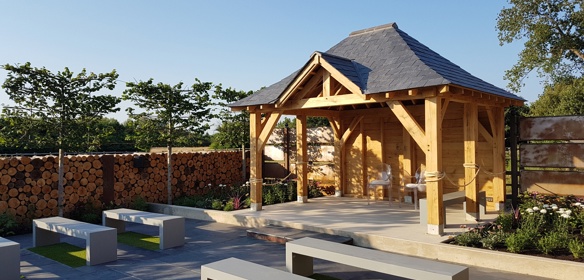 April 2018
A bespoke, handmade oak post signpost which can be adapted to suit your home, farm, party, event or retail outlet - with as many crossbars as you'd like, a choice of lettering and the option of adding directional arrows if you'd like. Get in touch if you'd like us to make one for you.
Coming soon, more bespoke oak products...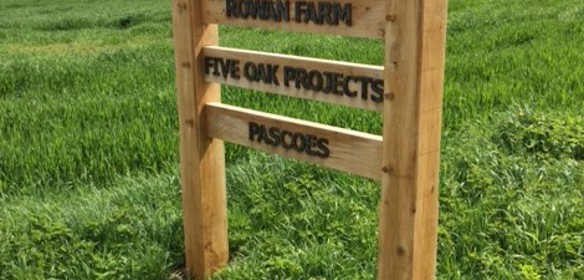 Spring 2018
Huge congratulations to Southend Barns, who are the newly crowned winners of The UK Wedding Awards 2018 Best Barn Venue. Renovating their Dairy Barn and 200-year-old Threshing Barn to create a stunning ceremonies room and wedding party venue was a huge, but immensely satisfying project for us and we are thrilled for our lovely clients. southendbarns.co.uk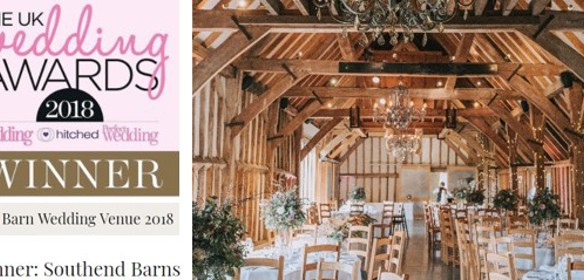 March 2018
Whilst awaiting images of the barn shell that we have just relocated for one client, and before we start work on a new 2 bay garage (with log store) for another, here's our new branding iron. This 4" iron slowly warms up to about 2000 degrees centigrade (safety gloves and fire extinguisher at the ready) before making its mark!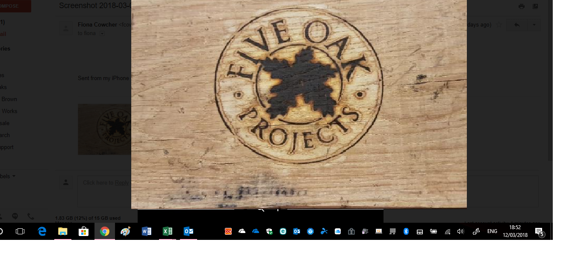 February 2018
Fitting a lovely new air-dried oak framed porch to this new build in Woolhampton to create a smart and welcoming entrance for all visitors to come (once the build is completed!).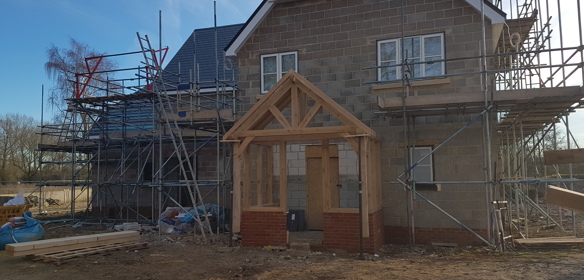 January 2018
Bonding with Kevin McCloud for a day of filming for Grand Designs in Cornwall for a large Five Oaks consultancy project on an eco-build house.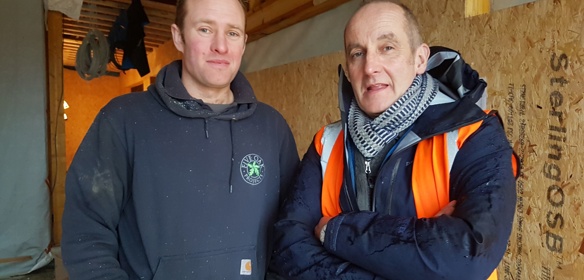 New Year 2018
Wishing all our clients, colleagues, friends and suppliers a very happy, prosperous and constructive (see what we did there..?) New Year.
We start 2018 with a construction project of our own...the design, build and launch of our new website!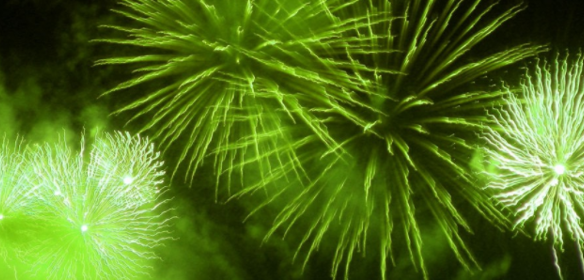 December 2017
Great to hold another carpentry skills class at Rowan Farm for the students at Lord Wandsworth College before term breaks up, and there are plenty of old school skills and traditional details going into this 3-bay barn annexe.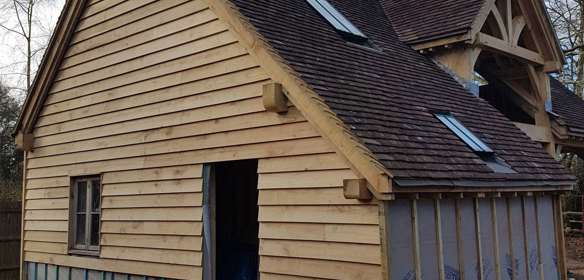 November 2017
It's a beautiful bay...and we've taken advantage of the warm and sunny weather to make good progress on this bespoke 3-bay barn.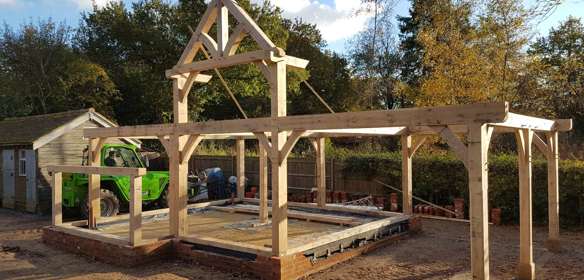 October 2017
Time to wrap up...and protect this woodyard barn from the elements by dressing it with waney-edged Douglas fir cladding (englishwoodlandstimber.co.uk).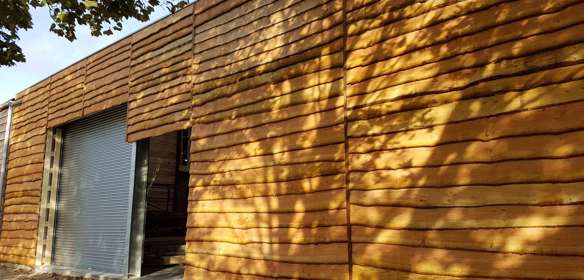 September 2017
Oli polishes up his on-camera skills...as he starts a consultancy project in Cornwall for a new build eco-house that is being filmed for Grand Designs...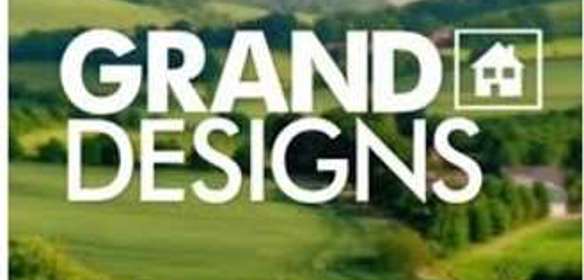 August 2017
Barn raising...Five Oaks completes the build on a 2-bay barn for the storage of agricultural vehicles.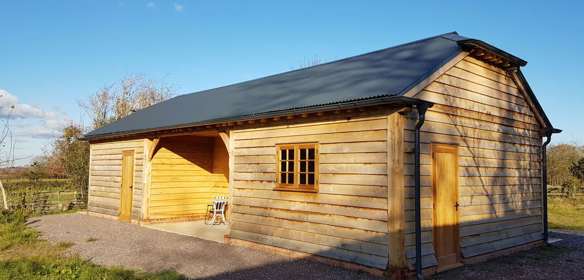 July 2017
A pat on the back...Five Oak Projects named as winners in the Build 2017 Sustainable Building Awards as; Best Oak Framing Design/Build company - South England. With the BUILD awards programme in its 2nd consecutive year, this prestigious award highlights us as one of the most outstanding performers in our field.